Champions Trophy final: India ready to take on Pakistan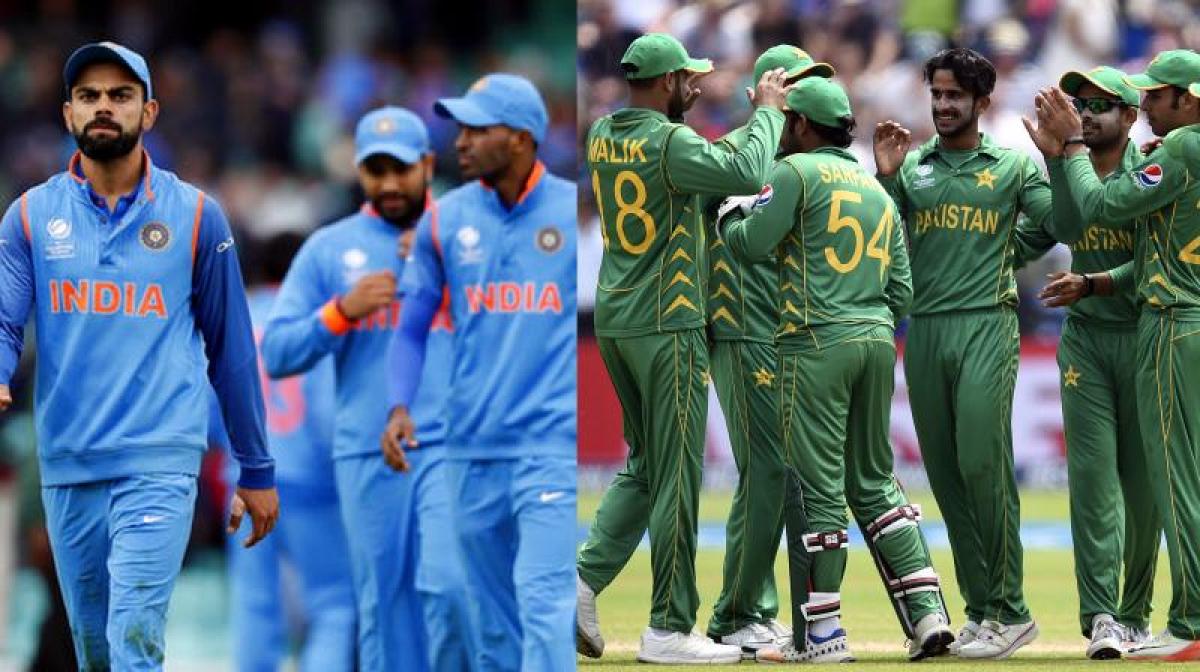 Highlights
India's remarkable consistency will be up against Pakistan's legendary volatility when the fierce rivals clash in what is expected to be an exciting finale to the ICC Champions Trophy, here tomorrow.
LONDON: India's remarkable consistency will be up against Pakistan's legendary volatility when the fierce rivals clash in what is expected to be an exciting finale to the ICC Champions Trophy, here tomorrow.
The often tense political relations between the neighbouring nations add colour to the bitter yet intense rivalry, which has nowadays been confined only to global events due to the Indian government's refusal to allow bilateral contests.
Defending champions India had got the better of their rivals in the league stage of the ongoing tournament. And captain Virat Kohli has already declared that nothing extra is needed to get the same result despite the turnaround by Sarfraz Ahmed's men since then.
It is nonetheless a battle of attrition, where one needs to hold the nerve till the very end.
The last ball six hit by Javed Miandad off Chetan Sharma haunted a generation of Indian fans till Sachin Tendulkar returned the favour during that epic knock at the Centurion.
In between, Ajay Jadeja, Venkatesh Prasad, Hrishikesh Kanitkar or Joginder Sharma have all played their bit roles in winning big matches thereby overcoming the Sharjah Syndrome that affected the Indian teams of the mid-80's and early-90's.
Whether it's New Delhi or Islamabad, Karachi or Kolkata, this is one match that fans would hate to see their team lose.
For the 22 players in question, it's just a game of cricket. But for millions following them, it's way beyond that and is fuelled more by comments from former stars like Virender Sehwag or Rashid Latif.
There could be unabashed love and unwarranted criticism in equal measure depending on which side one ends up.
Even skipper Virat Kohli would tell one and all that they are "not here to make statements".
On pure cricketing logic, Pakistan are no match for Virat Kohli's men, who have some of the best exponents of limited overs cricket.
But just like in life, at times sporting realities defy logic which is exactly the reason why Sarfraz Ahmed's team can't be ruled out on a big day.
A lopsided opening round contest, which India won by 124 runs, made many feel that India-Pakistan contests are fast losing their sheen due to lack of quality in Pakistani ranks.
An Azhar Ali is no match for Rohit Sharma in ODIs and Ahmed Shahzad doesn't have the consistency that Shikhar Dhawan has shown. Babar Azam is a new kid on the block while Virat Kohli, with 8000 plus ODI runs, is destined for greatness.
But Pakistan cricket swings like a pendulum, hovering between brilliant and ordinary, making a mockery of any kind of definitive analysis.
And the pace attack of Mohammed Amir, the tournament's leading wicket-taker Hasan Ali, Junaid Khan and Rumman Raees have the ability to rewrite history.
And this despite a dismal 2-13 record against India in various ICC tournaments (World Cup, Champions Trophy and World T20), which makes the 'Men In Blue' firm favourites.
India's batting line-up, as expected, has fired big time in this Champions Trophy with Shikhar Dhawan (317 runs) and Rohit Sharma (304 runs) topping the run charts.
Skipper Kohli, with 253 runs, makes it three Indians in the top-5.
Kohli is confident that his middle-order comprising Mahendra Singh Dhoni, Kedar Jadhav and Hardik Pandya, that has gone untested so far, will come good if 'Law of Averages' catches up with them.
"I am sure Kedar and Hardik will put their hands up when the situation arises. I don't think the middle order not being tested is something to worry about," the skipper, who himself has been in sublime form had said earlier.
With two quality pacers in Bhuvneshwar Kumar and Jasprit Bumrah, both of whom have maintained less than five runs per over economy rate on flat decks, India have their bases covered.
Ravindra Jadeja's all-round prowess and the balance that Hardik and Kedar bring with their multiple skills, make it a complete side.
Defending the Champions Trophy will also be important as the on-field supremacy could also help India regain some lost ground off the field when the ICC Annual Conference starts a day after the final.
In all, a lot to play for.
Squads
India: Virat Kohli (captain), Shikhar Dhawan, Rohit Sharma, Yuvraj Singh, MS Dhoni (wk), Kedar Jadhav, Hardik Pandya, Ravichandran Ashwin, Ravindra Jadeja, Jasprit Bumrah, Bhuvneshwar Kumar, Dinesh Karthik, Mohammed Shami, Ajinkya Rahane, Umesh Yadav.
Pakistan: Sarfraz Ahmed (captain), Ahmed Shahzad, Azhar Ali, Babar Azam, Mohammed Hafeez, Shoaib Malik, Hasan Ali, Mohammed Amir, Rumman Raees, Junaid Khan, Imad Wasim, Faheem Ashraf, Shadab Khan, Fakhar Zaman, Haris Sohail.
Subscribed Failed...
Subscribed Successfully...