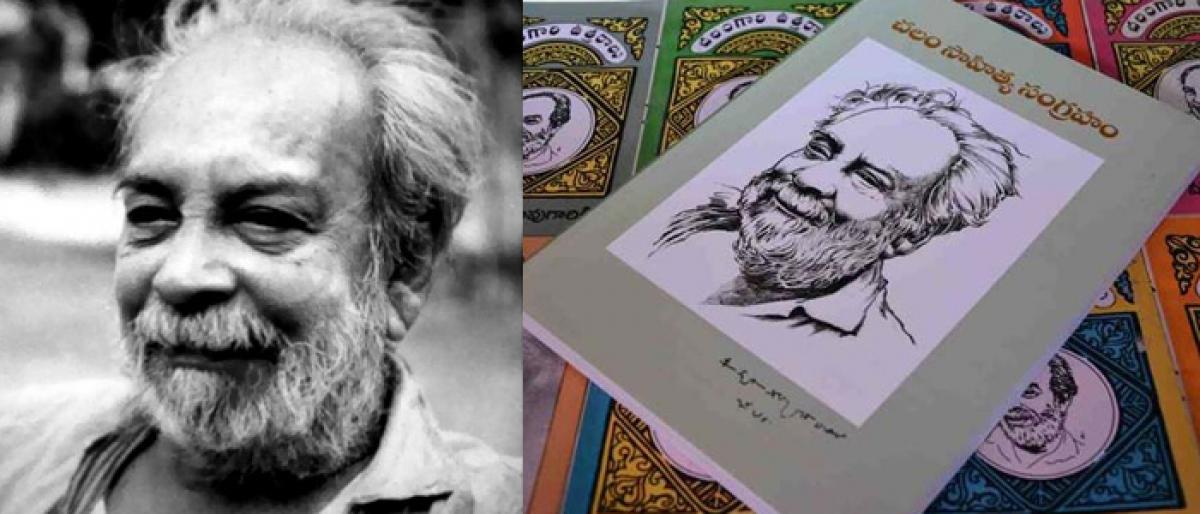 Highlights
Controversies piloted the convoy of ideas and creative fiction of  Chalam, whose iconoclastic forays tearing into the social fabric made him a sensational Telugu writer of the twentieth century.  His rebellious writings about the freedom of the fairer sex were applauded and at the same time it also garnered rude criticism by the traditional people. 
Controversies piloted the convoy of ideas and creative fiction of Chalam, whose iconoclastic forays tearing into the social fabric made him a sensational Telugu writer of the twentieth century. His rebellious writings about the freedom of the fairer sex were applauded and at the same time it also garnered rude criticism by the traditional people.
Chalam claimed himself as the third feminist as Kandukuri Veeresalingam being the first, and Gurajada Apparao the second. This he said in a polite reply to a question asked in an interview whether he was the first feminist. Having lived a complete life of 84 years Chalam had three phases in his life.
Having spent a very disturbed childhood Chalam didn't have any sweet memories of his father. He always watched his wailing mother and his sisters being dominated by the men in the family. His fierce phase was when he started his writings about the emancipation of women from this patriarchal society and the feudal customs.
The last phase was for about 27 years and it was the time where most people mocked him for settling in Ramana Maharishi's ashram in Arunachalam. In 1950, he left Andhra where there was neither shelter nor food and lived in Ramana Maharishi's ashram until his death. He breathed his last on May 4, 1979, in his 84th year and till date his grave lies in Arunachalam.
His elder daughter Souris, who herself is a good writer, philosopher and an ardent devotee of Ramana Maharishi, took him to Arunachalam. After his death, Souris came to Bhimili (which Chalam loved always), Visakhapatnam and established Sneha Kuti, an ashram and lived there until her death in the last decade.
The year 2018 marks Chalam's 125th birth anniversary and paying a tribute to the great soul is an apt gesture for all of us who want an egalitarian society. Why was Chalam so applauded and at the same time detested by the people is the trillion dollars question.
There are a few answers to this query as the women folk loved his writings and the traditional fanatics crudely criticised him. He and his family were not given houses for rent and no one wanted to be with them. But still, he did not stop writing. Chalam wrote 'Stree' in 1925 much before than Bertrand Russel has written his 'Marriage and Morals' in 1929.
In 'Stree' Chalam discusses the overall physical, mental and philosophical development of the woman. His most controversial novel 'Maidaanam' even today is widely read and discussed.
Chalam wrote many playlets, dramas, stories and poetry too. His musings attracts many literary lovers in which he records his racy, fast-paced thoughts on love, marriage, society, customs and so on. His playlets, about 40 in number, deal with various themes ranging from mythological to philosophical and emotional to social.
Let's have a quick look at these women of steel. He writes about the mythological heroines Draupadi, Sita, Savitri, Bhanumathi, Ahalya, and interprets them anew. Chalam's Sita is a rebel and not only a being of flesh and blood but a logical thinker, as he portrays her in 'Sita Agnipravesam'. She candidly questions Rama when he asks her to jump in the fire and prove her purity.
'Do you only have dharma? What about me? I too have dharmas,' she says and applauds the sincere love of Ravana, who has really loved her and though kidnapped her. And never molested her and always waited for her to accept his love.
Although Ravana lost his entire family and people in the war with Rama he never compromised his love for Sita. Sita says he was nobler than Rama for he only asked her love but did not see her as a machine to improve his progeny. She also tells Rama that while Ravana eagerly waited for a place in her heart and Rama wanted to prove purity of her body. Condescendingly as an act of protest she jumps into the funeral pyre of Ravana and dies with a hope that someday or other people will understand her actions.
Chalam garnered a lot of criticism for writing this. 'How come he could write such a daring incident of Sita jumping into the pyre of Ravana', remained a question for the status quo establishment. In another playlet, Draupadi furiously questions people present in the court where she was dragged in by Dussasana. No one dares to answer her questions including the elders present in the court.
In the play 'Satyavanthudu', Chalam deals with the theme of the discipline of children and good parenting. Anasuya, daughter of Savitri and Satyavantha, rebels against her parents as to marry Pururava her love.
She argues with Savitri that she can get back to life like her mother and the man she loves. Anasuya loves two men and tells her mother in comparison to the first one she is deeply in love with the second and for him, she can even fight with Yama, the Lord of Death.
In 'Savitri', Chalam pens down the independent decision of women. In this play, Savitri offers herself to Yama to restore her husband's life. As I said regarding emotions, Chalam as a psychologist has always identified jealousy as the life-threatening emotion in man's life. Even in his story of the same name he deftly deals with this theme.
In another hilarious small one-act play 'Yamudi Mundu Chalam', the writer pens the dialogue between Lord of Death – Yama and Chalam. It seems a difficult task for Yama to answer the logical questions of Chalam, about the hell and heaven and virtue and vice.
Chalam fiercely exposes the hypocrisy of the human beings and the hollowness of the man-woman relations. His 'Stree' is a guide to the physical, psychological and social problems of the woman. Chalam believed that it is the real 'Ideal Woman' that can lead him to liberation. His pursuit of such a woman continued all through his life.
People said that the real Chalam died after he went to Ramana Ashram. But Chalam was active there too, he has done many translations of Tagore. His writings 'Bhagavadgita', 'Jesus' emerged from Arunachalam. The greatest thing about Chalam is his letters. He was a man of letters in the truest sense that whoever wrote a letter to him got a reply from him.
When Souris had a vision that the "Doom's Day" is coming, Chalam believed in it and wrote letters to all the people he knew and asked them to come to Arunachalam to save themselves from the catastrophe.
This became a butt of mockery as nothing happened that day and people ridiculed Chalam to believe Souris' vision, however, it can be sensed that the ardent love of him for his family and friends was the real reason behind writing the letters.
Chalam never regretted any of his writings, nor did he retract the words he uttered. Chalam's was a continuous journey and whatever he could find a little he shared with all by penning it. He puts his thoughts of love into the words of the divine damsel Urvasi in the play 'Pururava', which remains a classic.
This was broadcast from AIR Vijayawada, with the eminent actress Sarada Srinivasan voicing the role of Urvasi and Late Chiranjeevi playing the part of 'Pururava'. The two syllables Chalam remain till date and will continue to remain as the embodiment of love in this world forever and ever.
By: Jagaddhatri
The writer is a bilingual poet, author, translator, columnist and an orator
Interested in blogging for thehansindia.com? We will be happy to have you on board as a blogger.