The heritage edge to wedding wear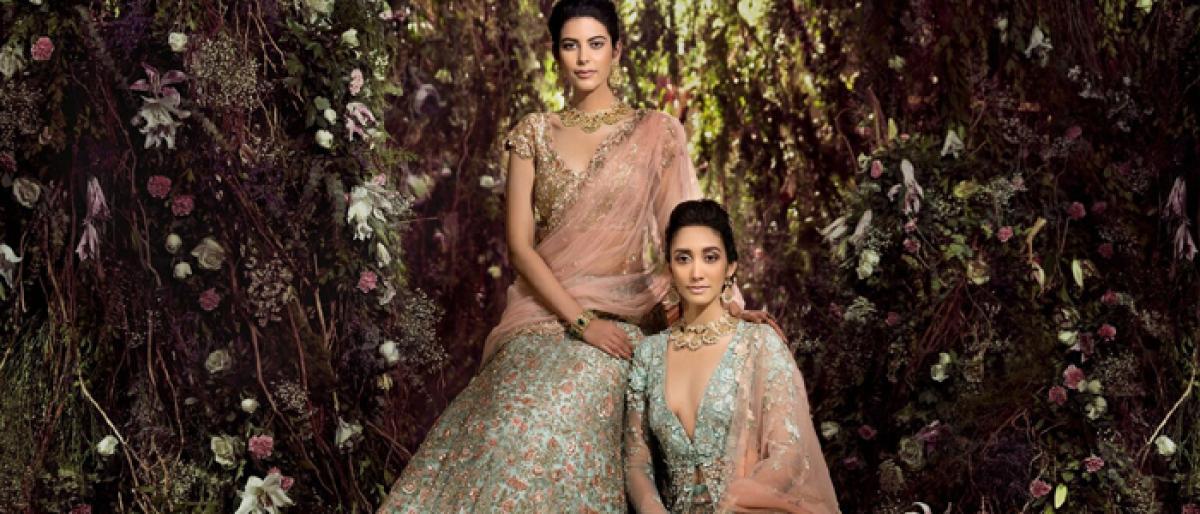 Highlights
Popular designers Shyamal and Bhumika showcased their latest collection at the recently held Vogue Wedding Show in New Delhi This years collection includes vibrantly hued ensembles, gilded with ancient embroidery techniques of zardozi and pitta, sparkling with crystals and sequins
Popular designers Shyamal and Bhumika showcased their latest collection at the recently held Vogue Wedding Show in New Delhi. This year's collection includes vibrantly hued ensembles, gilded with ancient embroidery techniques of zardozi and pitta, sparkling with crystals and sequins.
They share, "Brides, who dream of weddings in palettes of precious jewel tones as well as muted shades of blossoming flowers find their dream ensemble in this collection. Dramatic contemporary silhouettes in flared lehengas and gowns with exquisite details, inspired by carpets, upholstery, carved wood, gilded frames and huge archways, in diaphanous fabrics have been made keeping in mind a brides wedding trousseau, formal dinner parties or even the grand operas."
Excerpts:
As young designers how have the traditional fabrics and colours worked for your sensibilities?
India has been the hub for beautiful hand-woven traditional fabrics and has also been foremost in the use of handcrafted fashion through its ancient forms of embroidery. We at Shyamal & Bhumika work with raw and wild silks, matka, moonga, tussar and such other traditional silks, as well as widely used traditional colours like mustards, reds, hot pinks, and emerald greens to suit the brides from the Indian subcontinent. We enjoy a juxtaposition of a romance inspired modern aesthetic with our traditional colours and fabrics to suit the global Indian woman.
What has been the design philosophy of S&B?
The Shyamal & Bhumika design philosophy is to revive some of India's dying arts and crafts such as hand weaving, hand embroidery and bring these crafts back to the forefront. Using intricate embroidery, a unique play of colours and crafts were done by hand we bring a modern aesthetic to traditional Indian couture. We create collections keeping in mind our global muse, her tastes, adventures and experiences. These intricately hand-worked and handmade timeless ensembles create an everlasting impression on all.
Have there been any significant shifts that this season has seen in terms of fabric/design?
Our design ideology is constantly evolving every year and we have made a lot of fine but noticeable changes to our use of colour and motifs this season. The last couture week collection had a lot of Victorian glamour in the story of an Indian merchant princess. This year's collection is set in a French setting inspired by the royals of Versailles.
The collection is very colourful, regal, flamboyant and portrays a muse that could well have been an Indian princess in the courts of the fashion-obsessed Louis XIV. The mood this season is romance while the trending embellishments are playful threads, sequins and crystals in traditional embroidery techniques. We have been using natural fabrics like matka silk, raw silks, satins and crepe, and diaphanous fabrics like tulle and organza in innovatively cut silhouettes, lehengas and gowns, as well as our draped and ruffle detailed ensembles.
What are the predominant trends of this season?
This season is about an amazing mix of unusual colours such as ink blues, mint, ochre, salmon, crimson, storm grey, and even ivory and gold. Natural silks compliment tulle flares and organza details this season. The exquisite embroidery uses modern nuances of multi-coloured overlapping sequins with traditional techniques of zardosi and pitta.
Since when have you been designing in commercial space and what has been your take away or learn from your experience so far?
Bhumika and I have been designing since 2000, right out of fashion college. We established Shyamal & Bhumika in 2003 and have seen the Indian fashion industry grow magnanimously. The versatility and diversity of the industry today is most fascinating. It is filled with inspirations of our ever intriguing and remarkable history, ideas and knowledge that manifest through every individual who has an innovative or captivating thought to share with the world.
For us, it is the journey to success that has mattered more than the destination. Dedicated to the niche, multi-cultural following that we have gathered over the years, from around the globe, we have only grown stronger with each challenge and have strived to stay true to our mission to take India to the world.

How important is a wedding season for a designer in India?
Indian weddings today are elaborately designed with themed parties; the engagement, mehndi, sangeet and reception functions, are all given equal importance. The trousseau is now meticulously thought through with each outfit is being designed to imbibe the bride's personality and aspirations. As designers, it gives us pleasure to design a brides wedding trousseau, especially coordinated looks for the bride and groom (sometimes the whole family) since we get to make it a beautiful signature Shyamal & Bhumika wedding.