Strength of socially relevant literature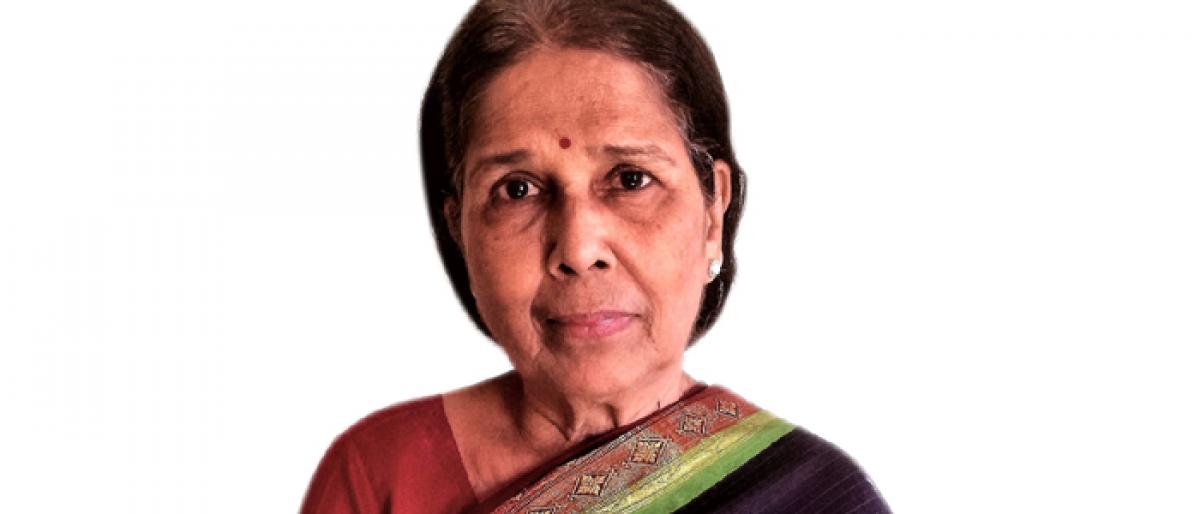 Highlights
When the fear of God left me, I became aware of my own power I was brimming with self confidence and the realization that I could chart my own course in life says Urmila Pawar noted Marathi writer and womens rights activist whose socially relevant writings stir the conscience of a society notorious for discrimination and humiliation of those who live on the margins
'When the fear of God left me, I became aware of my own power. I was brimming with self confidence and the realization that I could chart my own course in life' says Urmila Pawar noted Marathi writer and women's rights activist whose socially relevant writings stir the conscience of a society notorious for discrimination and humiliation of those who live on the margins.
Winner of the Gopichand Memorial award for outstanding literature for 2018, the 74 year old writer is considered one of the most prominent Dalit writers in the country whose candid views make her both powerful and controversial. Ecstatic at being honored by an award instituted in the name of a reformist writer like Gopichand, she says her experience of inner strength occurred after she converted to Buddhism at the age of 12 along with her family inspired by Dr. BR Ambedkar.
Growing up in a remote village in Ratnagiri in the Konkan region of Maharashtra, Urmila says her father who was a school teacher passed away when she was in the third standard and the burden of raising the family of six children fell on her illiterate mother who took to weaving cane baskets to support them. The humiliation and angst of her growing years are reflected in her writings that chronicle experiences of many marginalized human beings who inhabit a world that is far from equal.
Among them are the heart- rending observations about Dalit women who survived on one meal of salted water cooked as a soup with rice, their struggle all the more poignant viewed against the backdrop of patriarchy. What kind of humiliation did she face? "Poocho mat… (Don't ask me). I have seen discrimination impacting every aspect of life. One incident that remains etched in memory involves my school friends who planned a potluck where every child brought some cooked dish.
While my classmates decided to distribute the dishes that were to be brought, they became silent when my turn came. They told me that I was not to bring anything and it was quite evident that the reason was that I was a Dalit" Urmila points out. The issue of "purity" where girls were made to sit separately during menstrual cycles made her think about the whole set of rules that seemed unfair and discriminatory." I faced enough discrimination outside and as if that was not enough, rules were being set within the family" she says, speaking of her two fold struggle both as a Dalit and as a woman.
Moving to Bombay after her marriage, the lady with an iron will completed her MA in Marathi literature and secured a government job. Inspired by Baba Saheb Ambedkar's writings, she was drawn to women's movements beginning with the International year for women in 1975. "We were a group of women who met at Dadar and discussed the various limitations posed by a patriarchy that did not allow their true potential as humans. Hira Bhansode, Chaya Datar and other women exchanged their experiences and I felt a kinship emerge. The belief that men were superior because they held the seed for procreation ingrained over years gradually faded away.
Aurat ke pass bhi bheej hai (women bear seed too)…and we are equal…partners in creation and life. This was a realization that changed my life" Urmila says of her gravitating towards social activism. She has to her credit two collections of short stories "Satwa Bot" (sixth finger) and "Mother Wit" and a play "Vhay Mi Savitribai "( I am Savitri Bai) based on India's first woman teacher Savitri Bai Phule. A play based on this book in which she has also acted has been running for almost 25 years now. "Amhihi Ithihas Ghadvila (We Also Made History) co-authored with Minakshi Moon is a narrative about Dalit women who actively participated in Baba Saheb Ambedkar's anti-caste movement.
"Aaydan" (The weave of my life: A Dalit Woman's memoirs) her autobiography is a metaphor for the writing technique employed by her wherein she used the term to reflect the task that her mother undertook to support the family (weaving bamboo baskets) "I find that her act of weaving and my act of writing are organically linked to reflect the pain, agony and suffering of different Dalit lives in our region" she explains.
The travails of a people who were condemned to perform menial and undesirable tasks and forced to live in isolated communities won the Maharashtra Sahitya Parishad award and is considered one of the most frank and intimate memoirs that heralded the awakening of a consciousness for change. Can literature be an instrument of social change?. "All conflict emerges from lack of knowledge. Words have the power to turn ignorance into Knowledge and ultimately make a difference" she asserts. Urmila Pawar who scripted history by overcoming personal tragedy, bias and social attitudes to break barriers of caste and patriarchy through the power of carefully woven words, knows this better than anyone else.
Interested in blogging for thehansindia.com? We will be happy to have you on board as a blogger.