GHMC in Bangaru Telangana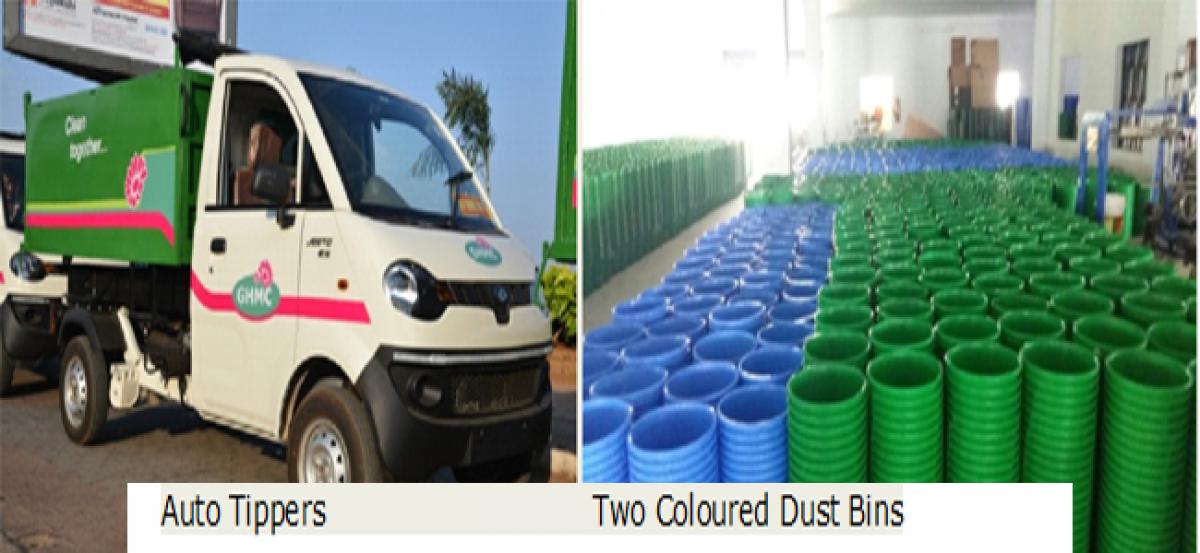 Highlights
GHMC is one of the biggest city corporations in India. It is spread over 625 Sq. Kms with a population of nearly 1 Crore, including floating population.
​Swachh Hyderabad
GHMC is one of the biggest city corporations in India. It is spread over 625 Sq. Kms with a population of nearly 1 Crore, including floating population. The city is generating about 4000 MTs of garbage daily. Swachh Hyderabad Programme was conducted from 16th May 2015 to 20th May 2015. Rs.200.00 Crore worth of civic infrastructure works was identified during "Swachh Hyderabad" campaign. Important achievements' of the campaign are as follows
A total 5096 works were identified, out of which 1615 works have been completed and 1007 works are under progress in GHMC, in addition to this 120 works are under progress with HMWSSB.
2000 Auto Tippers are planned to be distributed to improve waste collection mechanism. 1572 Auto Tippers have been distributed and the rest will be distributed by March 2016.
44.00 lakh two colored dust bins are being procured for distribution to all the 22 lakh households in the city free of cost; 33.86 lakh bins have been distributed so far& the balance 10.14 lakh households will be given the bins by the end of March 2016
12 New Transfer Stations are being developed in addition to the existing 13 transfer stations. 11 MW Waste to Power unit are getting ready for operationalisation at Bibi Nagar, which will utilize about 1100 MT garbage per day.
Toilets
It is proposed to construct 200 Public Toilets for the convenience of the citizens within the GHMC limits. The primary objective is to control public urination and maintain hygiene conditions in public places. Presently work is in progress on 100 public toilets.
White Topping of Roads
The concept of "composite paver" was introduced for the first time in the State (July 2015) and a one km stretch from City Central Mall to Zohranagar in Banjara Hills was taken up for white topping.It is proposed to take up 400 lane KMs of white topping in City within next one year. And 8 works have been tendered with an outlay of Rs.18.06 Crores.
B.T. Re-Carpeting
With a view to ensure smooth flow of traffic, the GHMC has taken up BT re-carpeting in a massive way. GHMC is having a road network of 8024.18 Km roads, which includes BT roads for 4052 kms. Presently 912 works with 1932 lane Kms with an estimated cost of Rs.337 crores are in progress. 225 works with 550 Kms have been completed and other works are under advanced stage in all Circles.
Potholes
A special drive was taken to identify Potholes in GHMC areas. Till date 12,297 Potholes have been identified out of which 12094 Potholes have been repaired.
Strategic Road Development Project (SRDP)
Objective of this project is to make Hyderabad a world class city by providing conflict-free corridors for free movement of traffic, with an estimated cost of Rs.20,760 crores. This project plans for 5 skyways, 11 Major Corridors, 68 Major roads, 1400Km long roads, and 54 flyovers.The project is in fast track mode and the government has accorded administrative sanction for works worth Rs.4,051 crores in first phase.
Model Markets
The market is a basic amenity for all citizens – wealthy and poor alike. Ideally, every 10,000 population should have a market. GHMC has come up with the concept of model markets, which provide space for Veg & Non-veg stalls and other outlets in single premises for the convenience of the citizen besides ensuring hygiene and vendor convenience. Presently 200 such markets have been sanctioned with an estimated cost of Rs.130 crores. In 59 locations works are currently in progress.
Multipurpose Halls
It is proposed to construct Multipurpose Halls, at least one in each of the 24 Constituencies under GHMC. A total of 31 Multi-Purpose halls has been sanctioned with an estimated cost of Rs. 58 Crores. Preparatory works have started at 16 locations
Development of Graveyards
There are about 960 graveyards pertaining to different communities in the GHMC limits. It is proposed to develop select graveyards with all amenities.
Haritha Haram in GHMC areas.
In order to mitigate the problem of pollution and for increasing the ground-level water belt in GHMC areas, HMDA Urban Forestry wing and Buddha Purnima Project authority has taken up plantation activities extensively in the erstwhile HUDA region. The HUDA saplings have their own brand image of definite survival because of the quality ensured and care taken for raising them. The total expenditure of Rs. 800 Crores was incurred up to November 2015.
Intelligent Transport System (ITS) in Hyderabad Metropolitan Area
In order to improve and modernize the Traffic management and transportation system in Hyderabad Metropolitan Area (HMA) for providing a higher level of convenience to the commuters of Hyderabad City, the ITS Master Plan for HMA has been formulated and planned for implementation in three phases.
G.Rajendera Kumar