Protests rock CBIT on second day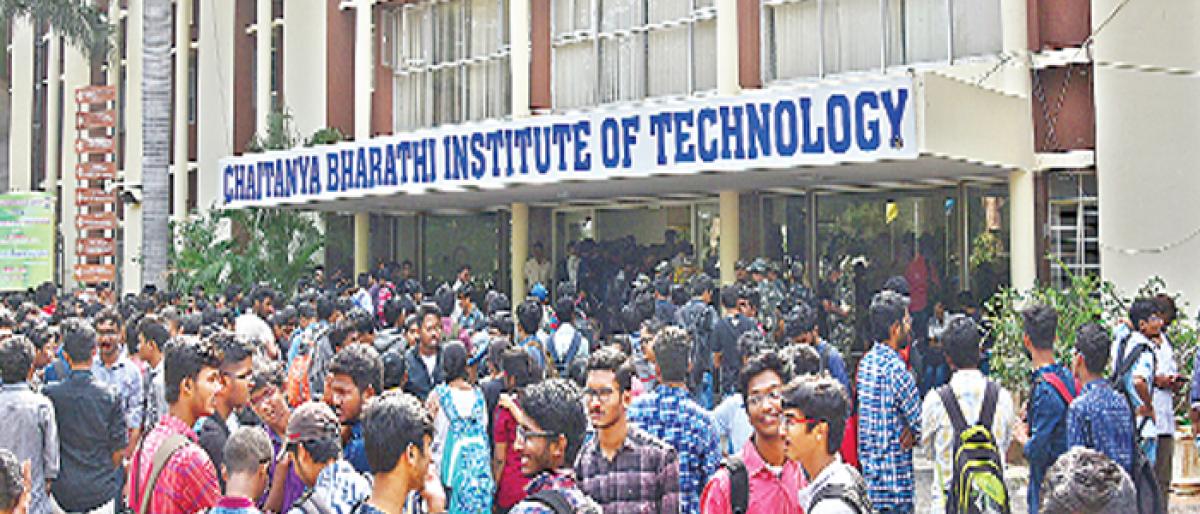 Highlights
Protests continued at the Chaitanya Bharathi Institute of Technology (CBIT) for the second day. As many as 2,000 students boycotted classes and examinations and staged a protest, demanding a rollback of the fee hike. Trouble began when several student unions, expressing their solidarity with the agitating students, joined in protests at Gandipeta on Thursday morning. The protests brought the traff
Hyderabad: Protests continued at the Chaitanya Bharathi Institute of Technology (CBIT) for the second day. As many as 2,000 students boycotted classes and examinations and staged a protest, demanding a rollback of the fee hike. Trouble began when several student unions, expressing their solidarity with the agitating students, joined in protests at Gandipeta on Thursday morning. The protests brought the traffic to a grinding halt.
Slogans like "we want justice," "roll back the fee hike," "down with CBIT," were raised as thousands of the students tried to stage a sit-in protest to ventilate their anguish over the unilateral decision taken by the management to hike the fee. More students joined the agitation on the Thursday following the breakdown of a two-and-half hour talks between the students and the representatives of the college management on Wednesday. It sparked unprecedented protests on the CBIT campus.
The protestors backed by the AISF, SFI, ABVP, AIDSO members initially tried to stage a protest at the Gandipeta circle. However, following the intervention of the police they took out a rally marching down the 1.5 km stretch down to the CBIT campus, raising slogans against the college management.
Finding fault with the college management trying to divert the issue during the discussions held on Wednesday, the protesters vowed to continue the agitation until the management rolled back the 'unilateral and retrospective fee hike' slapped on them. The students alleged that the college management had coerced and threatened the students that they would not be allowed to appear for examinations unless they executed affidavits agreeing to an unspecified fee hike to be effected on a later date.
Explaining their troubles, the students said that each student has to pay to the tune of Rs 1.75 lakh by December 15, which is impossible for the parents to pool up such huge amounts. Some students took a bank loan for securing admission in the college. "Now, we cannot ask the bank to provide additional loan, that too, for the payment of an academic year which we had completed," said a protestor. Further, the students also questioned the tall claims of the college management that the fee hike was for providing better infrastructure.