Pragati Nivedana Sabha: Welfare programmes being intiated in state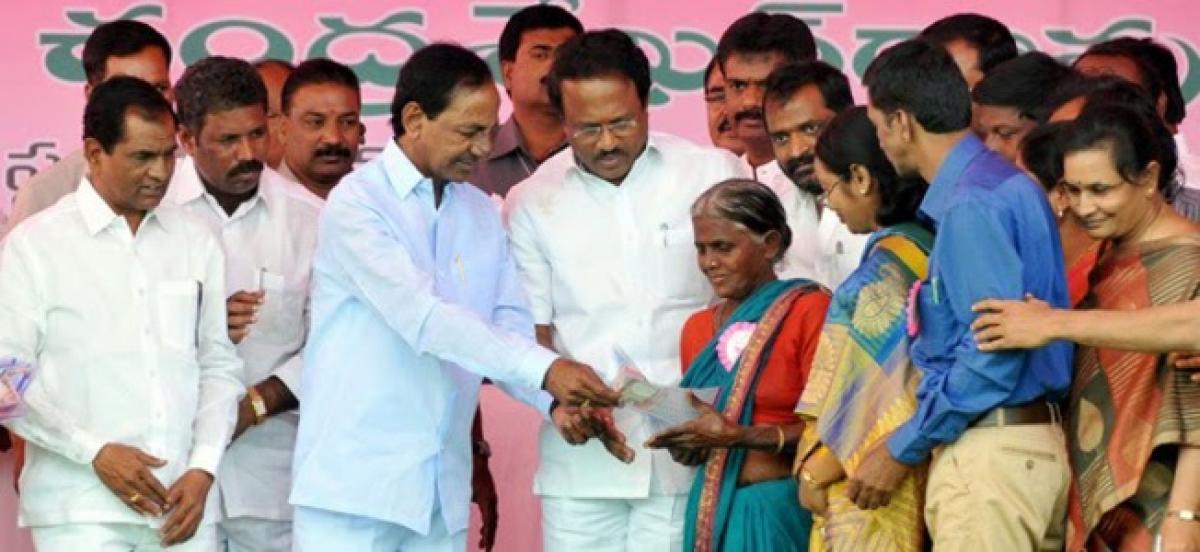 Highlights
The government has been providing financial assistance of Rs5 lakhs for those who have lost their lives due to hail storms, heavy rains, floods and other natural calamities
Income limit enhanced: To identify BPL families the Income Limit has been enhanced from Rs 60,000 to Rs 1,50,000 per year in rural areas and from Rs 75,000 to Rs 2,00,000 per year in urban areas. As a result of the lower income groups with this parameter, are able to reap the fruits of welfare initiatives taken up by the government. This helped all those falling in this income limits in Public and Private sectors to have the benefit of welfare programmes.
Aasara pensions: Telangana government has been spending Rs.5,043.92 crores annually and offering Aasara Pensions to 40 lakh people. All Old Age poor people in the state, Widows, Filariasis patients, Single women, Toddy tappers, handloom weavers, Beedi Rollers, Aids patient's pension has been enhanced from Rs 200 to 1000 per month. The pension of differently abled persons has been enhanced from Rs 500 to Rs 1500 per month. Nowhere in the country, except in Telangana state, the Beedi rollers, Single women and patients suffering from Filariasis are provided with Rs.1000 as monthly pension.
Kalyana Lakshmi/Shaadi Mubarak: For every poor girl child in the state Rs.1,00,116/- is given as financial assistance at the time of their marriage.
6 kilos Rice for every individual in a family: During combined state for every individual with 4Kgs capper head maximum of 20 kgs rice was given. After formation of Telangana state 6 kgs rice is given for every individual in a family at Rs.1 per kg irrespective of a number of individuals in a family without any limit.
Fine Rice for students: A total number of 44.61 lakh students in all government hostels, schools, Anganwadi centres food cooked with fine rice is provided daily.
Rs 10 lakhs for Martyr's family besides a job: One person in every family of martyr employment has been provided with a government job. Each family has been provided Rs 10 lakh financial assistance. At Hyderabad Martyrs memorial is under construction. The government has withdrawn all the cases filed against the agitators.
Financial assistance to deceased families due to natural calamities: Government has been providing financial assistance of Rs.5 lakhs for those who have lost their lives due to hail storms, heavy rains, floods and other natural calamities. For the families of those died due to lightening Rs.6 lakhs is given.
Abolition of Hooch (illicit liquor) - Rehabilitation programmes: Government has abolished the making and sale of hooch in Telangana state. Those who were dependent on the production were given Rs.2 lakhs financial assistance to choose an alternative employment.
Vide GO No.58 Pattas were given to 1,25,000 people: Government has regularized and given Pattas free of cost to all those poor families living in government lands, measuring below 125 square yards. Vide GO Number 58 after regularization across the state 1,25,000 poor were given land Pattas.
Insurance cover for Journalists, Home Guards and drivers: Rs.5 lakh insurance cover is being provided to working journalists, Home Guards and Drivers. The premium sum is being paid by the government.
Transport tax on Autos and tractors has been waived off: Government has waived off pending transport taxes on autos and tractors. The government has also waived off Transport tax.
Financial assistance for self-employment schemes: For the benefit of poor people self-employment without linkage to Banks up to Rs.50,000 with 100% subsidy government has been providing financial assistance. For those borrowing Rs.1 lakh loan 80% subsidy is being given. For below Rs 2 lakhs unit 70% subsidy and below Rs 5 lakhs unit 60% subsidy is being provided.
Self Respect Buildings: For all the communities of various castes to construct buildings of Self Respect for use of their respective community government has allocated lands and necessary financial assistance.
Hike in the salaries of lower income groups: Home guards, Anganwadi teachers, Helpers, Asha workers, IKP, SERP, NAREGA, 108 staff, 104 staff, Contract, outsourcing employees, VRAs, VAOs, contract lecturers, CRTs, Archakas and other employees salaries were hiked by the government. Further, Ration dealer's commission has also been enhanced.