Congress worries over deletion of 20 Lakh names in voter lists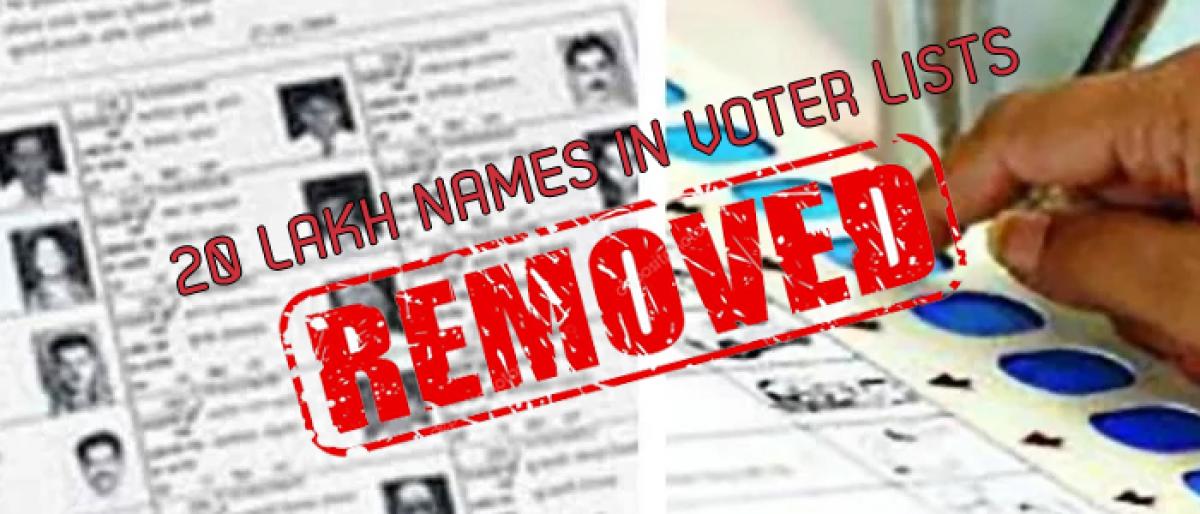 Highlights
Deletion of names of more than 20 lakh from the voter lists has been worrying the Congress which is preparing to face early elections, and it is contemplating plans to control the damage
Marri Shashidhar Reddy meets Chief Election Commissioner of India and submits a memorandum in this regard
Several leaders of the party call him and complain about the deletion of names in their respective districts
Hyderabad: Deletion of names of more than 20 lakh from the voter lists has been worrying the Congress which is preparing to face early elections, and it is contemplating plans to control the damage.
The PCC Election Commission Coordination Committee has taken up the issue and submitted a representation to the Election Commission of India.
Chairman of the committee Marri Shashidhar Reddy has met CEC and submitted a memorandum in this regard.
He urged the CEC to give time for the verification of draft electoral rolls so that the genuineness of deletions could be checked, and all the eligible voters are given opportunity to cast their vote.
Speaking to The Hans India, he said that the history of deletion of names from the voter lists suggest that the present government may stoop to any low to win polls.
It may use its power to change the voter lists in its favour for the next elections.
The Chief Minister of Telangana in 2015 blatantly tried to interfere in the functioning of the EC when he summoned the then Chief Electoral Officer of Telangana on July 21, 2015 and directed that 15 lakh names should be deleted from the voters list in the GHMC area, covering 24 Assembly Constituencies.
This led to large scale illegal deletion of names from the electoral rolls without following due process of law like serving notices to them, etc.
On the complaint of him, the EC has sent a 14-member team to verify the deletions.
The then commissioner of GHMC Somesh Kumar was transferred in the issue, Shashidhar Reddy said.
He said that according to media reports there is a decrease of about 20 lakh voters now, as compared to 2014 and this is above 9 per cent.
The reports also state that about 8.12 lakh new voters have enrolled this year.
Decrease of the 20 lakh voters as compared to 2014 even though over 8 lakh new voters have enrolled this year will raise doubts in the minds about the purity of the voters list and the EC must address this concern.
He said that they suspect conspiracy to interfere with the preparation of pure electoral rolls.
However, if things are rushed through, there are serious apprehensions that there would be large scale tampering with the electoral rolls at the lower level, The EC should not rush to the elections with the existing voter lists, he said.
Shashidhar Reddy said that in the past four years about 32 lakh have enrolled as voters in the State.
In spite of this the number of voters has been reduced by 20 lakh when compared to the number of voters of 2014. This shows that some foul play has taken place.