TRS meet draws OU students wrath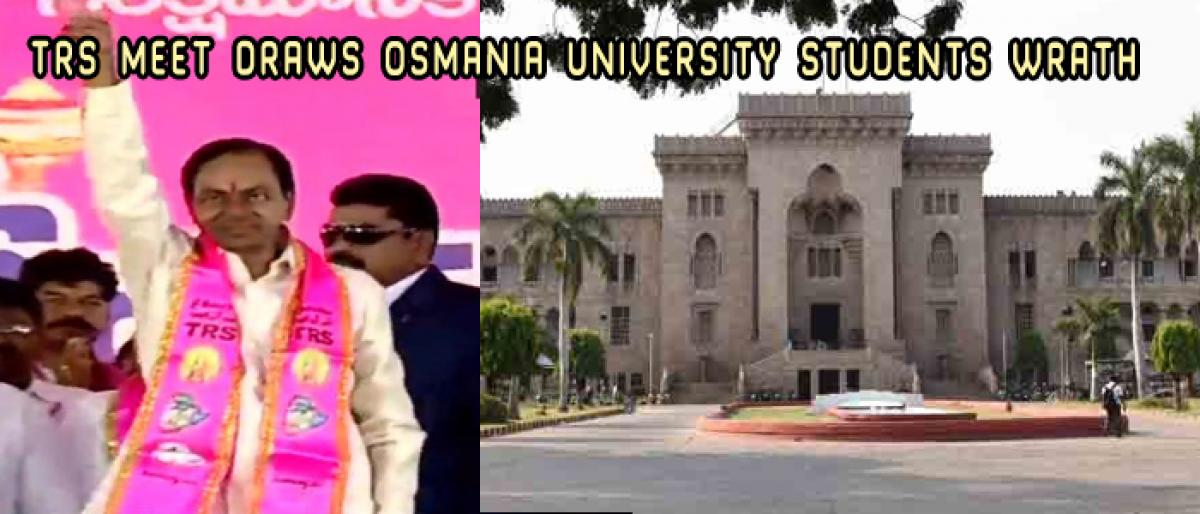 Highlights
Even as the entire State was looking at Kongara Kalan and lakhs of people in thousands of vehicles making a beeline to take part in Telangana Rashtra Samithis TRS mammoth Pragathi Nivedana Sabha with much fervour and frenzy, tension prevailed on OU campus on Sunday when activists of Dalit students organisations tried to take out a rally against the public meeting of the ruling TRS
Hyderabad: Even as the entire State was looking at Kongara Kalan and lakhs of people in thousands of vehicles making a beeline to take part in Telangana Rashtra Samithi's (TRS) mammoth Pragathi Nivedana Sabha with much fervour and frenzy, tension prevailed on Osmania University campus on Sunday when activists of Dalit students' organisations tried to take out a rally against the public meeting of the ruling TRS.
A large group of students took out a rally from the Arts College building to the university library.
The activists had an argument with the police personnel who prevented them from proceeding further. Later, they held a meeting at Arts College and strongly criticised the TRS government.
They alleged that Chief Minister K Chandrashekar Rao was holding Pragathi Nivedana Sabha just for his political survival whereas the State did not achieve any progress under his regime.
They demanded that the KCR government fill over one lakh vacancies to put an end to the growing disappointment among educated youth.