BJP will fight to end TRS-Majlis nexus: Laxman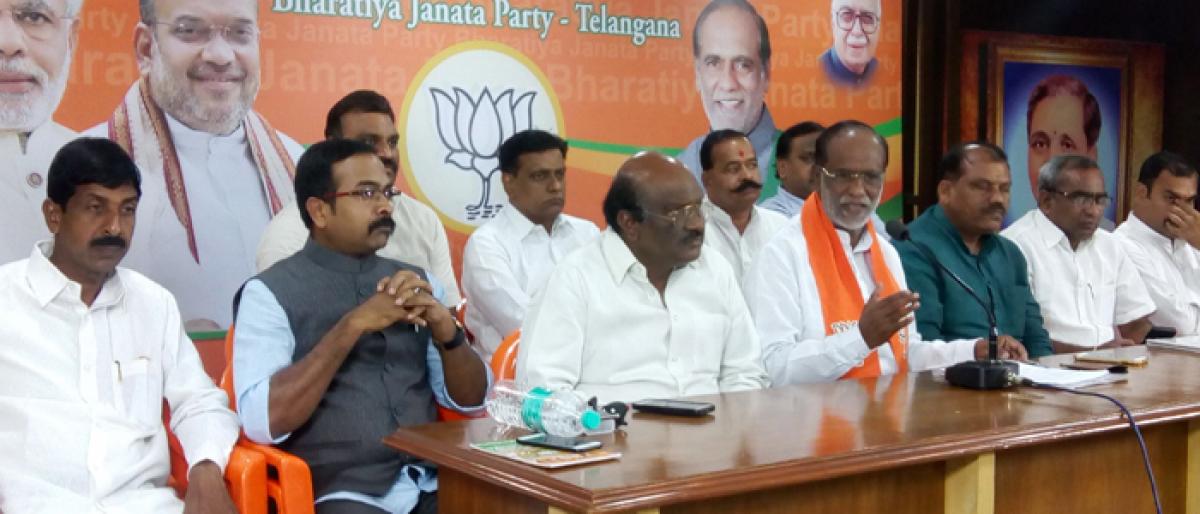 Highlights
Telangana BJP president Dr Laxman said that the party chief Amit Shah would sound the poll bugle in the second week of September at a massive public meeting, which most likely would be held in Hyderabad Addressing the media here on Monday, Laxman said Whether the polls come early or as per the schedule, the party is ready to face, and we will contest all the 119 Assembly constituencies to free t
​Hyderabad: Telangana BJP president Dr Laxman said that the party chief Amit Shah would sound the poll bugle in the second week of September at a massive public meeting, which most likely would be held in Hyderabad. Addressing the media here on Monday, Laxman said "Whether the polls come early or as per the schedule, the party is ready to face, and we will contest all the 119 Assembly constituencies to free the State from the clutches of Telangana Rashtra Samithi and Majlis."
Adding further, he said Amit Shah had made it clear that the party was going to take up Assembly elections of the State in all seriousness, and the BJP would enter the fray with a definite action plan and strategy to make its mark akin to winning in several States like Assam, Uttar Pradesh and others.
For this, the national party would be holding a detailed discussion on the elections in Telangana during its national executive meeting scheduled to be held on September 8 and 9. Besides, Amit Shah had also made it clear that a special meeting of the national party leadership would also discuss the Assembly elections in the State. The party would come up with an action plan with definite strategy and target, he said.
The BJP State president also added that the party national president had said that since there were BJP governments in the four-poll bound States, he would be focusing on the Telangana Assembly elections. The party has appointed national organising general secretary Saudan Singh to oversee the party activities in Telangana. In addition to him, another national organising secretary BL Santhosh from Karnataka will stay in the State to oversee the party activities till the end of the Assembly elections, he informed.
Besides, MLAs, MPs and Ministers from Karnataka and from other parts of the country will be visiting the State frequently and the party was finalising an action plan to hold meetings with a national leader in every Assembly segment in Telangana.
Terming Congress party a dead snake in the State which could neither fight nor face the TRS, Laxman said, that it was the BJP which would be fighting to end the TRS-Majlis nexus in the State. He also said that party would be celebrating the Telangana Liberation Day in a big way.
Dismissing the party has any understanding with the TRS, he said "Decisions of the Central government are taken keeping in the interest of people of the new State. The Centre is positively responding to the requests made by the State government."