BJP dares MIM to contest 100 seats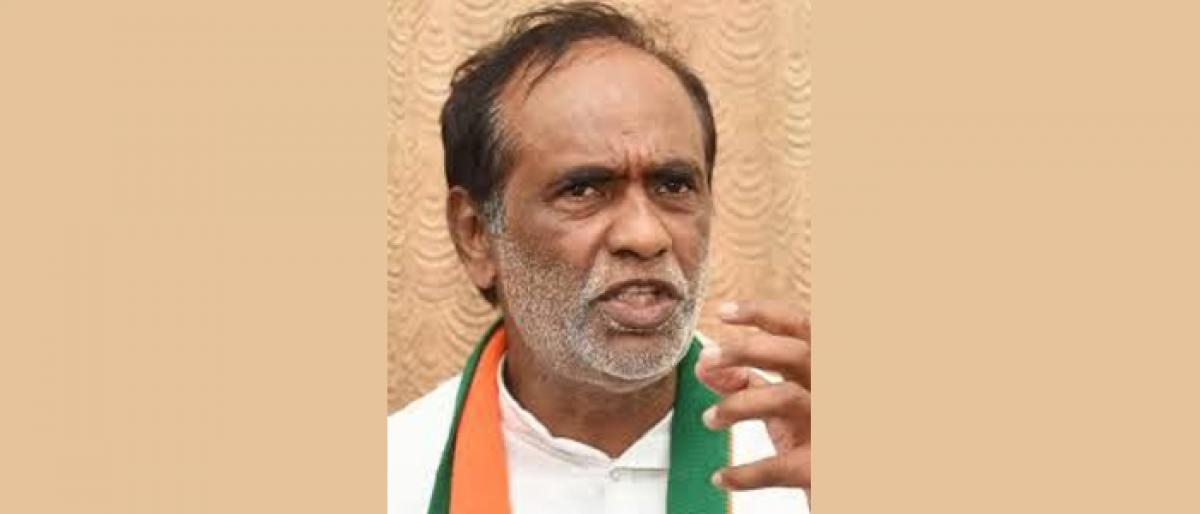 Highlights
BJP State president Dr K Laxman dared the All India Majli seItte hadul Muslimeen AIMIM chief Asaduddin Owaisi to field the latters party candidates in...
Mocks MIM chief Asaduddin Owaisi that the latter's party has been winning 10 Assembly seats only by entering into secret pacts with congress, TDP and TRS
Lashes out at Congress, TRS for not celebrating State Liberation Day
Hyderabad: BJP State president Dr K Laxman dared the All India Majlis-e-Ittehad-ul Muslimeen (AIMIM) chief Asaduddin Owaisi to field the latter's party candidates in 100 Assembly constituencies in the State to know his party's strength vis-a-vis BJP.
Addressing the media here on Sunday, Laxman said MIM has been getting its candidates elected in 10 Assembly constituencies on the strength of entering into secret pacts with Congress, TDP, and now with TRS.
"If Owaisi is so confident, let his party candidates contest in 100 Assembly constituencies to figure out his party's strength among people vis-a-vis BJP," he said, adding that it would be the BJP which would defeat MIM on its home turf.
"MIM chief thinks his party has control over the minority votes. But, many, particularly women from the community have been increasingly supportive of BJP, following the courage showed by the government at the Centre led by Prime Minister Narendra Modi," Laxman added.
While the Congress was being controlled by its president Rahul Gandhi via Owaisi, the TRS was remotely controlled by the MIM.
But, it would be the BJP which would defeat MIM chief on his home turf in the Old City, he said.
Accusing the Congress, TDP and TRS of failing to celebrate the Telangana Liberation Day fearing backlash from MIM, Laxman demanded all the three parties to tender an apology to people of the State.
"Besides celebrating the Liberation Day officially, if the BJP comes to power in the State, it will also identify illegal foreign immigrants and those staying beyond their visa period in Telangana and deport them, the BJP leader added.
He said that BJP had decided to celebrate the Liberation Day in a big way at Huzur Nagar on Monday, for which, Union Minister Hansraj Gangaram Ahir would attend as the chief guest.
He said party's national president Amit Shah's meeting has lifted the morale of the party cadre to work hard with a single agenda to make the party win the ensuing elections.
Claiming people across the State were extending their support to support to BJP, he added that saffron party was the only alternative to Congress and TRS.
He asked people of the State to think whether the ensuing elections should benefit the KCR and his family, or to the people of the State.
As part of the election campaign, Union Ministers will address 50 public meetings to be organised by October this year.
Subscribed Failed...
Subscribed Successfully...