Plea to revert to 34% BC quota in local polls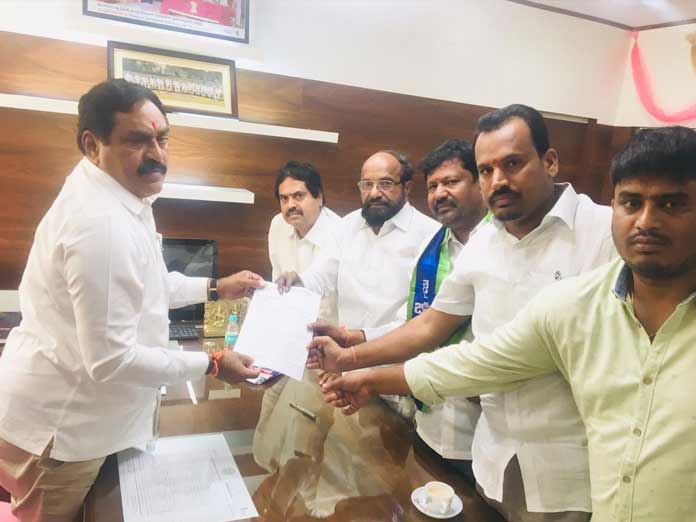 Highlights
A team of BC leaders led by national president of BC Welfare Association R Krishnaiah met Errabelli Dayakar Rao, the minster of Panchayat Raj department, at Secretariat on Tuesday In the meeting with the minister, BC leaders discussed on various BC issues and appealed to the minister to increase BC reservations back to 34 per cent for the forthcoming MPTC and ZPTC elections
Musheerabad: A team of BC leaders led by national president of BC Welfare Association R Krishnaiah met Errabelli Dayakar Rao, the minster of Panchayat Raj department, at Secretariat on Tuesday. In the meeting with the minister, BC leaders discussed on various BC issues and appealed to the minister to increase BC reservations back to 34 per cent for the forthcoming MPTC and ZPTC elections.
Expressing his unhappiness over the decrease in BC reservations for recently held sarpanch elections based on the Supreme Court ruling, Krishnaiah said that at least 1,600 sarpanch posts and another 1,600 ward member posts were deprived to BCs as a result of the decrease in BC reservation from 34 to 22 per cent. He said he had appealed the minister to increase the BC reservations back to 34 per cent for the forthcoming Panchayat Raj elections for MPTC and ZPTC. He alleged that political parties and courts have done injustice to BCs. He urged the State government to pressurise the Central government to pass a constitution amendment bill to give reservations to BCs based on their population. He also urged the State government to fight in courts to increase BC reservations back to 34 per cent in the light of the 10 per cent reservations to EBCs, which nullifies 50 per cent ceiling on reservations imposed by courts. Referring to a court ruling in 1993 which imposed 50 per cent ceiling, he said that the same ruling allowed the increasing of reservations if the State has proper census details. Telangana government can utilise its own population survey conducted in 2014, which declared that BCs constitute 54 per cent of total State population, for the purpose, he suggested. These survey details should be presented before the court to win the case, he said.
Krishnaiah said that the minister has responded to their demands and promised to look into the matter after discussing with the CM KCR. The team that visited the minister included vice president of national BC welfare association Gujja Krishna, Neela Venkatesh, Dasu Suresh, B Sagar, Ananthaiah and others.