Civil servant's soulful odyssey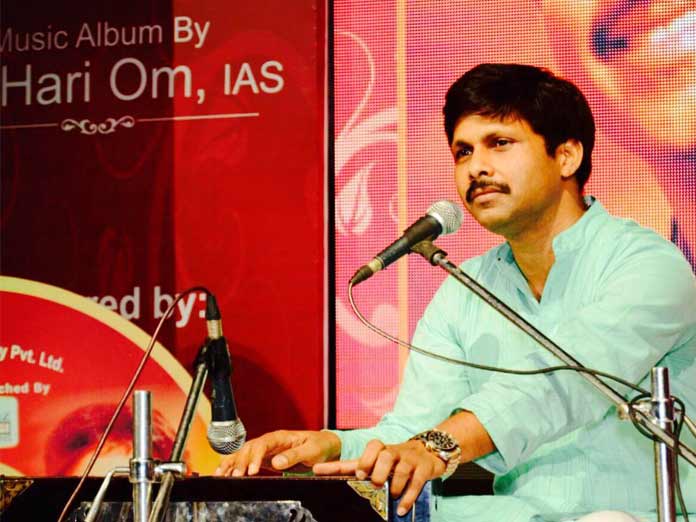 Highlights
Dr Hari Om, IAS officer will be performing under the Campus Concert Series at the University of Hyderabad on today at 600 pm in the School of Humanities Auditorium
Dr Hari Om, IAS officer will be performing under the Campus Concert Series at the University of Hyderabad on today at 6:00 pm in the School of Humanities Auditorium.
Dr Hari Om is a multi-faceted personality. He is a poet, a story writer and moreover a very popular ghazal singer. By this introduction it appears that Dr Hari Om is a thoroughly creative soul but wait. He is a senior Indian Administrative Service officer of Uttar Pradesh cadre. He hails from a village Katari of Sultanpur (now in Amethi district) of Uttar Pradesh. He is an alumnus of Allahabad University, a Muirian and a JNUITE. The chain of educational institutions doesn't stop even here. He did his Ph. D from HNB University, Garhwal, Uttarakhand and went abroad for his second Master's in Governance, Public Policy and Political Economy from The International Institute of Social Sciences, The Hague, NL.
Dr Hari Om is a versatile singer. He chose the field of Ghazal singing to create a niche for himself four years back and to the surprise of the audience he has succeeded to a great extent with his mega hit 'Sikandar hoon magar haara hua hoon' which is on the lips of his admirers. He has released four albums so far. 'Rang Pairahan' and 'Intisaab' are dedicated to the memory of the legendary poet Faiz. 'Roshani Ke Pankh' and 'Rang Ka Dariya' are his other albums where he has sung his own lyrics mellifluously. Dr Hari Om has been recently in news for releasing his unique Ghazal-Kathak musical project 'Khanakte Khwaab' where he has written, composed and sung Ghazals in such a manner that Kathak can be performed on it classically. As a singer he has done hundreds of live concerts in India and abroad. With utter melody and classical touch in his voice the audience finds him a suitable heir of legendary Jagjit Singh in the world of Ghazals in the coming years. He has shared stages with Ghulam Ali, Hussain Brothers, Chandan Das, Shreya Ghoshal, Kailash Kher and many more.
Hari, who has written, composed and sung for many Hindi film. About how he manages to do that? He says, "Music is a stress-buster. Poetry and music have been saviours in many unpleasant situations. I don't know when those saviours became my passion."
Hari Om also has a very rich professional record. He has been Collector/District Magistrate in 11 districts of UP as Kanpur, Allahabad, Gorakhpur, Saharanpur, Moradabad are the major ones. Here also he has left a popular track record. In the government level, he has served in Home, Cooperatives, Agriculture, Social Sector, Sports and Culture departments as secretary. Dr Hari Om is also an internationally acclaimed election observer. He has observed many general elections in India on behalf of the Election Commission of India. Recently he was a part of the eight-member Indian team of observers which supervised the Presidential elections in Zimbabwe.