Army recruitment rally in Karimnagar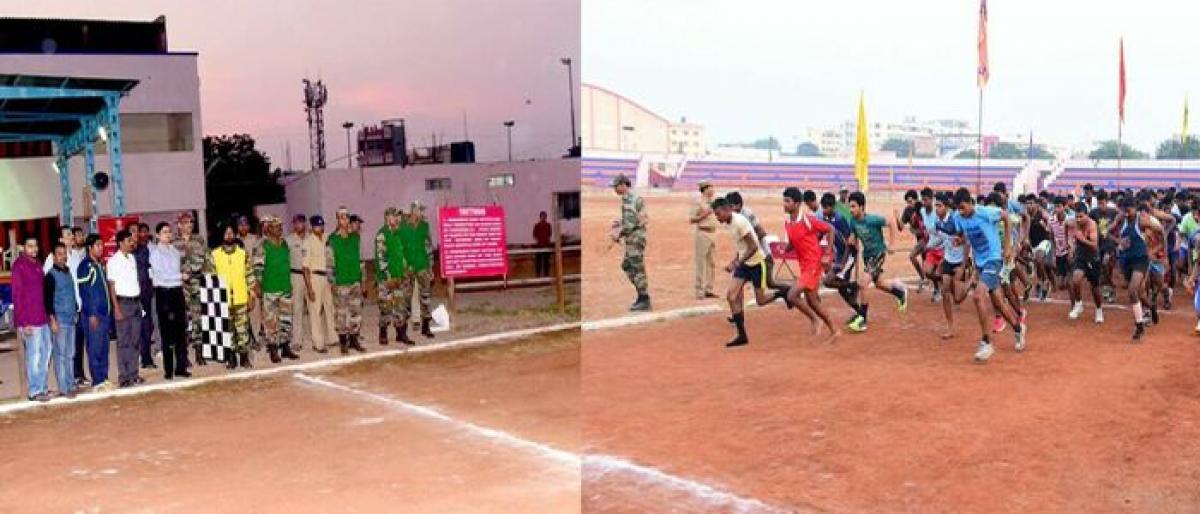 Highlights
The 10-day Army Recruitment Rally started on a grand note in the early hours of Thursday at Ambedkar Stadium in Karimnagar. District Collector Sarfaraz Ahmed inaugurated the rally by waving the flag. On the very first day, as many as 419 members (out of total 4,075) from Adilabad and Rangareddy districts cleared their eligibility in the 'Soldier General Duty category' that was conducted as part of
Karimnagar: The 10-day Army Recruitment Rally started on a grand note in the early hours of Thursday at Ambedkar Stadium in Karimnagar. District Collector Sarfaraz Ahmed inaugurated the rally by waving the flag. On the very first day, as many as 419 members (out of total 4,075) from Adilabad and Rangareddy districts cleared their eligibility in the 'Soldier General Duty category' that was conducted as part of the army recruitment rally.
The tests were conducted in running, push-ups, ditch jumps, sit ups and in balancing beem events along with physical fitness. All the tests were captured through CCTV cameras that were installed in the stadium with tight security arrangements under the supervision of Chennai Army Deputy Director General Brigadier V S Samkyon and Army Recruitment Director Colonel Pavan Puri.
About 5,961 youth applied for the army recruitment rally from Karimnagar and Nalgonda districts. The tests for these candidates will be conducted in the late hours on Thursday. The Commissioner of Police V B Kamalasan Reddy made tight security arrangements by deploying police personnel for smooth going of army recruitment rally, which will be held for ten days in the district.