Gen Next gives eclectic start to LFW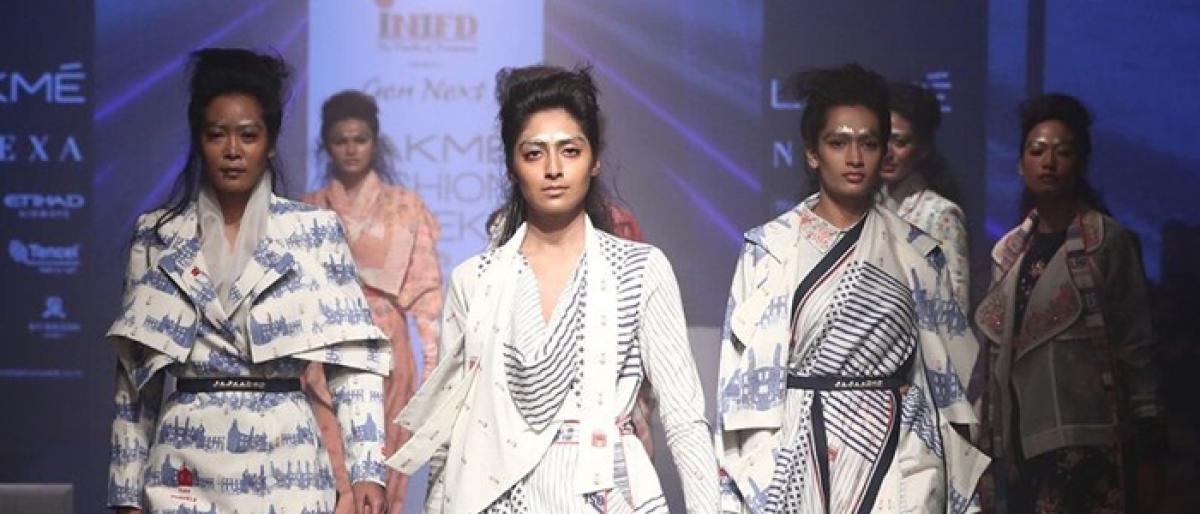 Highlights
From bright laser lights to dramatic eyes and techno music, five new labels on Wednesday made an impressionable start at the opening show at the Lakme Fashion Week WinterFestive 2018
From bright laser lights to dramatic eyes and techno music, five new labels on Wednesday made an impressionable start at the opening show at the Lakme Fashion Week Winter/Festive 2018.
The INIFD Gen Next show at the fashion celebration, which has given Indian fashion industry names like Masaba Gupta, Gaurav Gupta and Kunal Rawal, saw a wide range of collections from newbies like Anurag Gupta, Aur by Anurag Kumar Singh, Jajaabor by Kanika Sachdev, Studio Swgt by Shweta Gupta and Yaavi by Yadvi Agarwal.
The show started with Anurag Gupta, who showcased a collection inspired from Mauritius Cornelis Escher's day and night artwork.
An "excited", Gupta said that his collection, which comprised of dresses, jackets, pants are edgy and relaxing. Next came Jajaabor by Kanika Sachdev, who used white sneakers with sarees, kurtas, dresses and suits.
"In today's world women are working... those days are over where women would wear heals and walk around... They are always on the move and sneakers are comfortable... We also want to promote the idea of more and more girls wearing sarees," Sachdeva said.
Label Yaavi by Yadvi was next, who showcased an array of hand painted separates on silks. She says her label is for the contemporary women. Talking about the usage of lasers and techno music, Yaadvi says it was exciting. "It really added to our concept... the lights and the live DJ added a lot to the show," she said.
Label Aur by Ajay Kumar Singh and Studio Swagt by Sweta Gupta were up next. Singh showcased a wide range of digital prints and patchwork with machine embroidery on Khadi and handloom fabrics. Sweta's collection showcased a modern take on nomadic expressions through weaves, which mimicked textures from rocks of the Himalayas.
Her collection saw a wide range of chanderi cotton, silk and merino wool yarns in hues like grey and shades of slate and silt. The event kicked off on Wednesday and will conclude on Sunday, where designer Monisha Jaising will be showcasing her latest collection 'Shades Of A Diva'.
By: Durga Chakravarty