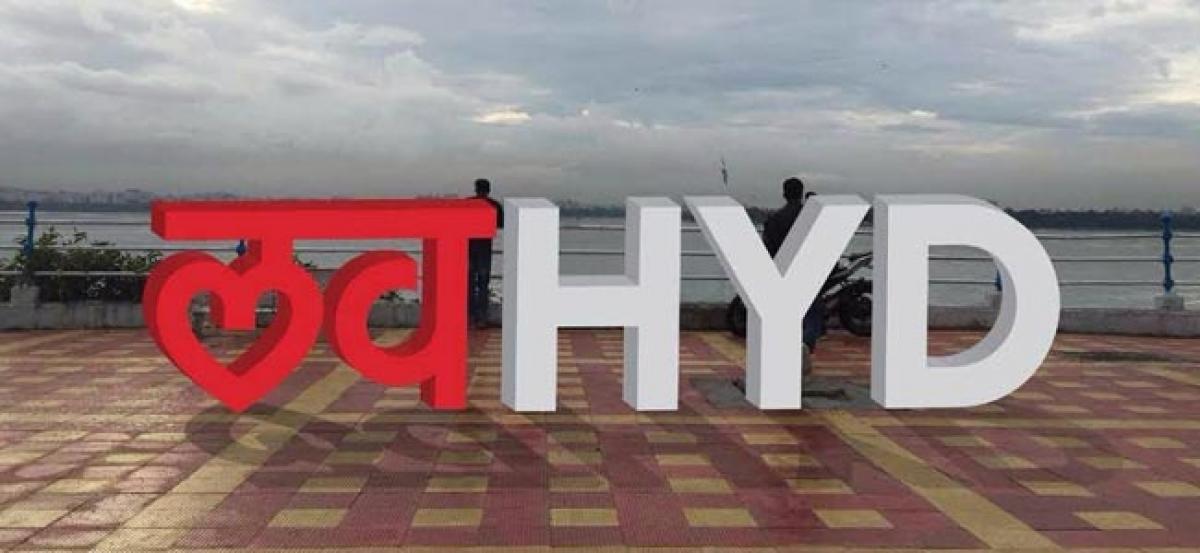 Highlights
Business students who come to Hyderabad from other parts of the country tend to treat the city as a temporary abode. At best tolerated for two years, only to go back to their own cities and states and partake in all the things that they are so used to.
Business students who come to Hyderabad from other parts of the country tend to treat the city as a temporary abode. At best tolerated for two years, only to go back to their own cities and states and partake in all the things that they are so used to.
Big mistake!Embrace the new city and let it become a part of you. Bahirdar, where my family stayed for four years became a part of my DNA! Bahirdar has a very romantic name. Bahirdar means 'by the sea side'. Which sea, there is no sea in the land locked Ethiopia!The awe struck local Ethiopianstalk of Lake Tana, the biggest lake in Ethiopia as a sea. What an imagination!Bahirdar is also the birth place of the longest river in the world, the Nile! Dig deep and you would find a gem that you could treasure forever in any place you live!
Most youngsters would be surprised to know that Charminar X roads is not near Charminar and Golconda X roads is not near Golconda. Both Charminar and Golconda X roads are near RTC X roads. These are the names given to that locality as it is very close to a well-known Hyderabad company, Vazir Sultan Tobacco. And very few know that there is a very famous and old industrialestateAzambad, near RTC X roads.
Hyderabad the capital of Andhra Pradesh is a quaint village that suddenly became a mega city and later a megapolis, bigger than the state of Goa. Old timers of Hyderabad still remember with nostalgia the good old days when things used to move at a slow pace (if they moved at all).
Hyderabadis are a class apart. The best of them are the local mechanics. The mechanic summoned frantically to the house would saunter in and nonchalantly and examine the defunct electronic appliance and would announce "Mai Kal Avounga…." and go away leaving the customer in a lurch. This means that he might turn up again. "Parsun" if uttered would mean most probably he would never come and "tarsun" means that he would definitely not come at all.
Ask anyone who visits Hyderabad what he likes and the prompt reply is Hyderabadi Biryani. This Mughlai dish has won the hearts of food lovers in the world and no decent party is deemed complete unless a sumptuous portion of Hyderabadi Biryani is served and relished with lots of gusto. "Barkas Biryani" if uttered means that the party is over!
Hyderabad Biryani is best enjoyed with a cold Thums Up! Hyderabadis are so fond of food that it is rumored that in wealthy Hyderabadi households the Biryani eaters would sit five inches away from the table and would only stop eating once the stomach touches the table. What happens when the stomach touches the table? Push back the table by another 5 inches!
Haleem, a traditional dish served during the Ramadan time is a hit with all the sections of the society. Many non-muslims have become die-hard fans of Haleem and it tastes so special, only when it is prepared in the Ramadan season. Haleem prepared in off season does not taste the same.
Irani cafes are very close to Hyderabadis. No day is deemed complete unless one goes to an Irani café and has an extremely sweet Irani tea and that too ½ (half a cup). The matter-of-fact waiters would dump the tea and one empty (cup) on the table and promptly disappear. One could argue and while away as much time as possible without being bothered. As many Samosas or biscuits can be had as one wishes. What is not consumed is cheerfully taken back. Beware of the smart waiter who would always jack up the bill by a few rupees. Those extra rupees would be pocketed by the waiter.
One of the landmarks of Hyderabad is "Famous ice-cream" at Nampally where mouthwatering seasonal Ice creams like mango, sapota, pista etc are served at jaw dropping low prices. Famous Ice-cream (Now sadly spilt among the brothers as Shah and New Famous) is the only place where you could eat like a king and pay like a pauper.
Ganesh chaturdi the big Indian festival is a sort of carnival at Hyderabad. It is a time for local urchins to collect money (sometimes forcefully) to set up a pandal and then proceed to enjoy themselves for ten days. Everything is fair including raunchy remix songs and record dances with ear spiting sound. Thankfully the old funnel speakers have been replaced with box speakers in the recent times.
A Hyderabadi was driving in USA and a car overtook him and passed him very closely. A choicy Hyderabadi gali (swear word) was thrown at the offender who screeched to a halt and forced the Hyderabadi off road. The Hyderabadi was scared. He did not want a panga (a fight) with the foreigner.
The FOREIGNER excitedly crowds the Hyderabadi and questions "aap Hyderabad sey hai kya?" The gali was the trigger. Any Hyderabadi anywhere in the world can recognize another Hyderabadi by their peculiar lingo, slang and the galis that Hyderabadis fling at each other with gay abandon.
Second hand/Old book stalls from Abids to Koti on a Sunday are a treat by themselves. They are equal to hundreds of libraries. Strolling the roads of Abids is the best way to work out the slumber out of a heavy Sunday lunch. The book sellers are a cheerful merry lot who don't mind a nice slinging/bargaining match.
Origins of some interesting Hyderabad street names:What is it in a name? I would say everything especially if you are from Hyderabad. The Hyderabadi names are exotic, funny, and quixotic. Where else in the world can you find Domalguda, Koranti, Abids etc.
Hyderabad itself has many theories as how it has got its name. One of the theories is that Hyderabad was once called as Baghnagar which means 'city of gardens'. There were a number of gardens in and around the city of Hyderabad, such as Bashir Bagh, Amin Bagh, Bir Ban Bagh, Hardikar Bagh, Bagh Lingampally and Jam Bagh etc. Hence it was called as Bhagnagar later to be called Bhagyanagar (city of wealth).
Residents of Domalguda say that their locality is aptly named. This they do while swatting the mosquitoes. Domal in Telugu means mosquitoes and Domalguda means a place where mosquitoes stay. Way off the mark! The locality gets its name from Do Mahal a mosque. Over the centuries Do Mahal Guda became Domalguda. Another version talks about the area having two famous wrestlers and the area was initially called Do-mal and later called Domalguda.
Koranti is not a Telugu,Hindior an Urdu word. Koranti is hospital, the very popular fever hospital near Nallakunta. So how does this locality get its name? It gets its name from Quarantine (a place where patients with contagious diseases are segregated till the disease is treated / cured). Likewise Masab Tank gets its name from Maa Sahaba Tank that today has become the Chacha Nehru Park.
Hyderabad has exotic localities like First Lancer and AC guards which gets its name from the African Cavalry guards of the Nizam of Hyderabad. Golconda the famous monument is actually Gollakonda, Golla means Yadav and Konda means hillock and it was the ruled by the Yadava Kings. Bowenpally the bustling locality in Secunderabad most probably got its name from Boyinas (meaning Palanquin holders) who lived in that locality.
Abids the popular shopping area has very interesting origin. Abid was the owner of the first shop in this bustling locality. Albert Abid was a Jewish merchant and he opened the first Hyderabadidepartmental store. This entire locality is now called Abids. The place where Abid store stood later became Palace Cinema hall. This is the popular Big Bazaar presently.
Near Abids is Gun foundry or Tope ka sancha which was built by a French General – Monsieur Raymond. It was one of the several cannon and cannonball factories set up in 1786. Thus the locality is called Gun foundry. The locality houses the headquarters of the State Bank of Hyderabad oops now merged into The State Bank of India.
Lakdikapool gets its name from Lakidi meaning wood and pool means a bridge. Literally wooden bridge. What a romantic name! There are places named after communities like Banjara Hills, Baider wadi, Bhaldar wadi, Brahmin wadi, Kumhar wadi, mehtar wadi, Chakna wadi (derived from the intestines of sheep).
Another interesting name is Tarnaka. Tarnaka is derived from 'Tar' which means 'wire' and 'Naka' meaning 'guard room'. It was thus called because the Nizam barbed the area and put up a guard room to protect his fruit gardens in the area.
Chaderghat too has a very interesting story. The locality was so called after an anicut was built across the Musi river which formed a 'Chaddar' or a 'sheet of water'. Chaderghat Bridge or Oliphant Bridge was built by Col. Oliphant during the reign of Nizam Nasir-ud-Daulah. Another peculiarity of the names of localities in Hyderabad is the addition of suffixes such as gudas, bads, baghs, kuntas, metlas, nagars and pallys. Long live Hyderabad and all its places, people and cultures.
(The author is the Director-Academic at Siva Sivani Institute of Management, A Premier B-School in Hyderabad. Send in your queries: manilramesh@ ssim.ac. in, and theyounghans@ gmail. com.)