Only 1 in 7 Indian prioritise cleaning to eliminate viruses: Dyson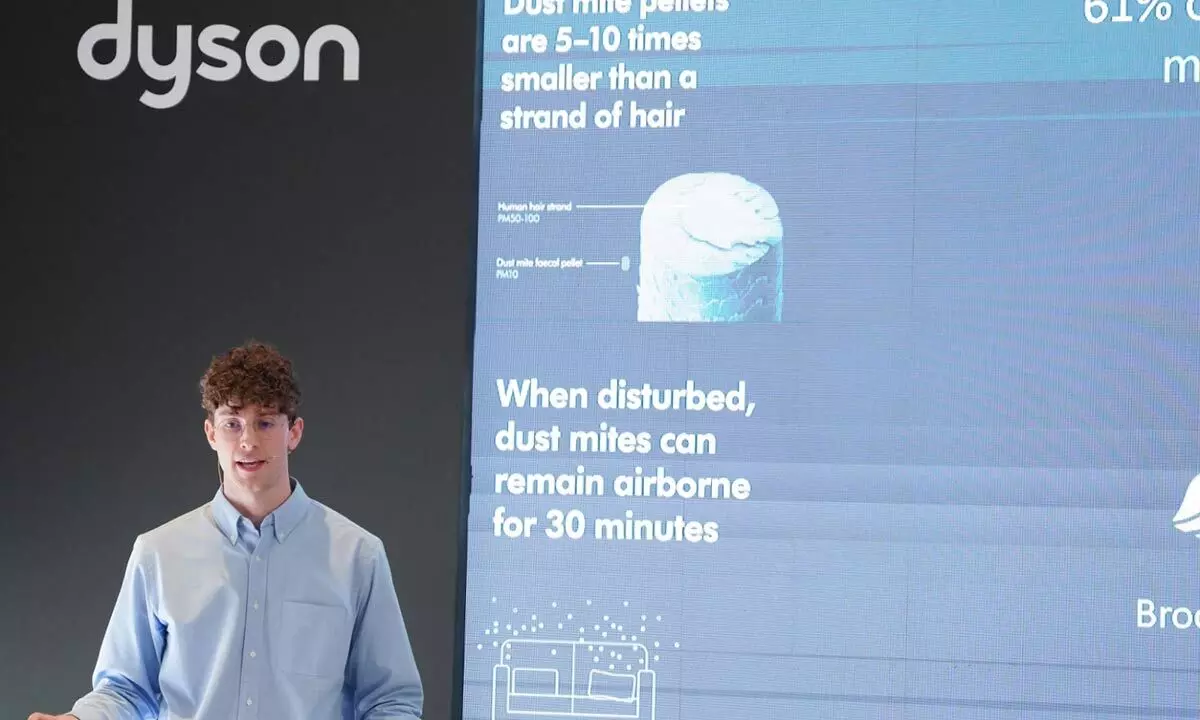 Highlights
Key findings from the Global Dust Study 2023: 1 in 2 Indians are aware of the presence of viruses in dust and believe that the most important reason to remove dust from home is to ensure that everyone in their family stays healthy
Over 80% of Indians are unaware that the virus can stay on the surface for more than 2 days.
A staggering 83% of Indians recognise HEPA filters as the most powerful type of vacuum filter, effectively eliminating dust particles, allergens, and viruses.
Today, Dyson announces the results of its annual global dust study, investigating cleaning habits and behaviours and our understanding of household dust and its potential impact on our well-being. The global dust study, undertaken by over 30,000 people from 39 countries, reveals a notable shift in cleaning habits among Indians post-pandemic. 1 in 2 Indians are aware of the virus' presence in dust and express deep concerns, but only 32% prioritise cleaning to eradicate viruses from areas such as their living room, bedroom and kitchen.
Global understanding of dust
Dyson's study reveals that awareness of what's in our household dust – and, therefore, what we're trying to remove – is low. Notably, 55% of households globally have someone who is impacted by allergies, but very few are aware of the presence of common allergy inducers in our dust. Just 33% surveyed said they were aware that pollen could reside in our dust, and 32% know about the potential presence of dust mite faeces.
Virus Knowledge, Awareness and Worries
The study sheds light on several key findings that highlight the need for increased awareness and proactive cleaning measures to create a cleaner and healthier home. 1 in 2 Indians are aware of the presence of virus in dust and believe that the most important reason to remove dust from home is to ensure that everyone in their family stays healthy. Over half of the people across the APAC region are worried about viruses in the home and bringing them in from the outside, which is much higher than the rest of the world.
Areas where Indians clean the most
In India, there has been a significant shift in cleaning priorities compared to the previous year. While only 31% of respondents considered cleaning a top priority in 2022, this year's results reveal a remarkable increase, with 61% of participants expressing concerns about dust or dirt accumulating in their homes. This significant surge indicates a heightened emphasis on cleaning practices. However, it is worth noting that 42% of individuals are only motivated to clean when visible dust or dirt is present on the floor.
In India, 60% of people think that the toilet is the worst offender when it comes to harbouring viruses, while 42% allow their pets on their sofas, unaware of the fact that they leave dander around the home consisting of tiny flakes of skin, fur, or feathers that they naturally shed, which can harbour viruses and other allergens. While 45% of Indians think the kitchen is where viruses reside, however, more than 70% of Indians are not concerned about removing viruses while cleaning their kitchen. Moreover, less than 25% of respondents feel viruses reside on their kitchen worktops, kitchen appliances and kitchen cabinets.

"The COVID-19 pandemic emphasised the need for regular cleaning to maintain healthy homes", said Monika Stuczen, Research Scientist in Microbiology at Dyson. "This significant increase in the number of people only cleaning when they spot visible dust is a cause for concern, as many dust particles – including bacteria, house dust mite faeces and pollen – are microscopic in size and not visible to the naked eye."
Knowledge about HEPA

Ensuring a healthy environment is the top reason Indians want to rid their homes of dust. While many people assume that if dust and dirt are picked up then the problem is solved, vacuum cleaning is pointless without thorough filtration.

There are many vacuums that release some of what they pick up back into the environment through poor filters or loose seals. At Dyson, we know an essential job of a vacuum cleaner is trapping dust inside the machine and expelling cleaner air. How clean that air is determined by its filtration system, whereby filter design, airflow pathways, and machine sealing work together to ensure the dust that is sucked up is not expelled back into the air.
Dyson's dust study reveals that awareness of filters overall is significantly high among Indians, as 84% believe that HEPA filters are highly effective in removing dust particles, allergens, and viruses. Additionally, a similar percentage (83%) considers HEPA filters to be the most powerful type of vacuum filter. These results suggest that people value the performance and reliability of HEPA (High Efficiency Particulate Air) filters in maintaining clean and healthy indoor environments.
61% of people feel that vacuums are the most effective ways to clean dust; therefore, vacuum cleaner ownership has increased over the last year, from an average of 1.1 to 1.7.
Interestingly, the survey also found that a significant proportion of respondents (69%) expressed concerns about the air quality emitted from their vacuum(s) during use.
Dyson engineers have spent the last three decades developing our filters and seals to make sure that we capture not only the dust you can see but also the dust you cannot. Our cord-free vacuum cleaners are fully sealed and equipped with an advanced five-stage filtration system to capture particles as small as 0.1 microns.
Dyson's team of in-house microbiologists have been studying real dust from around the world for almost 20 years, analysing particles measuring 70 microns in size – the width of a human hair – right down to 0.1 microns, the size of a virus. Dyson's labs are also home to a farm of dust mites, enabling scientists to collect their faeces and learn more about dust mite allergens. Only through this extensive research can Dyson engineers continue to engineer new vacuum cleaner technologies to better deal with the conditions they face in the real world.
"We hope our latest global dust study will continue to encourage people to think about what can reside in household dust and how that might impact the well-being of those in their household. The best way to remove dust is by using a vacuum cleaner with effective filtration and sealing technology to ensure that whatever you vacuum remains trapped and is not expelled back into the home." Monika Stuczen, Research Scientist in Microbiology at Dyson.
Other interesting findings from the Global Dust Study 2023: Indian insights:
41% strongly believe that household dust contributes to illnesses like asthma.
The age group between 25 and 44 exhibits the highest awareness of dust-related allergens.
43% of air purifier users in India use their air purifiers all year round to clean the air in their homes, with Mumbai (51%) and Pune (50%) topping the list.
Around 45% of Indian parents are encouraging cleaning habits among children aged between 6 to 12 years.
Social media is the go-to platform for Indians to get cleaning tips. 74% rely on YouTube, and 42% use Instagram for cleaning tips. 55% also reach out to their friends, family, and colleagues for tips.