7 lakh farmers face land issues: TDP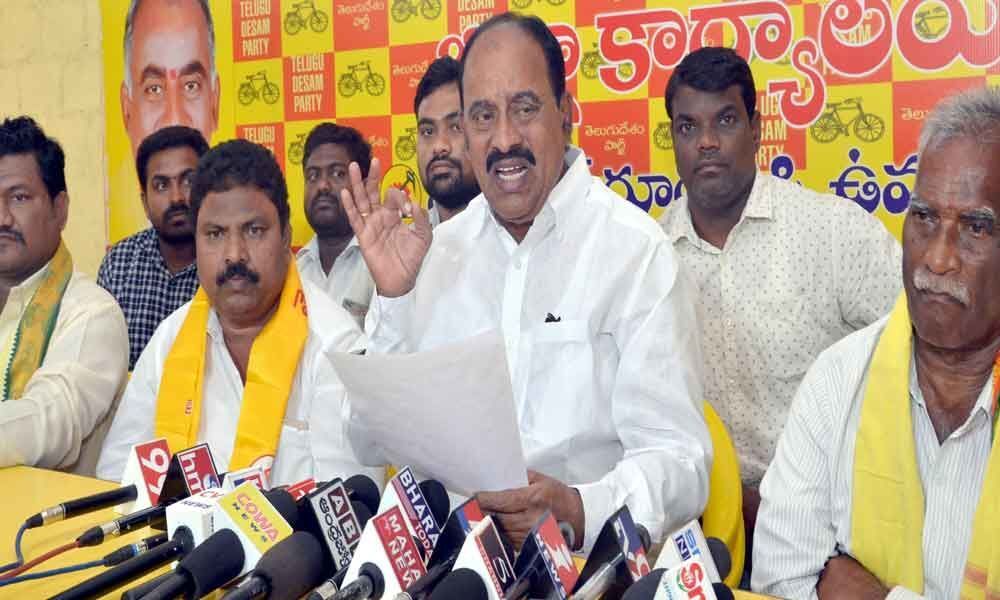 Highlights
Telugu Desam politburo member Revuri Prakash Reddy addressing a press conference in Hanamkonda on Thursday
Hanamkonda: Chief Minister K Chandrasekhar Rao's phone call to a farmer Kondapalli Sharath of Mancherial district assuring him of solving his land issue that went viral on social networking sites is one of those election gimmicks to hoodwink the people, Telugu Desam politburo member Revuri Prakash Reddy said.
Addressing a press conference here on Thursday, he said that like Sharath, there are seven lakh farmers in the State, who have been running from pillar to post to get their land issues settled. "These farmers are facing innumerable problems due to incompetent land purification exercise," Reddy said, demanding the State government to distribute passbooks to them.
Reddy said that KCR's remarks indicate cleaning 'corrupt' Revenue system but what about the thousands of crores of rupees earned in the name of redesigning of irrigation projects. KCR thinks himself as an intellectual but the result is that people's money is being wasted in the redesigning of projects, he added.
Prakash Reddy alleged that KCR is splurging all that money earned through kickbacks on buying legislators of other parties. KCR needs to answer whether encouraging defections from other parties amount to dishonouring people's mandate or not, he asked.
Reddy appealed to people to understand the designs of KCR, who is hellbent on weakening the Opposition parties. Even though it got 88 seats in the recent Assembly polls, KCR appears to be greedy as it continues to encourage MLAs of other parties to defect to TRS, he alleged.
"Greats like Jawaharlal Nehru and BR Ambedkar have many a time said that role of Opposition in the democracy is crucial," Reddy recalled, accusing KCR of throttling the voice of Opposition leaders.
Senior TDP leaders Botla Srinivas, Gattu Prasad Babu, Jatoth
Santhosh Naik, K Vinod Kumar, Margam Sarangam, B Prabhakar,
G Devender Reddy, S Sampath, Pothuraju, Anil Kumar, K Jayashankar, M Raju Goud, K Mahender and B Venkatesh were among others present.