Amit Shah set to visit Khammam on June 15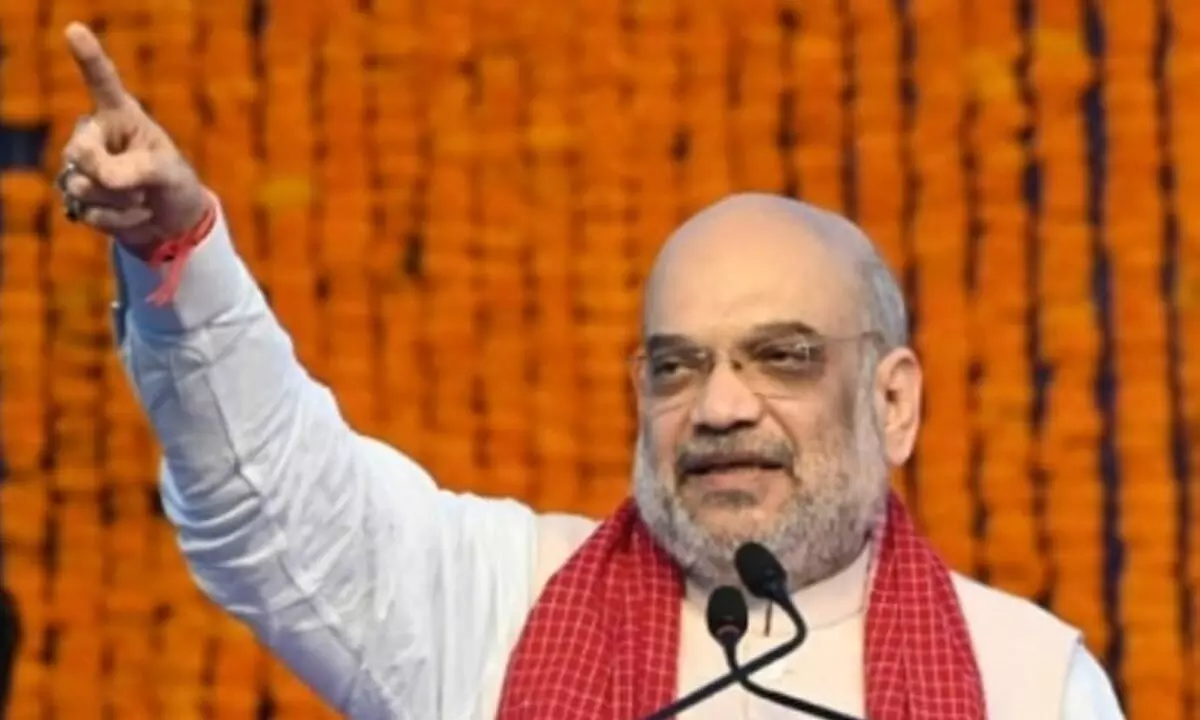 Highlights
Public meeting is part of BJP strategy to spread its sway in district
PM Modi's public meeting in Kothagudem may be the next
BJP not keen on tie-ups with other parties in TS polls: Bandi
Khammam: Union Minister Amit Shah will address a public meeting in Khammam on June 15. The State BJP, which is keen to expand its footprint ahead of the ensuing State Assembly elections, has roped in the number 2 leader in the party, who will be addressing the public meeting at Sardar Patel Grounds.
Addressing a preparatory meeting here on Thursday, State BJP chief Bandi Sanjay Kumar said, "BJP had shown its strength organising the Unemployed March. We will show our metal making the public meeting a grand success." During the preparatory meeting with the district party leaders, Sanjay Kumar asked to ensure a minimum of one lakh people attend the meeting. He reviewed that arrangements are to be made accordingly.
Spelling out the party's agenda for the poll battle of the BJP ahead in the Khammam, he said,"We will see the end of BRS and the public meeting is party of it and will not let go the sacrifices of the party workers in Khammam like Sai Ganesh go waste."
The Karimnagar MP said political heat in the state has gone up, and people seeking a change of guard are looking towards BJP. People had voted all parties to power. This time they wanted to give power to the BJP. Pointing out the failures of the state government to deliver on its promises, he said CM KCR had promised Rs 100 crore for the development of the Bhadradri temple and Rs 1,000 crore for the development of river bunds to prevent flooding and housing for the displaced. But none of the promises were fulfilled.
Prime Minister Narendra Modi did not want the sacrifices of Karsevaks in Rama Janma Bhoomi to go waste and ensured the construction of a grand Ram temple in Ayodhya. On the contrary, CM KCR had a track record of not offering 'MutlayaTalambralu' during Sitha Rama Kalyanam in Bhadradri, he said.
Congress is a non-entity in Telangana, and whatever efforts are made to lift it would not succeed, he said. He reiterated that BRS and Congress and a section of media joined hands to belittle the growing graph of BJP in Telangana showcasing Karnataka Assembly results. He asked the party cadre and leaders not to take such narratives seriously and work hard as BJP is destined to come to power in the state.
He said that after the successful conduct of Shah's public meeting, the party will also plan to hold another public meeting with Prime Minister Narendra Modi in Kothagudem. He said that the party has successfully completed forming 70 per cent of the booth committees, and there are only seven months left to pack off the BRS government from power in Telangana.