BJP to intensify fight for share of Krishna water for Telangana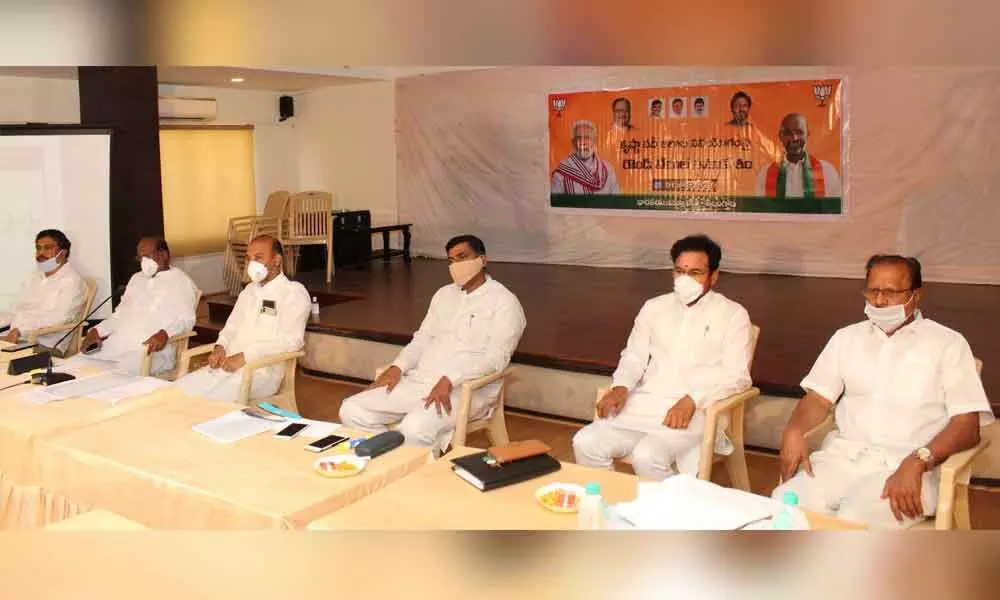 Highlights
Saffron party to form Porata Samithi for irrigation projects and water rights
Bandi Sanjay says the Bachawat Tribunal had allocated 811 tmc feet of water to the united AP, but Telangana could not get its share of water
Hyderabad: BJP Telangana unit has decided to fight for Telangana's share of Krishna water. Stating this after a round table conference organised by the party here on Monday, State BJP chief Bandi Sanjay Kumar said there is no change in the injustice meted out to the people of Telangana in getting their due share from the time of erstwhile United Andhra Pradesh and even after the formation of separate Telangana state.

He said though the Bachawat Tribunal had allocated 811 tmc feet of water to the united AP, Telangana could not get its share of waters. He stressed the need to correct the same before the Brijesh Kumar Tribunal. However, the ruling TRS government has failed to achieve justice to get the State's due in the Krishna waters, he added.
He expressed fears that the recent government order issued by the Andhra Pradesh government to increase the capacity of Pothireddypadu and Sangameswar Lift Irrigation Projects would cause water shortage in the Sothern Telangana districts,
Union Minister of State for Home Affairs, and Secundrabad MP, G Kishan Reddy said that the Telangana has faced injustices concerning its water rights and BJP will continue its fight for the same.
He said the party will hold a detailed discussion on the irrigation projects of the state and will form a committee to chalk out further action. He said Telangana Projects Sadhana Samithi will be formed to fight and protects the water rights of the State.
While Advisor to the Union Water Resouces Ministry V Sriram has made a detailed presentation on the issue, former MLC and BJP senior leader Ponguleti Sudhakar Reddy charged Chief Minister K Chandrasekhara Rao for not acting to protect the interests of the state in the Krishna river waters.
Former MP Jithender Reddy stressed on early completion of the Palamuru-Ranga Reddy Lift Irrigation Scheme. However, it seems, the TRS chief does not want to complete the pending projects. In turn, he said it is resulting in the Himayat Sagar and Usman Sagar going dry without receiving any waters. BJP State general secretary Premender Reddy said that the proposed projects by the Andhra Pradesh government might hit hard the Telangana irrigation projects like Jurala, Nettempadu, Bhima and Koilsagar.
Former Minister D K Aruna pointed accused the TRS chief is more concerned on his own interests than protecting the interests of the people and the State. She took objection to reduce the 2 tmcft water to the Palamuru Ranga Reddy Lift Irrigation Project to 1 tmcft. Former MP G Vivek said that the TRS-led government is trying to profit in the name of redesigning the irrigation projects in the state than the protection of state share of waters and interests.