CMRF cheques delivered at doorsteps of beneficiaries in Wanaparthy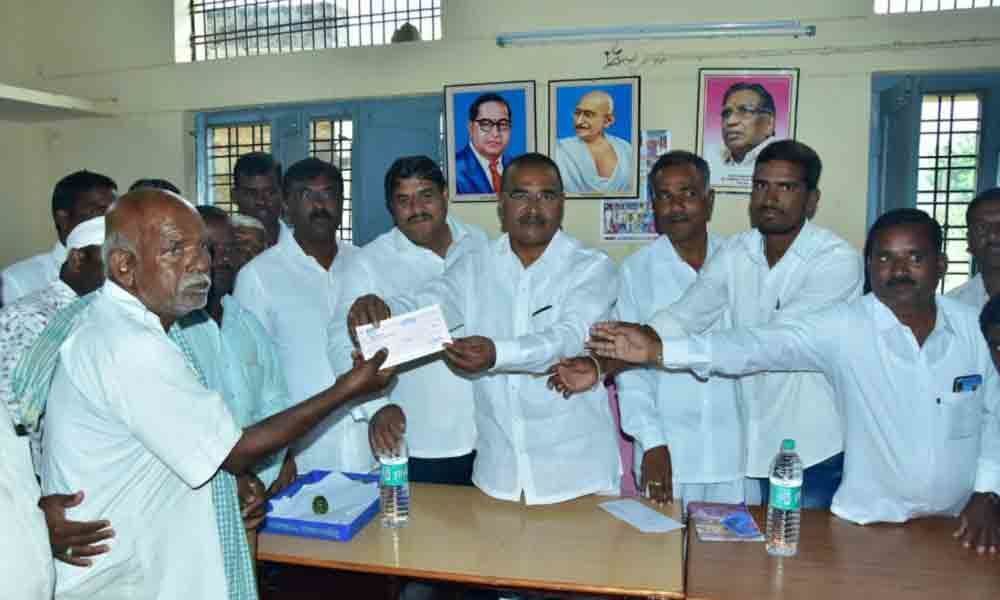 Highlights
Agriculture Minister Singireddy Niranjan Reddy calls upon people to utilise schemes launched by the State government
Wanaparthy: Agriculture Minister Singireddy Niranjan Reddy, while door delivering the Chief Minister's Relief Fund cheques to the ailing beneficiaries in various villages of Wanaparthy district on Sunday, urged the people to utilise the benefits of CMRF scheme as the Chief Minister was giving top priority to healthcare of people in the State. The Minister said after the formation of new State, the Telangana government has provided financial help to a large number of people in distress and helped them pay their medical bills that run into thousands and lakhs.

While distributing CMRF cheques worth Rs 3 lakh to as many as eight beneficiaries from Kadukuntal, Srinivaspur, Chityala, Pedda Thanda and Cheemanaguntapally villages in Wanaparthy, the Agriculture Minister said that the TRS government was providing CMFR relief fund to all irrespective of their political alignment. He said Chief Minister K Chandrashekar Rao was committed to the welfare of all sections of people in the State.
The Agriculture Minister later enumerated various schemes and development projects launched by the TRS government in the past six years, and said that all schemes and projects were bearing fruits. "The PRRLI project, once it is completed in the next 10 months, will become the lifeline to Palamuru people. The entire region will become a green belt with famers yielding three crops in a year. Our Chief Minister is laying special focus on Palamuru project and has launched the development and welfare programmes right from the village level. If villages are developed, then the entire State will develop," said the Minister.