Congress, Communists played key role in Hyd merger: Uttam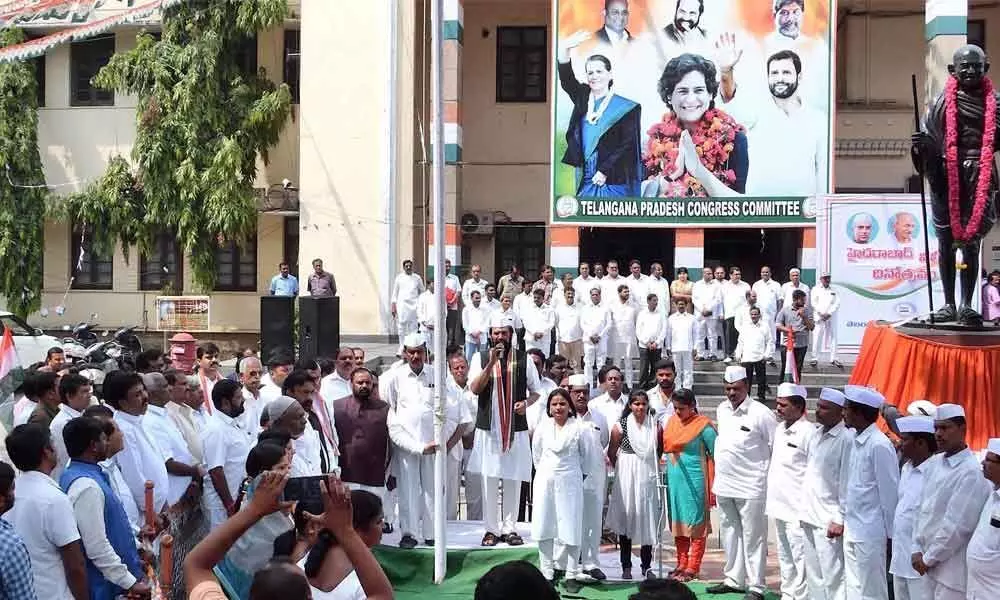 Highlights
Nalgonda MP and TPCC president N Uttam Kumar Reddy ridicules BJP leader Ram Madhav, who hails from Andhra Pradesh, for speaking about Hyderabad Liberation despite the fact that BJP or its predecessors did not participate in struggle against Nizam
Hyderabad: Nalgonda MP and TPCC president N Uttam Kumar Reddy on Tuesday said that only Congress and Communist parties played a role in struggle for Hyderabad's merger with Indian Union.
Speaking after hoisting the national flag at Gandhi Bhavan on the anniversary of 71st Hyderabad Merger Day, Uttam Kumar Reddy said it was ridiculous that BJP leader Ram Madhav, who hails from Andhra, was speaking about Hyderabad Liberation despite the fact that BJP or its predecessors did not participate in struggle against Nizam.
He said the last Nizam Mir Osman Ali Khan had refused to join Hyderabad State with the Indian Union and wanted to either join Pakistan or stay independent forcing the Centre to take up Police Action.
He said the credit for merger of Hyderabad with Indian Union through Operation Polo goes to Pandit Jawaharlal Nehru and Sardar Vallabh Patel.
Uttam alleged that the BJP leaders were not aware of the history but were trying to distort the history of Hyderabad's struggle to draw political mileage.
He said that the history cannot be changed, and no one should try to distort it for whatever may be the reason.
The BJP or members of Sangh Parivar played no role either in freedom struggle, Hyderabad's merger or in formation of Telangana State. However, BJP leaders were trying to make an issue out of Hyderabad Merger Day, he said.
Congress senior leaders including K Jana Reddy, Ponnam Prabhakar, Kusum Kumar and others were also present on the occasion. Later, Uttam Kumar Reddy also participated in the function organised by Congress leader G Niranjan at Telangana Martyrs' Memorial at Koti.
Congress leaders V Hanumantha Rao, Shashidhar Reddy, Vishnuvardhan Reddy, Kodanda Reddy, Telangana Jana Samithi president Prof Kodandaram and several freedom fighters also attended the function.