Curb water pollution: BJP to government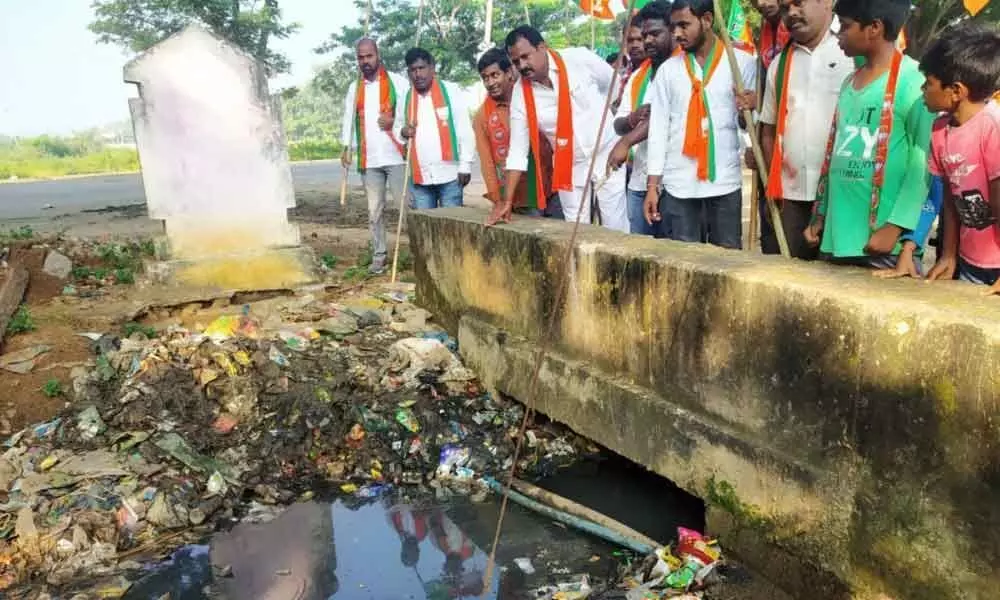 Highlights
BJP State executive member K Ramana Reddy and other leaders inspecting a garbage-filled canal in old Rajampet village on Thursday
Kamreddy: BJP State executive member Katipally Ramana Reddy stated that as many as 50 people fell sick in old Rajampet village due to contaminated water and garbage. As part of BJP march on municipal issues, Reddy along with party leaders and activists toured old Rajampet and Sarampalli villages on Thursday.

Reddy said that like all villages, these two villages too have several problems. 'The doctors can conduct medical tests and provide treatment, but they cannot deal with the reasons that caused the sickness.
It is the duty of the government to find out the causes for the spread of diseases in villages and cities and to get rid of the cause,' he said. But both the State government and the district authorities are neglecting the people of Kamareddy, who are suffering from various serious diseases like dengue, he criticised. Ramana Reddy demanded the government to solve the problems polluted water and spread of mosquitoes.
Party leaders T Srinivas, N Laxmareddy, Srinivas Reddy, Srikanth, Rasheed, Venkat Reddy, Suresh, Balnarsimlu, Raju, Sridhar, Balaraju, Chari, Harika and Ven were among those, who toured the villages.
Subscribed Failed...
Subscribed Successfully...