Increase sanitisation five times more than usual: KTR to GHMC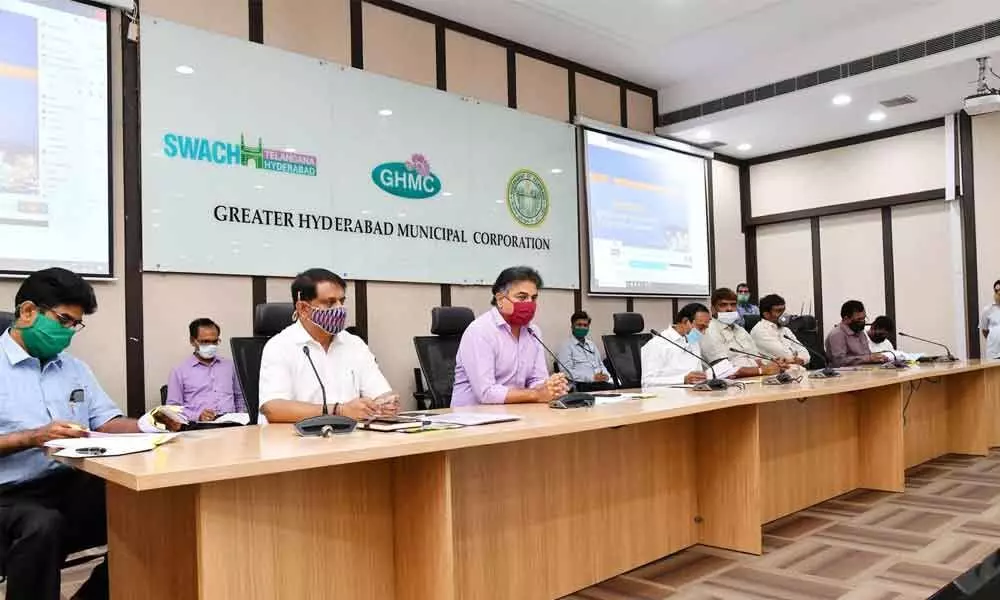 Highlights
The Minister wants advance preparations ahead of the rainy season
Seasonal diseases to be kept under control, KTR tells staff
Hyderabad: Municipal Administration Minister KT Rama Rao on Monday directed the Greater Hyderabad Municipal Corporation officials to increase the spraying and sanitisation five times to the regular process for controlling the seasonal diseases.
The Municipal Minister along with Health Minister E Rajender had a review meeting with the GHMC, Entomology wing on the steps to be taken to control the seasonal diseases.
About 2,412 personnel were working with the GHMC Entomology wing and using 2,200 machines for taking up measures like fogging to prevent mosquitoes.
The minister asked zonal commissioners to procure additional fogging machines, take up anti-larva spraying once in every five days and for five times in a month.
The officials were asked to focus especially on the high risk areas with the help of the local corporators and MLAs and take up intensive sanitation, anti-larva spraying.
The minister asked the EVDM wing to take up spraying of Sodium Hypochlorite and asked them make people participate in the campaign to control the seasonal diseases.
The minister asked the officials to organise convergence meetings at circle levels and take up meetings with them explaining them about the seasonal diseases like Dengue, Malaria, Chikungunya, from Tuesday onwards.
The officials were asked to take up the meetings maintaining physical distancing. The rainy season would be starting within a month hence officials should start their efforts to control seasonal diseases from now.
"Utilise the machinery and take up desilting of the 54 nalas in the city and also hyacinth in the water bodies. Every zone will be provided a floating trash collector machine. If needed the machines can be taken from the HMDA," said KTR.
The minister asked the officials to form instant repair teams for filling the pits on the roads. "Take measures like alert boards specifying about manholes as per the past experience.
Take up barricading of the open nalas where the rainwater drains get into these nalas. Shift the construction waste to the plants near Jeedimetla, Fatullahguda", said the minister.
The officials have responsibility to instil confidence among the people. The government would add 44 new Basti Dawakhanas in the city to the existing 123 Basti Dawakhanas, said the minister.
Health Minister E Rajender complimented the health and municipal department staff.
He said that prevention was better than cure and lauded the Municipal Minister's efforts to prepare action plan.