Is State becoming UDTA Telangana?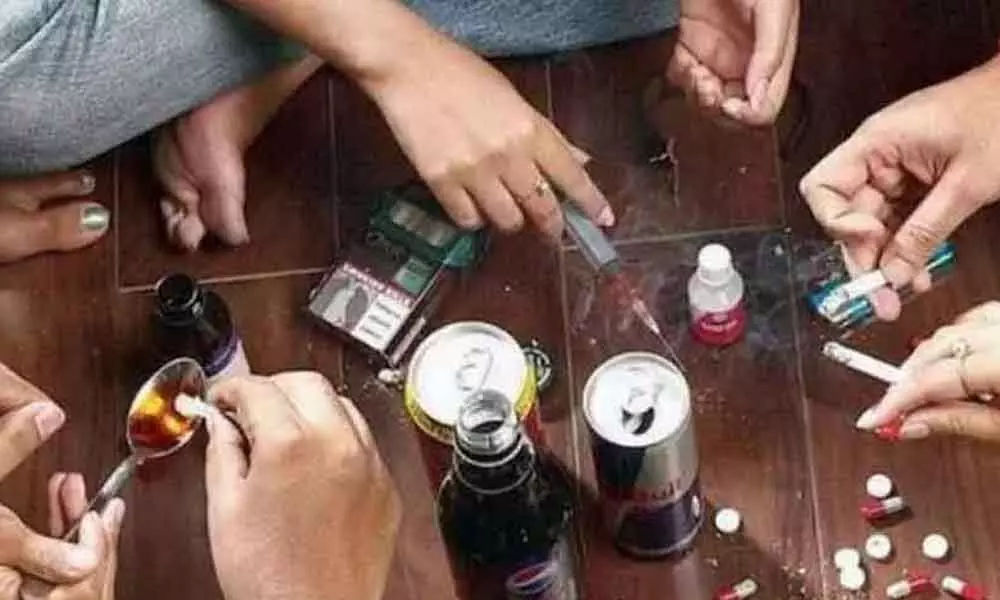 Highlights
Taking a serious note of the increasing incidents of ganja smuggling busts in the State and reports of the mafia luring farmers to grow ganja as an...
Taking a serious note of the increasing incidents of ganja smuggling busts in the State and reports of the mafia luring farmers to grow ganja as an inter crop, Chief Minister K Chandrashekar Rao has asked the administration to clamp down on the supply of contraband across the State. He also took a serious note of the Hyderabad becoming a major hub for drugs like heroin, coming from Nigeria, and ganja from the neighbouring Andhra Pradesh. Sweeping measures against the menace including warning of cancellation of Rythu Bandhu for farmers taking to ganja cultivation, a cross-section of society has welcomed the crackdown and put forth suggestions to stamp out the evil from the State. Here are excerpts:
It's true that drug menace is growing in city, but it is also not correct to say that its becoming like Punjab or Goa. Because the scene in Punjab and Goa is on a different scale whereas in Telangana, it's still in the initial stage and it would be apt to bring a regulation in the initial stages. The drugs issue caught the eye of the governments after Sushant Singh Rajput's death and since then the agencies are working to curtail drugs menace.
Gautham, techie, Hyderabad
Drug mafia is targeting youth with the help of technology and social media. Both the State and Centre should work in coordination to curb ganja cultivation and drug trafficking. Stringent punishments should be given to drug mafia. Also, drug addicted students and youth should be treated as victims but not as criminals.
Also, there must be a chapter on the impact of drugs in the curriculum at all levels to educate students. Counseling classes and rehabilitation centres should be set up to help these victims. Involving civil society and NGOs in curbing drug menace is the need of the hour.
MV Gona Reddy, Secretary, WFTU and CEO, Komatireddy Pratheek foundation and Nalgonda Sandbox
As a father of a teenager and a teacher, I welcome our Chief Minister K Chandrashekar Rao's decision to deal with drug peddlers and mafia with an iron fist. This is a right step at right time, bringing relief to the worrying parents. Drug abuse has been a pricking issue in the society. This thoughtful step by the CM is like a supporting wall for people like me, who are counselling youth and students against drug use. Big thanks to CM KCR for planning to focus and raise vigilance on schools and also for including lessons on 'the ill-effects of drugs' in school syllabus.
Gopidi Ravinder Reddy, School Assistant, ZPHS Badsi Mugpal, Nizamabad
I welcome the decision of our Chief Minister KCR to keep special surveillance on all educational institutions to prevent drugs supply to students. I appeal to the government to keep vigilance on street children and rag pickers as drug mafia was using them in drugs supply. This is a good move of the government to safeguard the career of lakhs of youth.
S Jyothi, Principal, Special School for Mentally Retarded, Nizamabad
Telangana might become Udta Telangana but its not going to happen as the government is taking strict measures to curb drug mafia. The recent incident where three police officers were suspended for having nexus with ganja peddlers indicates that police know about the sources and hideouts of drug peddlers and ganja cultivators. Does it indicate that drug abuse is growing right under the nose of police? If that's the case, then it's not to say that the Telangana government woke up to the distress call only when Congress leader Revanth Reddy threw a challenge to the government.
Suresh Kumar, social activist, Hyderabad