Nalgonda: Women empowerment to the fore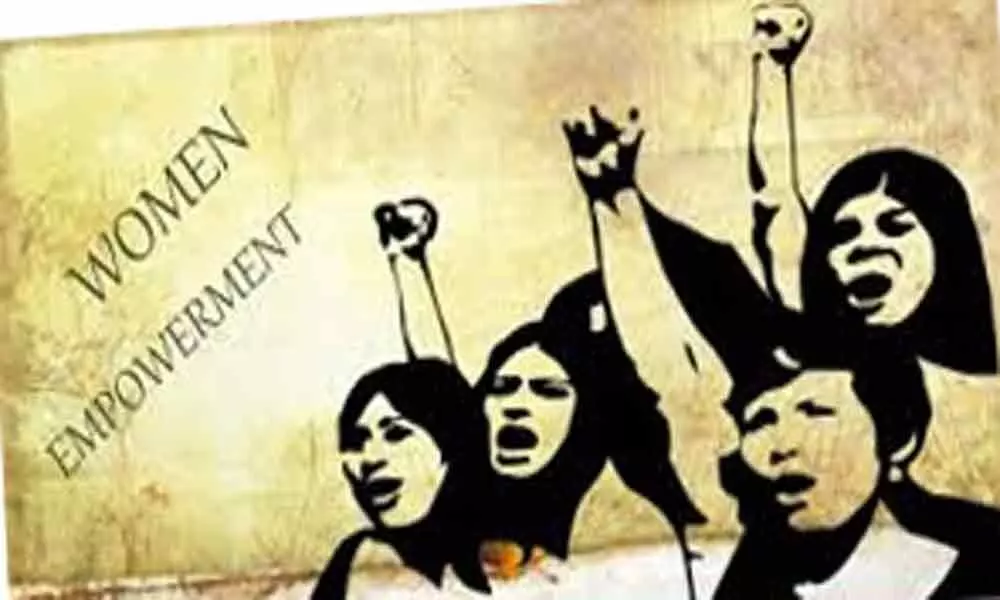 Highlights
Women who are good at multi-tasking and who are termed as best managers of their families have been proving their mettle in politics too.
Nalgonda: Women who are good at multi-tasking and who are termed as best managers of their families have been proving their mettle in politics too. In the recently-concluded elections to Urban Local Bodies, of the 18 municipalities in erstwhile Nalgonda district, as many as 10 women were elected as municipal chairpersons and another three as vice-chairpersons. With The Hans India, they share their plans to develop their respective municipalities.
Will make Yadagirigutta a model town
"Being the first citizen of the town, my job is to work hard and turn the Yadagirigutta into a role model town by focusing issues of sanitation, drainage, streetlights, establishment of dumping yards, proper drinking water supply. At the same time, attention will be paid to tax collection to generate revenue for town's development."
Erukala Sudha, Chairperson, Yadagirigutta municipality
Will take up works that last for another 50 yrs

I will work with proper plans to develop Chandur town in a symmetric way will last for next 50 years. By taking the opinions of citizens, works would be prioritized. Laying of internal roads, improving sanitation, streetlights, garbage collection from household through tractors would be taken up at earliest."
Tokala Chandrakala, Chairperson, Chandur Municipality
Traffic issues, mosquito menace on radar
"The pressing traffic issue would be solved soon with the help from police department and also steps are being taken to make the town mosquito-free by making repairs to underground drainage system and setting up dumping yards. Will also work for the construction of mini tank bund and indoor stadium with the support of Local MLA Nomula Narsimhaiah."
Vempati Parvathamma, Chairperson, Halia municipality
Plans afoot to turn town into Swachh Pochampally

"Will strive for the establishment of dumping yards to turn the town into Swachh Pochampally. Beautification of Pochampally is also on the cards as it is famous for Ikat saris. Underground drainage system and road widening works would be taken up through funds sanctioned by Hyderabad Metropolitan Development Authority."
Chittiprolu Vijayalaxmi, Chairperson, Bhoodan Pochampally municipality
Focus is on infrastructure development
"Infrastructure development besides laying of CC roads and establishment of parks would be taken up in a systematic manner. Dumping yards will be established and drinking water would be provided to all households in the municipality through Mission Bhagiratha."
Teepireddy Savitri, Chairperson, Mothkur municipality
Construction of drains on war footing
"I will address the grievances of town people. Besides installing lights on Suryapet- Jangaon main road, establishment of dumping yards and construction of new drains would be taken up on war footing."
Potharaju Rajani, Chairperson, Tirumalagiri municipality
Beautification of Suryapet town
"I am committed to develop Suryapet in all aspects with the cooperation from Minister G Jagadish Reddy. Besides sanitation, focus would be laid on widening of town roads and addressing traffic issues for the beautification of the town."
Perumalla Annapurna, Chairperson, Suryapet municipality
Will bring special identity to Nandikonda
"Along with council members and officials, I will work towards making Nandikonda a role model municipality by providing all basic infrastructure facilities like roads, drains, proper traffic solutions and dumping yards in the interest of people of Nagarjunasagar town."
Karne Anusha, Chairperson, Nandikonda municipality
Will make Huzurnagar a dust-free town
"As the first woman chairperson of Huzurnagar municipality, I will relieve the people from the age old dust issue and will take necessary steps for the development of town by establishing underground drainage system and dumping yards. Parking problems and traffic issues are also the priority issues."
Gelli Archana, Chairperson, Huzurnagar municipality
Works on to make Kodad litter-free "Attention will be paid to laying of roads in the town and in merged villages. Steps will be taken to make Kodad a litter-free town."
Vanaparthi Sirisha, Chairperson, Kodad municipality
Subscribed Failed...
Subscribed Successfully...