Obstacle-free ride for Ganesha ends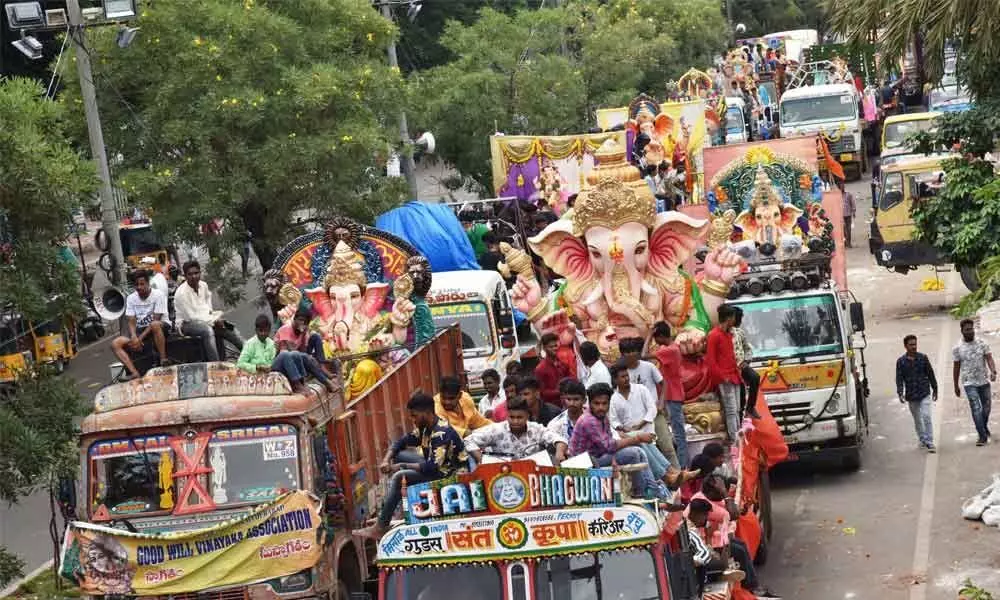 Highlights
More than 30,000 idols immersed in Hussainsagar
Hyderabad : Ganesh idol immersion ended peacefully without any untoward incident in the city on Friday. According to K Ganga Reddy, Additional DCP, Central Zone, more than 30,000 idols were immersed in Hussainsagar.
Like enthusiasm among devotees noticed on Thursday, the Hyderabadis on Friday too in large numbers participated in the idol procession and bid farewell to Ganesha. On Friday, right from the early morning hours massive line up of idols were seen and more than 10,000 idols were immersed.
Scores of flower-decked vehicles carrying the idols choked the road from MJ Market to Basheerbagh and towards Tank Bund and NTR Marg. This has resulted in huge traffic jams around Tank Bund area.
Senior police officials diverted the idol processions towards Necklace Road to avoid traffic snarls.
When large number of vehicles reached Tank Bund from Secunderabad, Saifabad and from Narayanaguda sides, huge traffic jams were noticed at Himayathnagar, Liberty, Lakdikapul and vehicles moved at a snail's pace forcing the commuters to face a harrowing time to cross the Tank Bund.
Traffic cops swung into action and eased the traffic congestions.