Pink prevails in Palamuru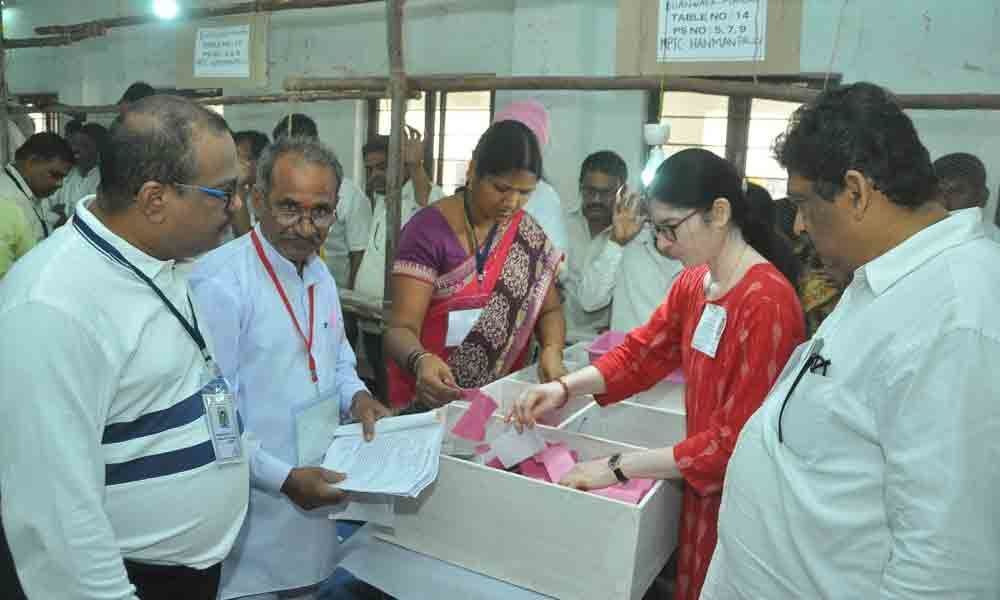 Highlights
TRS once again emerges strong in erstwhile Mahbubnagar district by winning a majority of ZPTC, MPTC seats
Mahbubnagar: The Telangana Rashtra Samithi has once again emerged strong in erstwhile Mahbubnagar by winning a majority of ZPTC and MPTC seats. After the conclusion of the final counting of all ballots in Mahbubnagar, Narayanpet, Nagarkurnool, Wanaparthy and Jogulamba Gadwal districts after 5 pm, out of 785 MPTC seats, the TRS party won 520 seats, followed by Congress winning 149 seats and BJP 47 seats.

Even in ZPTCs elections, the TRS party had exhibited its winning streak by grabbing 54 of the 71 ZPTC seats across the all five districts.
Right from the beginning of the counting, the TRS candidates had shown clear lead in every round of counting for both MPTC and ZPTC seats whose counting began at 8 am onwards across erstwhile Mahbubnagar district on Tuesday.
From Mahbubnagar district, as many as 757 candidates from various parties and independents contested for the 169 MPTC seats. While Narayanpet had seen 421 candidates fighting it out for 140 MPTC seats, Nagarkurnool had 711 candidates fighting for 211 seats. Similarly, in Wanaparthy district, for 128 seats, as many as 427 candidates stood in the fray. And in Jogulamba-Gadwal district, for about 141 MPTC seats, 421 candidates contested the elections.
When it comes to ZPTC seats, for about 14 ZPTC seats in Mahbubnagar, 103 candidates stood in the fray. While 36 candidates contested for 11 ZPTC seats in Narayanpet, 93 fought the polls for 20 seats in Nagarkurnool. In Wanaparthy district, for 14 ZPTC seats, 54 persons contested and in Jogulamba-Gadwal district, for 12 ZPTC seats, 52 persons fought the polls.
After the final counting, results were declared. The TRS party won 136 out of 211 MPTC seats from across 20 mandals in Nagarkurnool district, while Congress party could manage to win 52 followed by BJP with 4 seats. The CPI party got 2 seats and while 16 candidates who stood as independents won the remaining MPTC seats in the district.
As each mandal will have a Mandal Praja Parishad (MPP) elected by the MPTCs, from among the 20 mandals in Nagarkurnool, the TRS party has got 16 MPPs in its kitty, while Congress managed to get 1 MPP in Nagarkurnool. As three mandals had no representatives from major parties of TRS, Congress, and the BJP, it is expected that they may witness hung MPP.
In Gadwal, out of 141 MPTC seats contested, the TRS won 99, Congress 17, BJP 12, Independents 13. With this, out of 12 MPPs, TRS will get 11 MPPs while Congress will have to be content with one MPP in Gadwal.
In Wanaparthy, TRS won 87 out of a total 128 MPTC seats contested. The Congress won 22 seats, followed by independents 19 seats. Out of 14 MPPs, TRS will grab 11, while 3 mandals will have a possibility of hung MPP.
In Mahbubnagar district, TRS won 112 MPTC seats out of 169, Congress 40 and BJP 6. Eleven candidates who contested as independents won and will play a vital role in the election of MPP seats. Altogether, out of 13 MPPs, TRS is expected to win 11 MPPs, while two mandals may form hung MPP in the district.
In Narayanpet district, TRS won 86 out of 140 MPTC seats, Congress 18 seats, BJP 25 and independents 11. There are 11 MPPs in Narayanpet, with the above numbers, we can say the TRS party will get 9 MPPs, while remaining two mandals may have hung MPP.
Coming to ZPTC seats, In Narayanpet, out of 11 ZPTC seats, TRS won 9, followed by Congress and the BJP winning one seat each. TRS candidates who won ZPTC seats include P Anajali, (Narayanpet), Lavanya (Damaragidda), G Surekha Reddy (Marikal), Vanaja (Makthal), Ashok Goud (Utkoor), Venkataiah (Magnoor), Anjanamma (Krishna), G Jyothi (Narva) and Prakash Reddy (Kosgi). Raghupati Reddy (Maddur) won the ZPTC seat from Congress, while Vimala Devi from Dhanwada had won the seat on BJP ticket.
In Wanaparthy, out 14 ZPTC seats contested, TRS won 11 seats, Congress 1 and independents 2. TRS candidates who won ZPTC seats from Wanaparthy include Loknath Reddy (Wanaparthy), Bhargavi (Gopalpet), Raghupati Reddy (Peddamandadi), Vaman Goud (Kottakota), Kishan Yadav (Madanapuram), Laxmi Nayak (Pangal), Sowmya Nayak (Khilaghanapur), Venkataramanamma (Chinnambavi), Madhuri (Veepanagandla), Padma (Pebbair) and Saroja (Amarachinta). The lone candidate who won from Congress is Rajendra Prasad from Sri Rangapur. Two independent candidates who won ZPTC are from Revally and Atmakur mandals.
In Nagarkurnool, out of 20 ZPTC seats, TRS won 17 seats and Congress 3. In Mahbubnagar and Gadwal districts, the TRS had made a clean sweep and won all the 14 and 12 ZPTC seats, respectively.
Subscribed Failed...
Subscribed Successfully...