State to replicate Japanese model to boost forest cover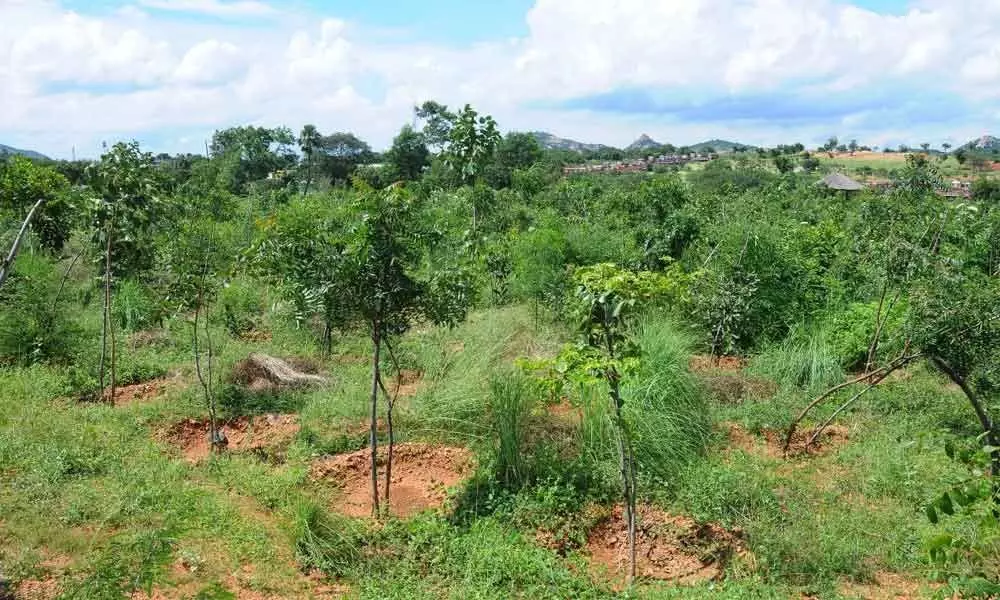 Highlights
Miyawaki method helps in growing dense forest in a short time
Experiment at YMMF in Choutuppal giving results
Hyderabad: The Forest department has set its eyes to adopt the Miyawaki method for growing dense forest cover in an economical way.
According to officials, the Forest department has already adopted the Japanese technique and experimented with it at 'Yadadri Model Miyawaki Forest' (YMMF) in the areas around Yadadri.
Under this method, dense plantations could be grown in a short time economically. The YMMF is yielding positive results.
Following this, the Forest department is mulling to replicate the YMMF model across the State. However, steps are being taken to ensure that native plants suitable to the State environment are grown under the YMMF.
PCCF (Wildlife) and Chief Wildlife Warden R Sobha said on Friday that in 45 days an acre of land could be transformed into a forest incurring Rs 2.5 lakh.
She said that the Tangedu (Avaram Senna) Garden developed in Choutuppal in Yadadri Bhongir district in an acre's land under the Miyawaki method is giving positive results within a year.
Following this, the Forest department has decided to replicate the model in the forest areas of Rachakonda, Lakkaram, Bibinagar, Kondamadugu, Veerareddy Palli, Gajwel, Medchal, Nizamabad and Adilabad this year.
The immediate results in growing the forests under the YMMF is to create a dense forest in a limited area in a natural way and to increase the much-needed fresh air and reducing the pollution in the localities adjacent to these forests.
That apart, the YMMF is also suitable for the limited spaces available in the urban areas. Besides, reducing the expenditure and the maintenance of the YMMF immensely helps acting like a rain harvesting mechanism to increase the water table in the locality.
Also, the YMMF will turn into a home for different birds thus becoming hubs for the biodiversity. The same model will be adopted in all the urban parks being developed around the State capital, the forest official stated.
That apart, it was also decided to provide awareness and training to the people and students visiting the urban parks on the Miyawaki model.
The department has also taken a decision to adopt the same method to grow dense forests in degraded forest lands across the State, she said.
Subscribed Failed...
Subscribed Successfully...