Vote for TRS for Huzurnagar development: Jagadish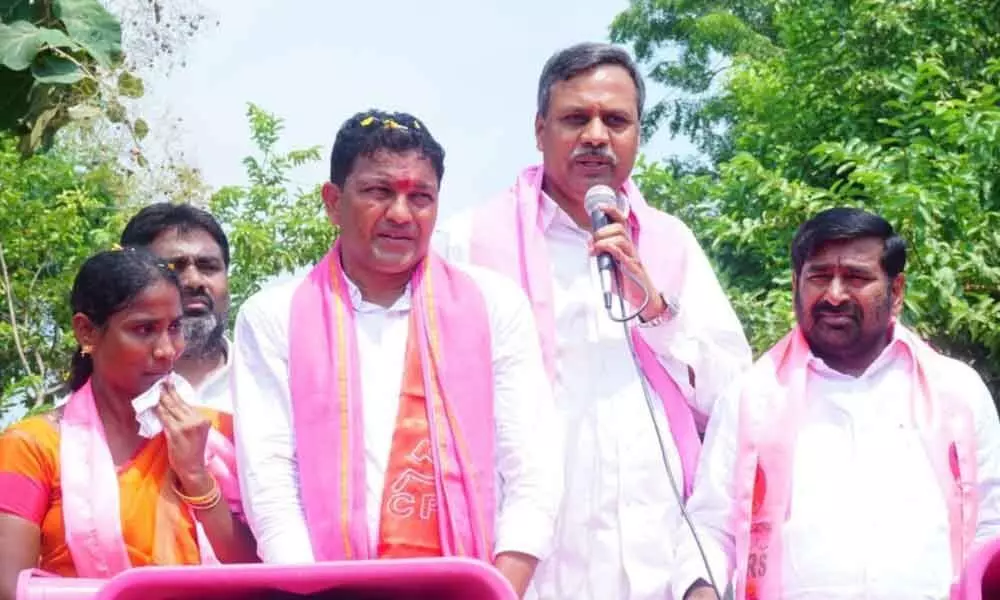 Highlights
Energy Minister campaigns in Garidepally mandal
Garidepally (Suryapet): Energy Minister G Jagadish Reddy stated that it became a regular phenomenon for the Telangana Rashtra Samithi to win all the by-elections it has contested so far and the same would repeat in the Huzurnagar bypoll to be held on October 21.

On Friday, intensifying the party election campaign, along with party candidate Shanampudi Saidi Reddy and party Huzurnagar election in-charge Palla Rajeshwar Reddy, Jagadish Reddy took part in the poll campaign at Veldanda, Konaipuram and Qutubshahpuram of Garidepally mandal in Huzurnagar constituency.
Addressing the gatherings, the Minister stated that a vote can change the fate of the constituency and added that people's vote in favour of TRS in 2014 and 2018 elections had brought radical development in the State and people of all sections of the society were getting the benefits from one or the other State government's welfare schemes.
He listed out the welfare schemes and achievements of the government in the last six years and urged the people to cast their vote in favour of the pink party for the better future of Huzurnagar.
Palla Rajeshwar Reddy, in his speech, held Congress chief Uttam Kumar Reddy responsible for the backwardness of Huzurnagar constituency and called upon people of Garidepally to support Saidi Reddy in the bypoll to witness the development of Huzurnagar in next four years.
Saidi Reddy stated that development of Huzurnagar constituency was possible only through the ruling TRS, and appealed to the people to give him a chance to serve them as the MLA of Huzurnagar.
In this election campaign, party local leaders, workers, supporters and people of respective villages participated.
Subscribed Failed...
Subscribed Successfully...