75.51% polling in 7 ULBs of Prakasam district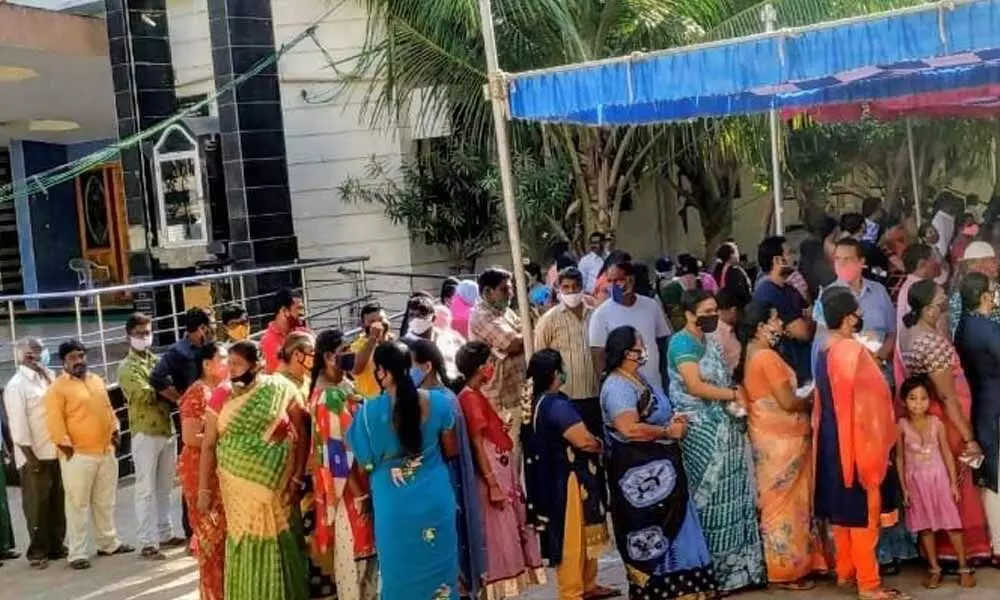 Highlights
The elections for Ongole Municipal Corporation, Chirala and Markapur municipalities, Addanki, Giddalur, Kanigiri and Chimakurthy nagar panchayats in Prakasam district were conducted peacefully on Wednesday
Ongole: The elections for Ongole Municipal Corporation, Chirala and Markapur municipalities, Addanki, Giddalur, Kanigiri and Chimakurthy nagar panchayats in Prakasam district were conducted peacefully on Wednesday. The officials said that a total of 75.51 per cent voters in the seven ULBs exercised their franchise in the elections.
The officials informed that the candidates in one division in Ongole Municipal Corporation, 3 wards in Chirlamunicipality, 5 wards in Markapur municipality, 7 wards each in Kanigiri and Giddalurnagar panchayats, one ward in Chimakurthynagar panchayat were elected unanimously.
The officials announced that 83.04 per cent of voters, 23,059 of the 27,768 people of Addanki cast their votes to elect 19 ward members from 55 candidates. About 81.41 per cent of voters in Chimakurthy, 17,259 of 21,200 people, cast ballots to elect 19 ward members from 50 contestants.
In Kanigiri, 16,545 of the 21,697 voters, about 76.25 per cent, inked their fingers to elect 13 ward members from the 39 candidates. To elect 30 ward members in Chirala, 46,263 of the 61,195 voters, about 75.60 per cent, stamped their favourite symbols on the ballots.
About 75.57 per cent, 1,35,303 of 1,79,045 voters in Ongole exercised their franchise to elect 49 corporators from the 229 candidates in the contest.
To elect 30 ward members from the 117 contestants in Markapur, 36,122 of the 50,717 people, about 71.22 per cent of voters joined queue at the polling stations.
In Giddalur, only 67.92 per cent of the voters, 13,269 of the 19,537 people, cast their vote in the election of 13 ward members from 32 candidates.
Energy Minister Balineni Srinivas Reddy claimed that the voting in Prakasam on on the YSRCP side. He, along with his wife Sachidevi cast his vote in 34th Division in the Ongole Municipal Corporation elections on Wednesday.
After voting, he said that they are going to win all 50 divisions in the OMC and the remaining urban local bodies in the district. He said that the allegations like using force and power to pacify the opposition candidates are baseless. He said that the YSRCP candidates in all urban local bodies are going to win with a thumping majority as the people are with the Chief Minister YS Jagan Mohan Reddy.