AP ministers visits Ramateertham temple, assures of strict action against culprits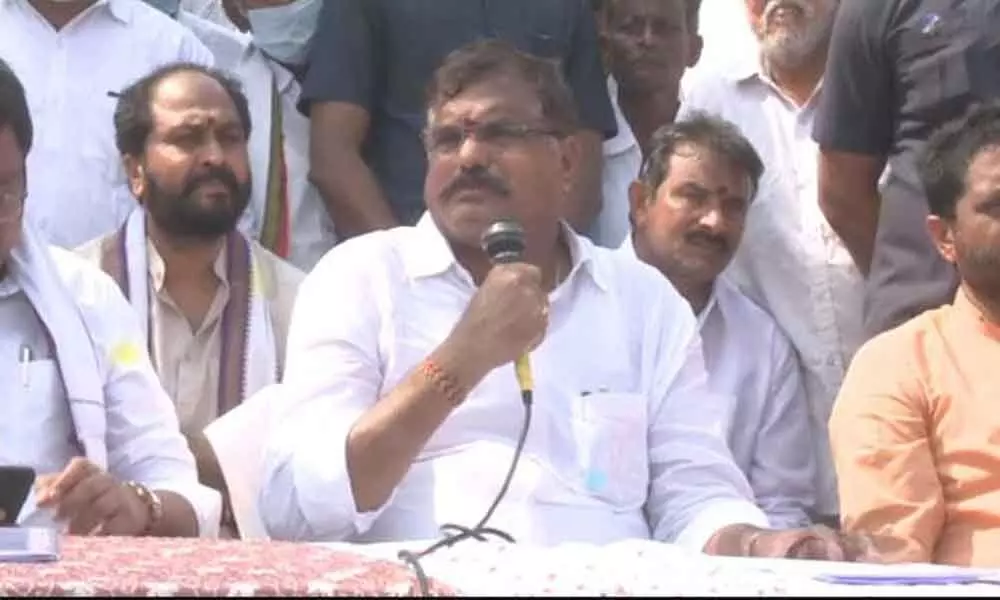 Highlights
Andhra Pradesh Endowment Minister Vellampally Srinivas and Urban Development Minister Botsa Satyanarayana visited the famous Kodandarama shrine at Ramateertham in Vizianagaram on Sunday
Andhra Pradesh Endowment Minister Vellampally Srinivas and Urban Development Minister Botsa Satyanarayana visited the famous Kodandarama shrine at Ramateertham in Vizianagaram on Sunday morning and inspected the surroundings of the Kodanda Swamy temple and inquired officials and priests about the incident. Later, Vellampalli said that the Ramateertham incident was painful and that Chandrababu was politicising it. He said that Naidu did not care when the temples were demolished during his regime.
Vellampalli alleged that Chandrababu had given the temples to his henchmen and questioned whether Naidu believe God. He commented that Naidu was defeated because he had committed sins. Vellampalli said that the police were investigating the Ramateertham incident and would take strict action against those responsible. Botsa Satyanarayana warned that destroying idols of God was an unforgivable crime and those behind the incident should be punished.
Vellampalli, who had earlier gone to Visakhapatnam, met Swami Sarupanandendra Saraswati Swamy the presiding deity of Visakha Sri Sharda Peetadipati. Speaking on the occasion, Swarupanandendra expressed concern over the attacks on temples. He said the Endowments department's reputation would be tarnished if such incidents were ignored and asked to set up a fact-finding committee on the incident. It was suggested that a time limit be imposed on the committee for the submission of the report. The culprits were asked to be severely punished.
The statue of Lord Rama was vandalized by some thugs at midnight on the 28th of this month at the Sita Rama Lakshmana Temple in Sri Kodandarama Swamy Temple on Neelachalam Hill, about 500 meters from the Ramateertham headquarters. Usually the priest goes there daily at 8 am and returns at 12 noon. No one has been since then. Taking this as an addition, the thugs threw the condemned head into the Seethamma pool.
The Endowments department also blamed the negligence of former Union Minister Ashoka Gajapati Raju, who continues to be the chairman of the Ramateertham temple as the founding trustee, for the destruction of the idol of Lord Rama at the Ramateertham temple. Days after the incident, at least he did not visit the temple and respond properly to it. Endowments Secretary Girija Shankar on Saturday issued orders removing him from the post. In addition, Ashoka Gajapati Raju was removed from the post of chairman of Sri Paidithalli Ammavari Temple in Vizianagaram and Mandeshwara Swamy Temple in Mandapalli of East Godavari district.