Cash donation towards Anna Prasadam scheme revised in Tirumala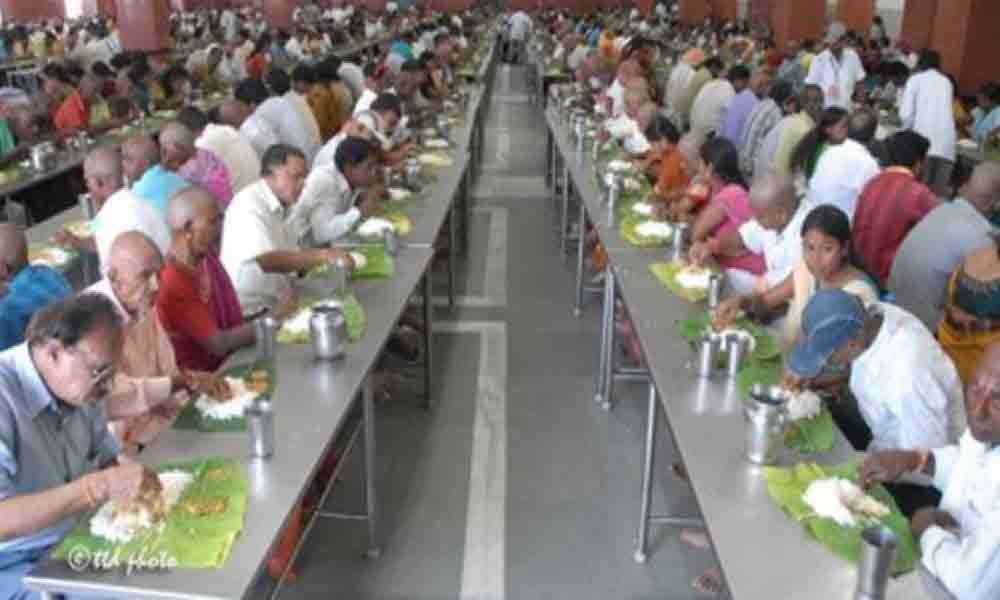 Highlights
SV Anna Prasadam Trust hikes donation amount from Rs 26 lakh to Rs 30 lakh for a single day .TTD revises rates due to increase in the prices of essential commodities.
Tirumala: The donation amount towards the cost of single day Anna Prasadam has been revised by TTD SV Anna Prasadam Trust owing to the hike in the prices of commodities used in Anna Prasadam.

As per the revised rates, TTD has clocked Rs 30 lakh as against earlier amount of Rs 26 lakh towards Anna Prasadam for a day including Rs 7 lakh for breakfast, Rs 11.5 lakh each for lunch and dinner. Many, who desire to provide free food to devotees, in the holy place Tirumala, the abode of Lord Venkateswara on some special occasions like birthday, donating the amount equivalent to the total cost of a day of (single day) of the Anna Prasadam to TTD. With the TTD free food distribution became more popular leading to more and more devotees contribution including single day food cost to TTD leading to the corpus fund of the trust increasing year after year.
The corpus of the Sri SV Nitya Anna Prasadam Trust today stands at Rs 1,067 crore from a humble beginning of Rs 67.06 crore in 2012-13. The free meals scheme for devotees was commenced by TTD in 1985 but later TTD set up a separate trust by name SV Nitya Annadanam Trust in 1994 to receive donations to expand the free distribution of food so as to cover more number of devotees.
In July 2011, a brand new Matrusri Tarigonda Vengamamba Anna Prasadam Complex was constructed in Tirumala with all facilities for daily cooking and distribution of breakfast, lunch and dinner on a large scale.
Now, besides providing free food in Vengamamba Anna Prasadam Complex, Anna Prasadam is being distributed in all compartments of Vaikuntam Queue Complex food courts, queue lines etc. in Tirumala. Daily not less than 2 lakh pilgrims have free meals in Tirumala while this figure touches about 3 lakhs during festive days. While in Tirupati, free meals is served in Vishnu Nivasam, Government Ruia Hospital, SVIMS, Maternity Hospital, SV Ayurveda Hospital, 2&3 choultries and at Tiruchanur.
Apart from these, free food is also supplied to all TTD educational institutions in Tirupati. Approximately 12,500 litres of milk is also distributed free of cost to devotees every day in Tirumala. At Tarigonda Vengamamba Anna Prasada Bhavan, Tirumala, daily 16.5 tonnes of rice and 6.5-7.5 tonnes of vegetables used to provide free food to devotees. Every day, the massive complex operates from 9 am till 11 pm while during festive days a couple of more hours in the day and night.
So far, nearly 4.67 lakh pilgrims have offered donations to SV Anna Prasadam Trust since its inception to help TTD carry free distribution of food on a massive scale to the devotees in Tirumala and Tirupati, patients and attendants in the hospital in Tirupati and also to the hostel students studying in the TTD run educational institutions.