Chirala: Amanchi Krishna Mohan faults High Court directive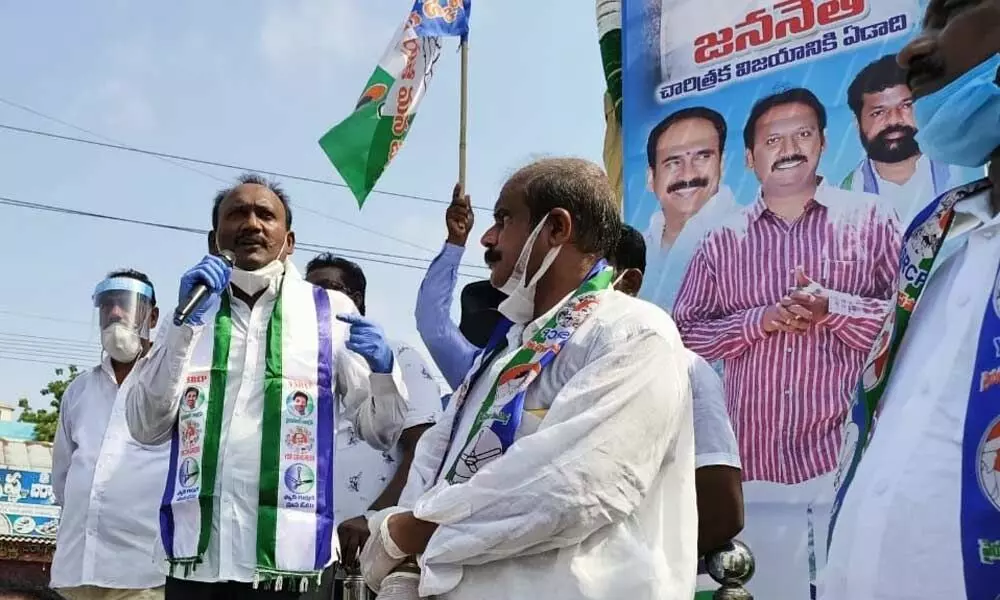 Highlights
Says it's a petty case and asks the government to contest the decision of the HC in the Supreme Court immediately
Garlands former chief minister Y S Rajasekhara Reddy's statue at Clock Tower centre to mark the one-year completion of the YSRCP government in the State
Chirala: Former MLA Amanchi Krishna Mohan on Saturday said that the high court shouldn't have ordered the Central Bureau of Investigation to probe the case of Dr. Sudhakar, even though if the government has done a mistake. He opined that if the court orders for CBI investigation for petty cases, the Centre have to open the branches of CBI beside every police station in the state.

Celebrating the one-year completion of the government in the state by YSR Congress Party, its leaders wanted to garland the statue of Y S Rajasekhara Reddy at Clock tower centre in Chirala on Saturday. The supporters of Amanchi Krishna Mohan fielded one side of the statue waiting for their leader to come while the supporters of Karanam Venkatesh, Pothula Suneetha, Varikuti Amruthapani, Paleti Ramarao and others waited on the opposite side. The police, who had the information about a possible clash between them, ordered the former MLA to complete his programme first and asked the other leaders to wait and the leaders followed it.
After garlanding the YSR statue, Krishna Mohan termed the former chief minister Nara Chandrababu Naidu and his son Lokesh as cowards, who confined to Hyderabad fearing the Chief Minister YS Jagan Mohan Reddy. He said that the people in the state were very much disappointed over the orders of the high court in Dr Sudhakar's case and demanded the government to contest the decision of the HC in the Supreme Court immediately. He said though a Reddy judicial officer recorded the statement of the doctor and presented the truth in his report, the court failed to find one honest officer in the state to investigate the case and ordered for CBI to probe it.
He said that though if we assume the government did the mistake and the court orders for the CBI investigation, then the Central government should open the branches of the CBI beside every police station in the state.
Subscribed Failed...
Subscribed Successfully...