Inter-district criminal held, gold recovered in Vijayawada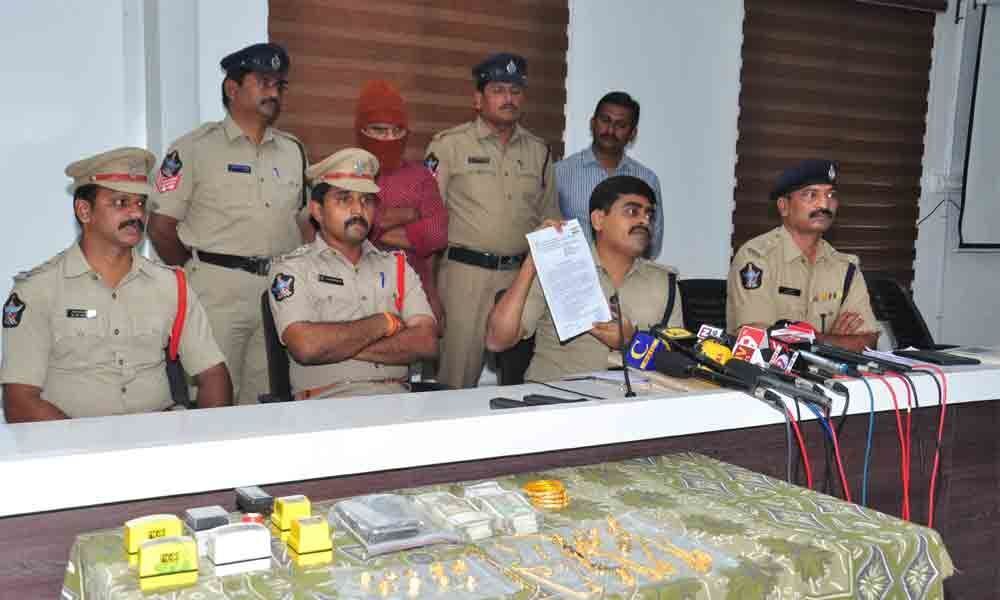 Highlights
The accused duped people by promising them of employment and fled with Rs 1 crore money collected from them
Vijayawada: Bhavanipuram police on Monday nabbed an inter-district criminal who collected Rs one crore from gullible people promising them jobs and escaped from Bhavanipuram in November 2018.
The police recovered Rs 2 lakh cash, 272 grams of gold articles, a car, bike, laptop, bank passbook, fake documents and rubber stamps used to cheat people from the accused.
The accused Saladi Ram Gopal alias Ram Gopal Naidu alias Sunkara Siva alias Ramakrishna, 49, a resident of Bhavanipuram, had cheated many people assuring them of providing employment under the Swatch Bharat mission in the Ministry of Health and Family Welfare, New Delhi.
DCP II M Venkata Appala Naidu produced the accused before the media at the Command Control Room on Monday and gave details of the crime. Appala Naidu said the accused Ram Gopal was residing near Noori Mosque in HB Colony and developed friendship with inter net café organiser B Satya Kiran.
Later Ram Gopal introduced himself as a section officer in the Ministry of Health and Family Welfare, New Delhi and assured the unemployed youth of jobs. Satya Kiran blindly trusted the accused and introduced him to some other friends.
Other victims K Lakshmi Perumallu, Chinna Venkateswara Rao, Srikanth and others gave him Rs one crore with a hope of getting jobs and contracts to supply manpower to the government under Swachh Bharat mission.
Ram Gopal took the victims to New Delhi on October 24, 2018 for the interviews. He later told them that the interviews were cancelled and the department would send them posting orders of jobs directly to their homes.
They once again trusted him and waited patiently for the jobs but in vain. They suspected some foul play and tried to question him on November 29, 2018. Noticing some trouble from the victims, the accused fled the home same day.
Bhavanipuram police registered a criminal case on Ram Gopal and began hunt to nab the accused. Finally, he was caught in One town area in Vijayawada on Monday. The police also arrested Saladi Revati, wife of the accused, his brother-in-law Doddi Kiran Kumar, car driver Y Ramu for colluding with him to cheat the people.
Ram Gopal was cheated by some other persons in Srikakulam district about 14 years ago. Since then, he planned to cheat others by promising them of jobs.