Kakinada: Devotion marks Ratha Yatra at Antarvedi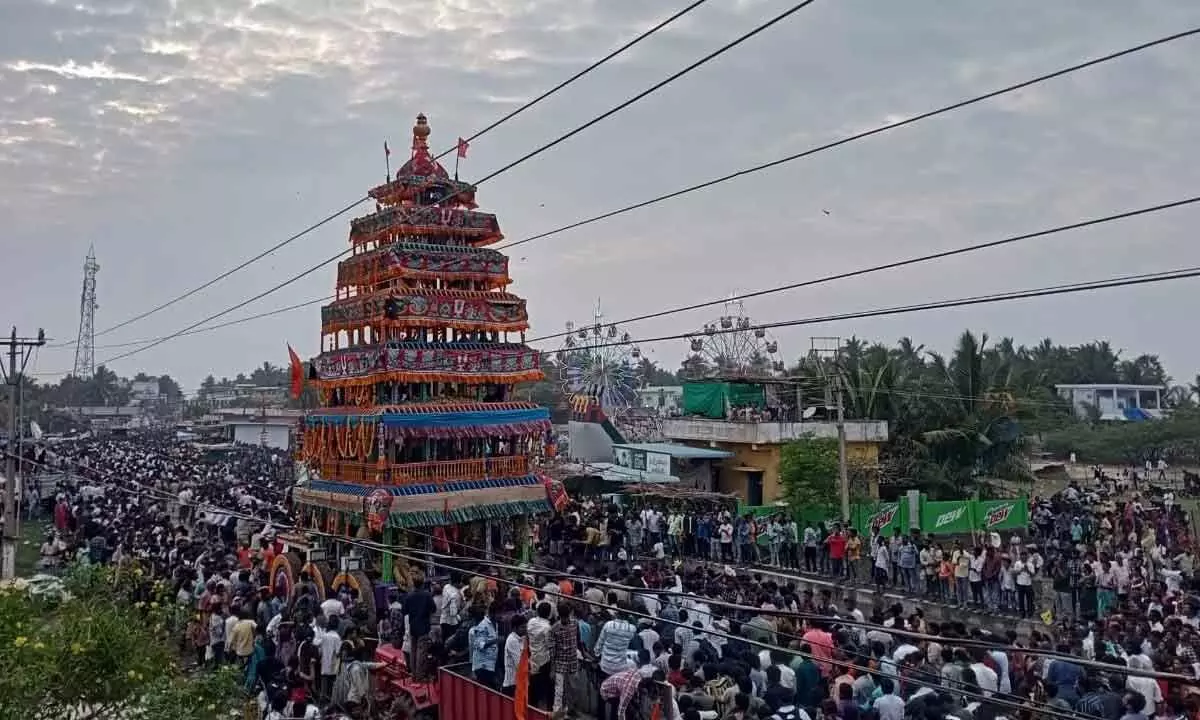 Highlights
The annual chariot festival (Ratha Yatra) of Lord Sri Lakshmi Narasimha Swamy was conducted in a grand manner at Antarvedi of Sakhinetipalli mandal in Dr BR Ambedkar Konaseema district on Wednesday, the sacred Bheeshma Ekadasi day
Kakinada: The annual chariot festival (Ratha Yatra) of Lord Sri Lakshmi Narasimha Swamy was conducted in a grand manner at Antarvedi of Sakhinetipalli mandal in Dr BR Ambedkar Konaseema district on Wednesday, the sacred Bheeshma Ekadasi day. Raja Kalindindi Kumara Rama Gopala Raja Bahadur belonging to the ancestor donors, District Collector Himanshu Shukla, Amalapuram RDO NSVB Vasanta Rayudu and Endowments Department Deputy Commissioner Vijaya Raju performed special puja at 2 pm and started Ratha Yatra on the temple premises in Antarvedi.
Thousands of people witnessed this divine spectacle. Devotees pulled the chariot after chief priest Paningapalli Srinivasa Kiran and Sthanacharya Vinjamuri Rama Rangacharyulu performed cheere, saare ritual. MLA Rapaka Vara Prasad, YSRCP leaders and others participated in the Ratha Yatra.
Earlier, amid chanting of Vedic mantras, the idols of the divine couple were placed on palanquin (Pallaki) and brought to the new chariot and later placed in the chariot. The chariot was stopped near the temple as per the ritual. Police took necessary steps to prevent any untoward incident during the festival, as directed by Superintendent of Police Ch Sudheer Kumar Reddy.