Kakinada: NGT team inspects aqua ponds, sand mining activities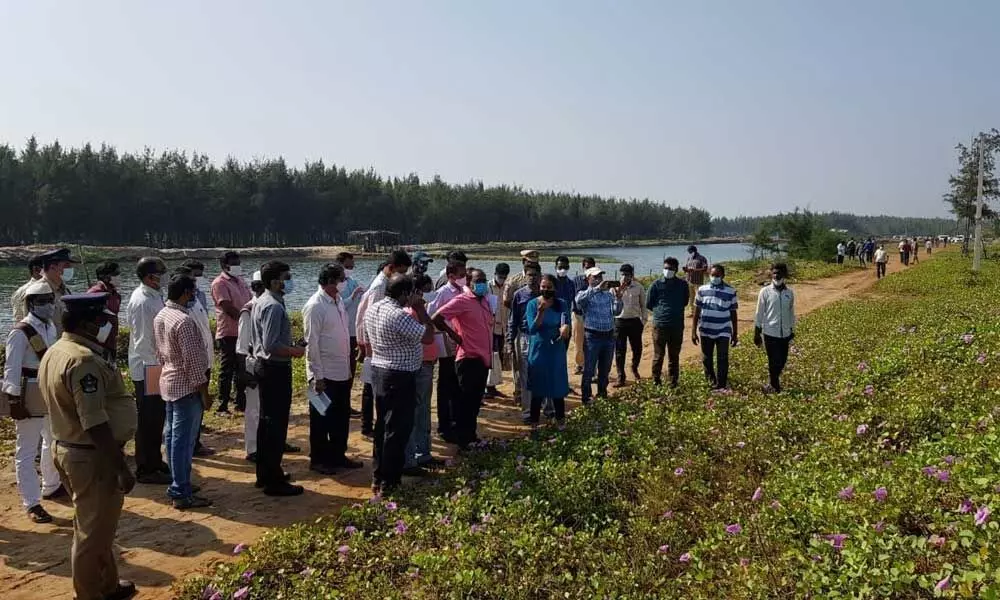 Highlights
The committee is formed to study ground level reality based on the complaint filed by Yenumula Venkatapathi Raja from East Godavari district against oil companies
The committee will inquire the cases of Kakinada housing site and destruction of mudflat by the GMR group on the Kakinada coast
The officials explain the problems caused by the halt of aqua activities
Kakinada: A joint committee constituted by the National Green Tribunal (Chennai) on Wednesday conducted a probe into the activities of aqua ponds, sand digging, prevailing the conditions of gas pipelines and marine activities in the district. According to the sources, the NGT committee was probing into the four issues in the district between December 8 and 10. The team visited Mummidivaram, Sakhinetipalli and Karavaka areas for in depth study. The team comprised of Ministry of Environment and Climate Change (MOEF &CC), Chennai scientist Dr Palpandi, scientist T Mahima, environment engineer P Ravindra Nath and anthropology scientist Deepa. Amalapuram Sub-Collector Himanshu Kaushik and West Godavari district sub-collector KS Viswanatham accompanied the team.
The team elicited information pertaining to the illegal excavations of the aqua ponds and sand digging. The officials informed the NGT team that for the last 5 years there were aqua activities, but off late the activities came to halt. They also explained in detail regarding the problems prevalent there. The joint committee on Tuesday began the field level inquiry into the case in which the ONGC and the GAIL were the respondents.
On September 8, the NGT heard the case filed by petitioner Yenumula Venkatapathi Raja from East Godavari district and the committee constituted to study ground level reality. He filed a petition in NGT against the oil companies alleging that there used to be normal phenomenon of oil leakage being caused in the pipelines established by these units causing damage to the agricultural land and affecting the water bodies.
The units were not following the pollution control mechanism which was intended to prevent such activities and there was no proper maintenance of the pipelines that were being carried out by them which causes frequent oil, gas leakage resulting in such incidents causing death of the people.
The committee would also inquire into the cases of Kakinada housing site and destruction of mudflat by the GMR group on the Kakinada coast. Moreover, the team also inspects the mangroves which were removed by GMR group, Kakinada. It also studies the pollution levels, contamination of ground water etc. Former TDP MLA Vanamadi Venkateswar Rao (Kondababu) said that the fishermen community will submit their representation to the NGT team on Thursday, with a request to protect mangroves which were important for fishing activities.