LG Polymers gas leak hits Vizag's biodiversity hard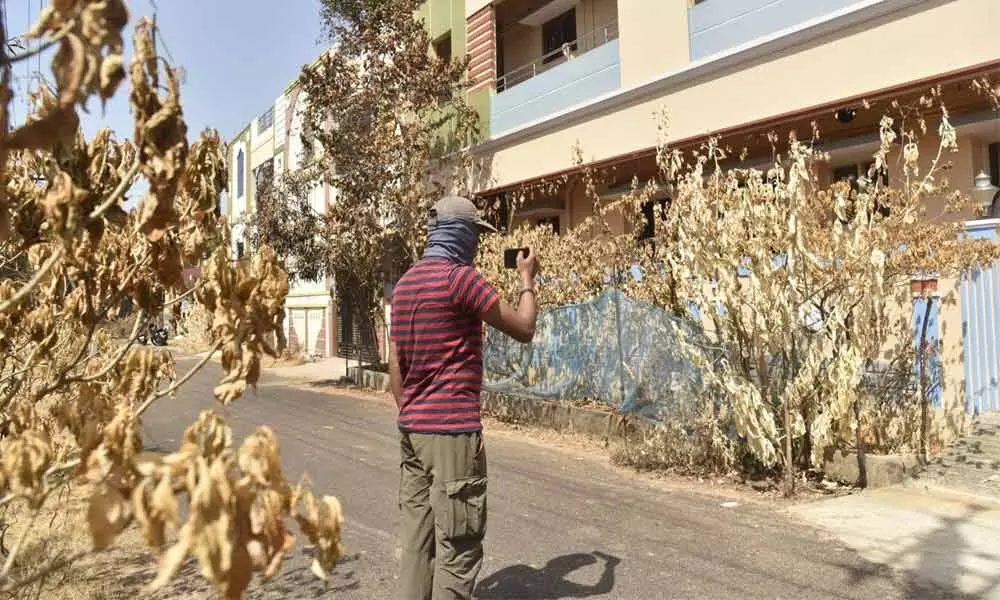 Highlights
Since the weight of the styrene monomer molecules are heavier, it cannot fly higher and as a result, it will impact the plants only up to five to six feet above from the ground level, experts say
Visakhapatnam: Not only did the styrene monomer leak cause loss to human life but also to Vizag's biodiversity in the form of a variety of flora and fauna.

After the gas leak at LG Polymers, stretches of greenery turned pale brown at RR Venkatapuram painting a picture of lifelessness. However, environmentalists and experts say that the lost green cover would soon return to normalcy as the impact of the vapour will not last longer on the plant life. Even if the vapour seeps into the soil, they say, the styrene monomer will not get much deeper and there is every possibility of the greenery sprouting back in the coming days. "Though the plants and trees have been dried up at RR Venkatapuram where the gas leak occurred, they may not continue for longer as the plants might regrow once the area experiences rainfall," says O. Anil Kumar, retired Professor in Botany Department, Andhra University.
Since the weight of the styrene monomer molecules are heavier, subject experts say, it cannot fly higher and as a result, it will impact the plants only up to five to six feet above from the ground level. Apparently, plants surrounding the company at RR Venkatapuram have been affected more than the trees. As a part of the clean-up measure, GVMC has removed the dried-up plants in the area.
Meanwhile, National Environmental Engineering Research Institute (NEERI) has identified some of the fruits on the trees dotting neighbouring villages of the company have turned hard.
Explaining the possible reason behind fruits becoming hard post the gas leak incident, Professor of Department of Environmental Sciences, Andhra University, E U B Reddi says, "Styrene monomer has a quality of sucking away the moisture content of fruits. Also, the chemical has the quality to bleach chlorophyll present in plants and hence the colour change. Fortunately, the rainfall after the gas leak incident aided in cleaning the atmosphere to an extent. Plants will re-grow in no time," he clarifies.
However, NEERI has collected the samples of the fruits, soil and water drawn from the well, among others. Though NEERI's interim report suggested the locals not to consume any fruit or plants grown in the area for the next 30 days, a detailed report is awaited.