Ongole: Announce MSP to all crops, demands TDP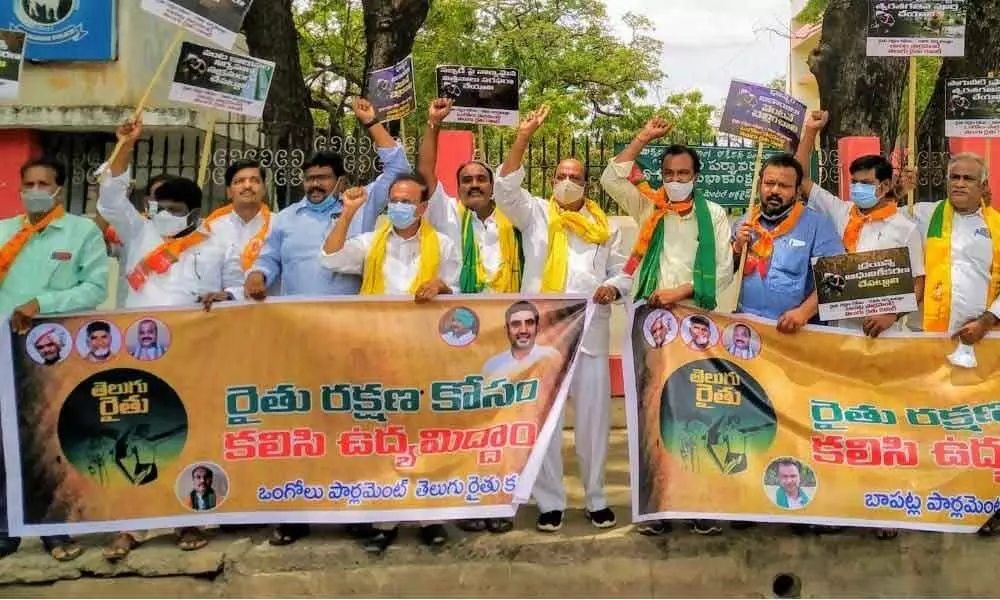 Highlights
Former Agriculture Market Committee chairman Kamepalli Srinivasa Rao points out that the farmers who cultivated oil seeds and legumes are unable to get good price for their produce
Ongole: The TDP demanded that the State government resolve the issues being faced by the farmers' and protect them during the pandemic.
The TDP leaders from the Prakasam district protested in front of the Collectorate on Saturday and submitted a memorandum to Joint Collector TS Chetan requesting him to focus on addressing the plight of farmers.
The TDP Ongole Parliamentary constituency president and former ZP chairman Dr Nukasani Balaji, Telugu Rythu leaders Yeluru Venkateswarlu, Kondragunta Venkaiah, and others spoke at the protest and said that though the government increased the days to pay the bills for paddy to 21 days, it failed to release the amount to them.
Balaji said that the farmers have sold the paddy to the government but they didn't get the money even after two months and they need to make investments for the kharif season. He said that the farmers were incurring a loss of Rs 300 to Rs 800 per quintal on an average and the delay in the payments is forcing them to look for loans from private persons for agriculture.
Venkateswarlu said that a number of farmers didn't receive the input subsidy, crop insurance and zero interest loans and demanded that the government extend all benefits to farmers. Venkaiah pointed out that the farmers were facing a number of problems in e-crop registrations at the Rythu Bharosa Centres and they were losing the opportunity to get their crops insured.
He demanded that the government provide minimum support price to the crops and release the money immediately. Former AMC chairman Kamepalli Srinivasa Rao said that the farmers who cultivated oil seeds and legumes are unable to get good prices for their produce.
He said that the green gram, black gram, red gram, corn, ground nut and other farmers were losing a lot of money as the private merchants are offering meagre prices for the produce. The farmers of tomato, mango, banana, chilli, subabul, coconut and prawns are not receiving the MSP, he said.
The TDP leaders demanded that the government provide MSP to all crops and immediately release the pending dues to the farmers. Ongole TDP president Kotari Nageswara Rao, Chundi Syam, Eddu Sasikanth Bhushan, and others took part in the protest.
Interested in blogging for thehansindia.com? We will be happy to have you on board as a blogger.