Ongole: Collector Pola Bhaskara orders enumeration of crops damaged by cyclone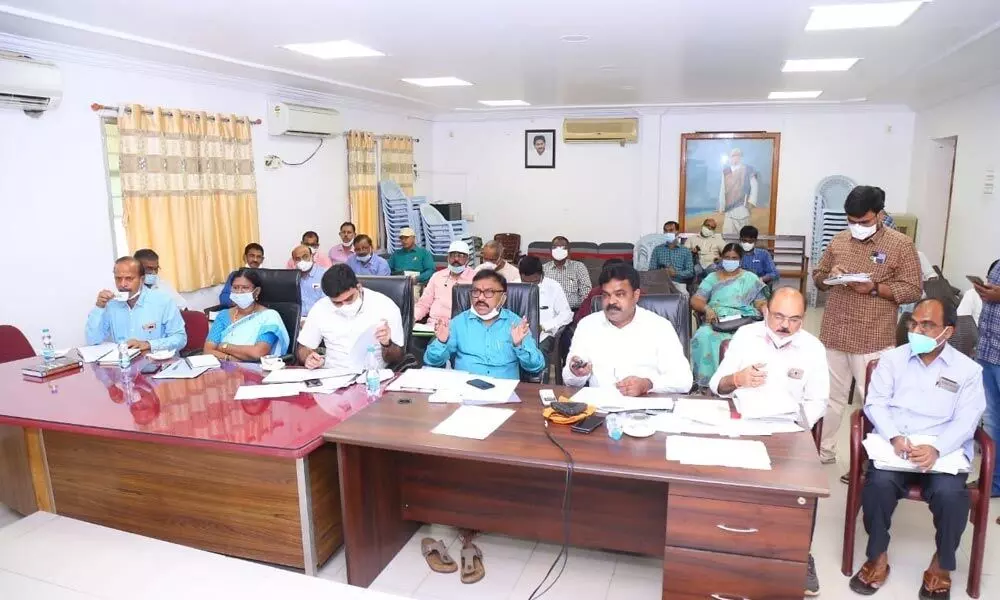 Highlights
Directs the Agriculture, Horticulture and Village Revenue officers to start enumerating the crop details jointly
The Chief Minister has told officials to complete the process by December 15
Ongole: Prakasam district Collector Dr Pola Bhaskara ordered the officials to immediately enumerate the losses to the crops due to Cyclone Nivar. He conducted a videoconference with the ground level agriculture officers and tahsildars from the Collectorate on Monday.
The Collector directed the Agriculture, Horticulture and village revenue officers to start enumerating the crop details jointly, as the Chief Minister has put a deadline to complete the process by December 15. He ordered the mandal officials also to put focus on the process and end it by December 4 and display the names of the farmers, lost crop details at Rythu Bharosa Centers on December 5 and send them to district headquarters by December 8, after resolving the objections. He told officials that the crops should be registered in e-Crop to receive relief from the government and added that the note of the crops should be made separately, if they came across any unregistered in the e-Crop.
Regarding the opening of milk collection units for Amul by the Chief Minister on December 2, the Collector ordered the officials to see all automatic milk collection units are working properly.
He said that they have selected 10 units to be inaugurated by the Chief Minister and ordered them to see no issues arise there, by uploading all details online.
He ordered the officials to book criminal cases on people trying to damage the milk collection units and coordinate with the farmers and vehicles taking the milk. He told them to create awareness among farmers to increase NSF as they would be paid on the basis of it only.
The Joint Collectors JV Murali, TS Chetan, in charge Joint Collector Krishnaveni, DRO Vinayakam, JDA Srirama Murthy, APMIP PD Ravindra Babu, and other officers also participated in the meeting.