Rajamahendravaram: TDP celebrates proposed TIDCO house distribution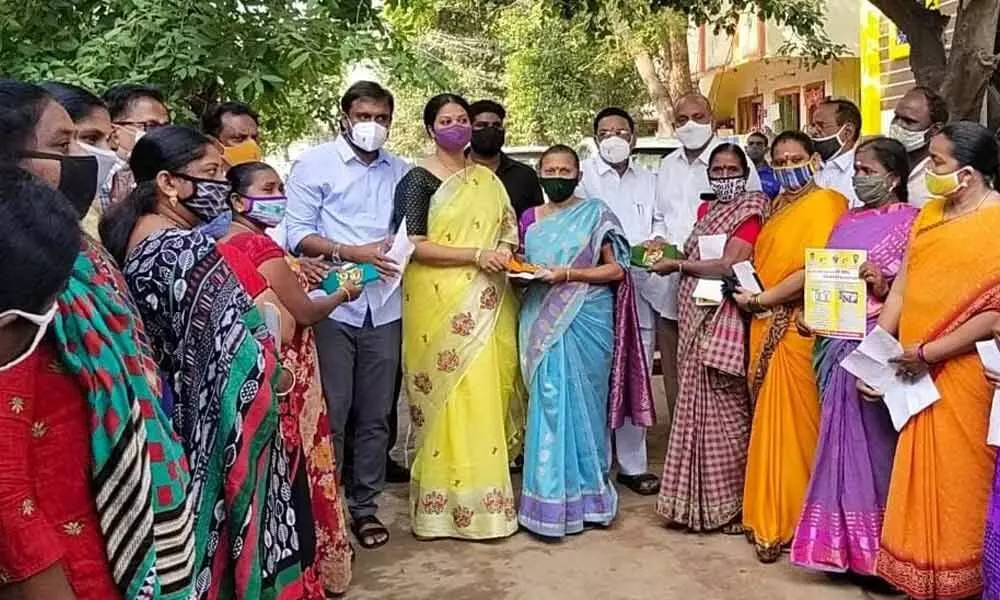 Highlights
TDP leaders distributed turmeric, Kumkum and blouse piece to TIDCO house beneficiaries in the division Nos 1, 2, 5, 49 and 50 here on Wednesday
Rajamahendravaram: TDP leaders distributed turmeric, Kumkum and blouse piece to TIDCO house beneficiaries in the division Nos 1, 2, 5, 49 and 50 here on Wednesday. They also distributed YSRCP election manifesto to the beneficiaries.
Later, MLA Adireddy Bhavani said that the government finally decided to distribute TIDCO houses to the beneficiaries on December 25. The government posed problems to the beneficiaries for 18 months by delaying the allotment of the houses. The government tried to delay the house warming but because of TDP's tirade the government conducting house warning on December 25, he said.
Former MLC Adireddy Appa Rao and TDP state organising secretary Adireddy Vasu said that the party cannot be mere spectator, if any injustice is done to the beneficiaries in giving the houses. Because of former Chief Minister Nara Chandrababu Naidu, TIDCO houses were constructed on a large scale and that was the reason for the government stalling the allotment of houses. The beneficiaries paid thousands of rupees as their share for the houses but in vain. The government intentionally stopped giving the houses to lakhs of beneficiaries.
TDP leaders K Rama Krishna, PL Kumari and others participated in the programme.