Take inspiration from Mokshagundam, JNTU-K VC tells students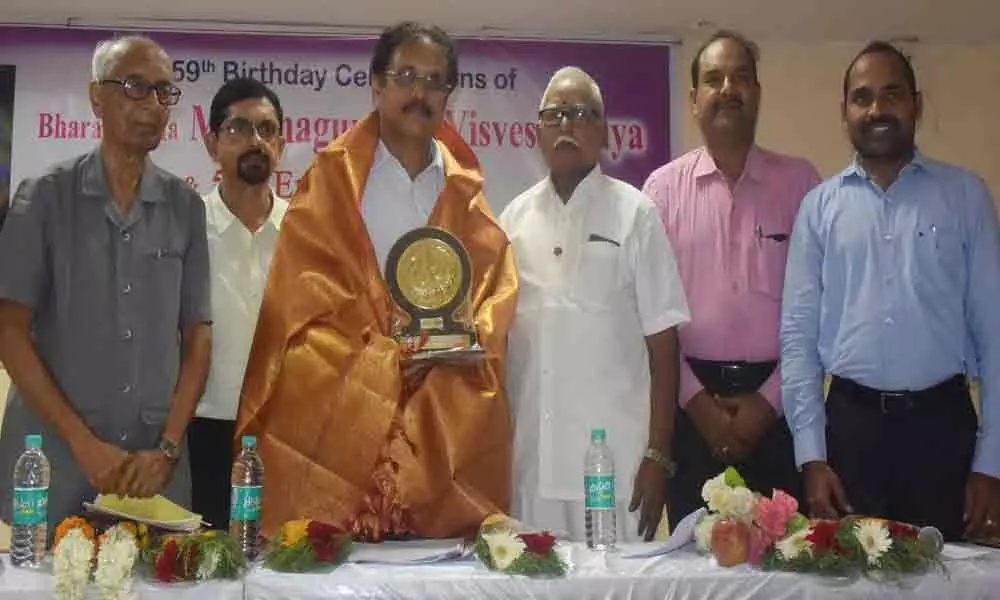 Highlights
The Jawaharlal Nehru Technological University- Kakinada (JNTU-K), the Institution of Engineers (India) Kakinada Local Center, the Retired Engineers Association, Kakinada
Kakinada: The Jawaharlal Nehru Technological University- Kakinada (JNTU-K), the Institution of Engineers (India) Kakinada Local Center, the Retired Engineers Association, Kakinada (RIEAK) jointly organised the 'Bharat Ratna' Mokshagundam Visweswarayya's 159th birth anniversary at Institution of Engineers (India) building at JNTU-K here on Sunday to mark the 52nd Engineers Day.
JNTU-K Vice-Chancellor, M Ramalinga Raju, Registrar VV Subba Rao, UCEK principal Prof P Subba Rao, RUSA coordinator GVR Prasada Raju, retired civil engineer Prof MV Subrahmanya Sastry and others garlanded the portrait of Mokshagundam Visweshwarayya and paid rich tributes to him. They lauded the services of the great engineer.
Ramalinga Raju exhorted the engineering students to get inspiration from the great civil engineer and at the same time update technology from time to time. He said that Visweswarayya made marvelous designs for water supply, drainage, irrigation system and others.
Subrahmanyam Sastry said that Visweswarayya proved that the many schemes can be completed with less time, less cost and good quality and exhorted the students to take his ideals for their bright career.