Vijayawada: Mahatma's teachings transcend all generations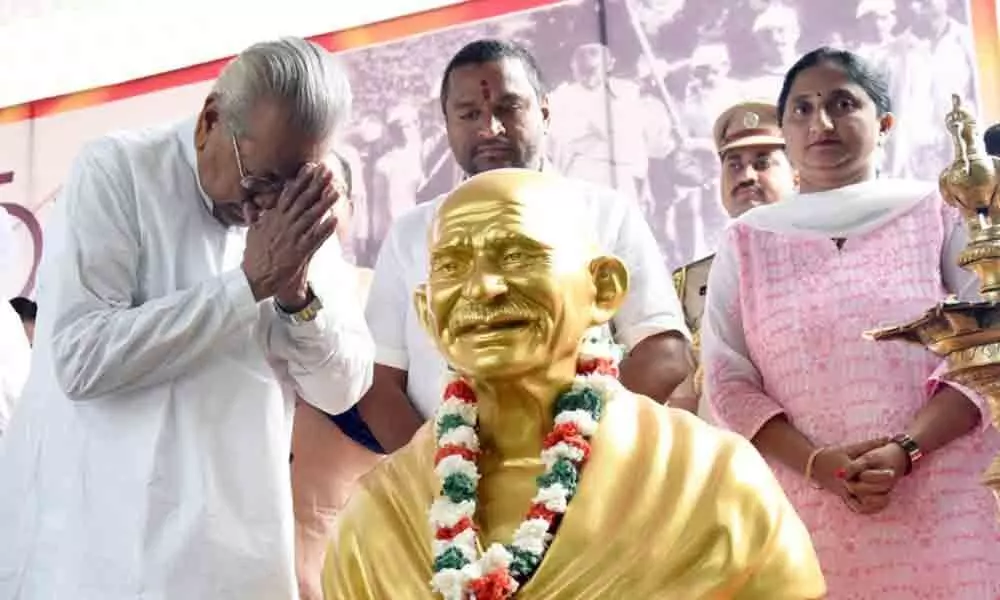 Highlights
1. Governor felicitates freedom fighters at a programme marking Gandhiji's 150th birth anniversary.
2. Presents certificates to winners of various contests conducted by the School Education department in association with Gandhi Smaraka Nidhi for students.
Vijayawada: Governor Biswabhusan Harichandan said Gandhiji demonstrated to the world that freedom can be achieved through peaceful, non-violence means and his words of wisdom are significant in all aspects of human life.

Speaking at a programme on the occasion of 150th birth anniversary celebrations of Mahatma Gandhi organised jointly by AP School Education department and AP Gandhi Smarak Nidhi at Siddhartha Academy Auditorium here on Wednesday, the Governor reminded the students the words of Mahatma Gandhi who said students are the hope of the future and Gandhiji's teachings transcend all generations. "They are more relevant today than ever before," he said.
Honouring freedom fighters T C Rajan, the 102-year-old fighter who came all the way from Palamaner in Chittoor district, Ravuri Arjuna Rao and Ravuri Manorama from Krishna district, Pavuluri Sivaramakrishnaiah from Guntur district, the Governor said that by honouring the freedom fighters, he himself feels honoured.
The Governor said in the days of freedom struggle, the whole nation was inspired by the call given by Mahatma Gandhi and came on to the streets in lakhs and fought against the British in a non-violent movement. Appreciating the children who gave the captivating performance of the ballet depicting notable incidents of freedom struggle, the Governor said it was both an entertaining and impressive performance. He said he did not understand Telugu language in which the performance was given but he could feel the sense of patriotism depicted by them.
Earlier, the Governor inaugurated a photo exhibition depicting the life and times of Mahatma Gandhi, organised at the venue by AP Gandhi Smaraka Nidhi.
K P C Gandhi, president of AP Gandhi Smaraka Nidhi, speaking on the occasion, said Mahatma Gandhi visited Vijayawada on a number of occasions and interacted with prominent leaders of freedom struggle from AP.
The Governor presented certificates to students who stood first in essay writing, elocution, drawing, singing, slogan writing and quiz competitions conducted by the AP School Education department in association with Gandhi Smaraka Nidhi. The Governor also released a book titled 'Badi nunchi Polam Badi ki', brought out by the School Education department and released a CD brought out by the AP Gandhi Smaraka Nidhi, showcasing their activities and a special issue of 'Grandhalaya Sarwaswam' brought out by Andhra Pradesh Library Association.
B Rajasekhar, Principal Secretary, School Education, Sandhya Rani, Commissioner of School Education, Mukesh Kumar Meena, Secretary to the Governor, MLC Lakshmana Rao, G Rashmi, Convener of Mahatma Gandhi 150th Birth Anniversary celebrations committee, also attended the programme.