F&O data holds widening options band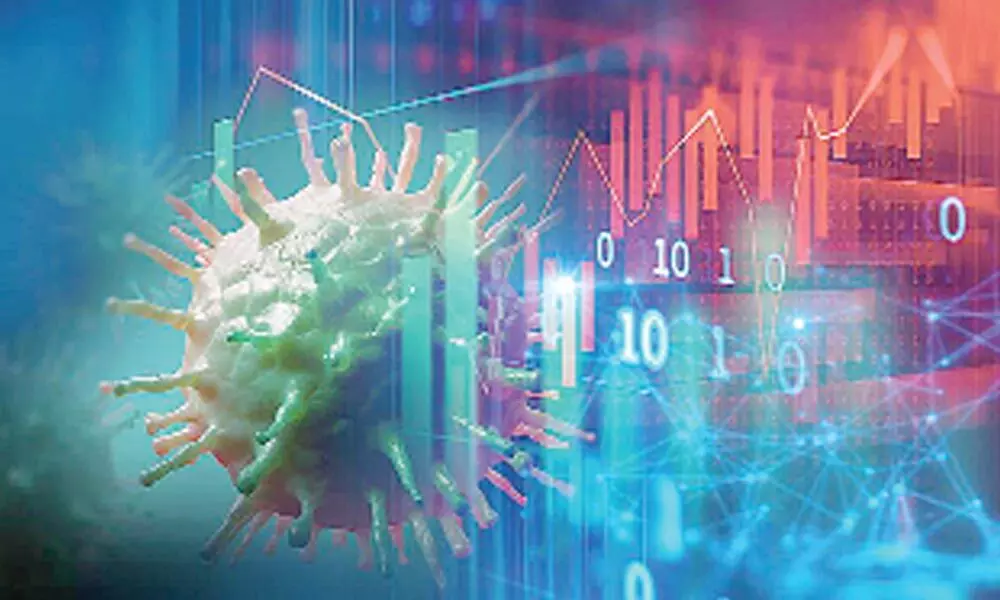 Highlights
Indecisive OI buildup points to lack of strength in mkt; Put-Call ratio of OI at 1.05 indicates more Call writing
The futures and options (F&O) data from NSE is pointing to the wider options band of 9,000-10,000 for the truncated week ahead (Eid-ul-Fitr on Monday) as against the previous week's 9,000-9,500 range. The F&O data clearly indicates lack of strength in the market for building long positions. The highest Put Open Interest (OI) base remains at 9,000 strike for the second consecutive week and this is indicating that the market has been defending its psychological mark, observe derivatives analysts. Considering the indecisive OI buildup amid volatility, traders are advised to be in wait and watch mode.

The 10,000 strike recorded highest Call OI of 30.57 lakh contracts followed by 9,500 strike with 25.07 lakh contracts, 9,300 strike with 19,40 lakh contracts and 9,000 strike, which also witnessed maximum OI buildup of 4.49 lakh contracts, with 16.63 lakh contracts. The 9,600 strike clocked 4.22 Call OI buildup, while 11,000 strike recorded offloading of 1.38 lakh contracts followed by 10,500 strike with 1.08 lakh contracts and 10,100 strike with 1.07 lakh contracts.
On the Put side, the 9,000 strike has highest Put OI of 32,76 lakh contracts followed by 8,500 strike with 29.15 lakh contracts, 8,800 strike, which witnessed maximum Put OI addition of 6.04 lakh contracts, with 21.67 lakh contracts and 8,600 strike, which recorded Put OI buildup of 5.52 lakh contracts, with 13.24 lakh contracts.
"From derivatives front, once again tug of war was seen between bulls and bears as Call writers at 9,300 strike, while Put writers at 9,000 strike kept the index in well defined range," said Dhirender Singh Bisht, senior research analyst (derivatives), SMC Global Securities Ltd.
The NSE Nifty may trade between 8,800 and 9,200 amid volatility. The NSE benchmark index recorded sharp upsides and moved up 110 points during the Friday session. On the options front, ATM strike of Call and Put holds significant OI. This indicates Nifty may trade in the range of 8,800-9,200 points.
"As the May expiry is near the highest rollover for next series witnessed in Adanient, Grasim and Adaniports whereas on lower side MGL, SBI Life and Siemens were in the list. In ibulhsgfin, PVR and TataChem the next month future are trading at discount indicating further weakness whereas Adanient , ICICI Pruli and M&M are trading at premium, which indicates strength in these stocks. In coming sessions, stock-specific movement can be expected."
For the week ended May 22, 2020, BSE Sensex closed at 30,672.59 points, a net loss of 425.14 points or 1.36 per cent, from the previous close of 31,097.73 points. Similarly, NSE Nifty too declined by 97.6 points or 1.06 percent, and closed the week at 9,039.25 points as against lastweek's at 9,136.85 points.
Bisht forecasts: "From the technical front, 8,800-9,300 range would be crucial for upcoming week and move beyond this range would gauge further direction into the index." India VIX declined by 1.9 per cent to 32.40 level. Nifty futures ended at a discount of 32 points with a fall in implied volatility (IVs) by 8.5 per cent.
"The Implied Volatility of Calls closed at 29.29 per cent, while that for Put options closed at 31.77 per cent. The Nifty VIX for the week closed at 32.99 per cent and is expected to remain volatile. PCR OI for the week closed at 1.05 down as compared to last week at 1.09, which indicates more Call writing than Put. At the current juncture, traders should remain focused on stock-specific moves and are advised to trade cautiously tracking global markets as volatility is likely to grip the domestic markets in the coming few sessions as well," remarked Bisht.
FPIs sold Rs258 crore, while DIIs bought Rs401 cr in the cash segment. FPIs sold index futures worth Rs471 cr and bought bought Rs1,799 cr in index options. In the stock futures segment, they bought Rs490 crore.
Bank Nifty
Declining by 1,555.05 points or 8.25 per cent for the week, Bank Nifty closed at 17,278.90 points as against 18,833.95 points. The NSE banking index couldn't close above 17,400 level. This indicates selling pressure may continue in the week ahead taking the Bank Nifty to 16,500 level.
"Indian markets fell for the third consecutive week, majorly dragged by the financials and banking names like HDFC, ICICI Bank, Axis Bank and the Bajaj twins as market participants remained unsatisfied by the RBI despite slashing the repo rate by 40 bps to four per cent," added Bisht. According to ICICI Direct.com, from the option space, major Put OI is at 17,000 strike and major Call OI is at 18,000 strike suggesting it may largely consolidate between these levels.
Subscribed Failed...
Subscribed Successfully...