'Ante Sundaraniki', Nani's 28th movie title unveiled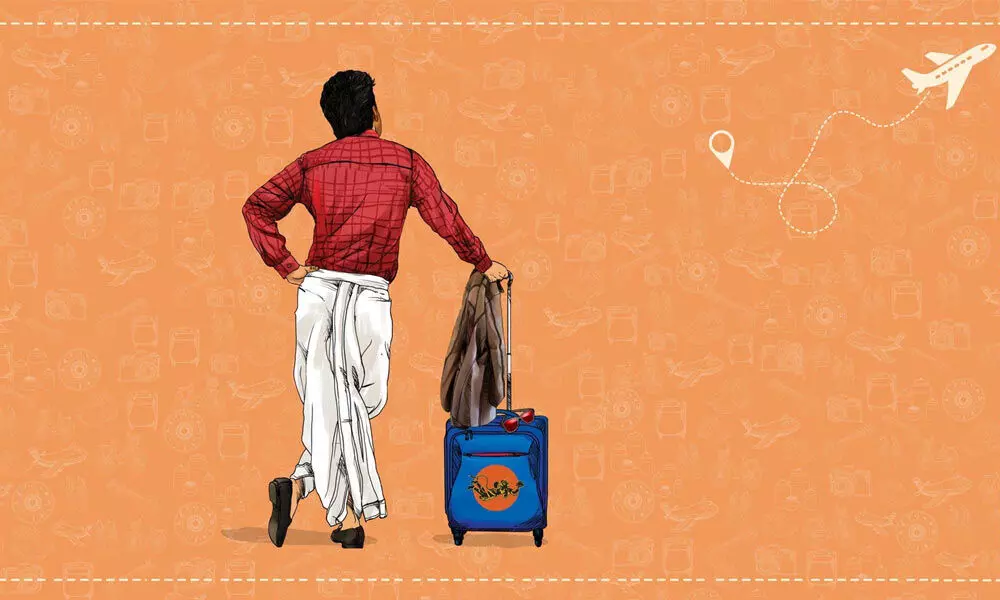 Highlights
Tollywood's ace actor Nani has unveiled the title poster of his 28th movie
Tollywood's ace actor Nani has unveiled the title poster of his 28th movie. Well, this time Nani chose a unique way to unveil the title of his upcoming movie. Of course, there will a lot of rumours and gossips spread before the official announcement of any movie's title. Even our natural star also followed the same mantra and raised the expectations on the movie with his 'Gossip Alert'.

Nani has first unveiled the title poster where he is seen from the back sporting as a villager draped in a dhoti. The poster is quite impressive as it has Nani carrying a suitcase and also showcasing bygone 'pickle' jars, old camera, lady bird cycle and a classical music instrument 'Veena'.
Nani also treated his fans with the 'Gossip Alert' video. This small snippet showcased a few people murmuring about the movie's title. It all started with comedian Viva Harsha's voice over. He shouts and asks what's going on, then Nani reveals the gossip in his ears and from there it travels to many people. At the end, the title of the movie finally gets unveiled. Nani will essay the role of 'Sundaram' in this comedy movie which deals with the age-old 'Pachikalu' which made 'Pandavas' lose to Kauravas' in the board game.
This Vivek Athreya directorial has raised the expectations to a notch higher with the concoction of a few interesting elements. From the musical instrument to bygone 'dice boardboard' and lady bird cycle to pickle jars, the poster was the best curtain raiser till date as it is appealing and interesting too. 'Ante Sundaraniki' movie has Malayalam beauty Nazriya Fahadh as the lead actress who is making her debut into Tollywood.
Finally, the video comes to an end with late actor Anjaneyulu's dialogue 'Sundaraaa.. Paachikalu Veyyammantavaa?'
Subscribed Failed...
Subscribed Successfully...