Shades of everyday life on canvas: Moshe Dayan Bhupathi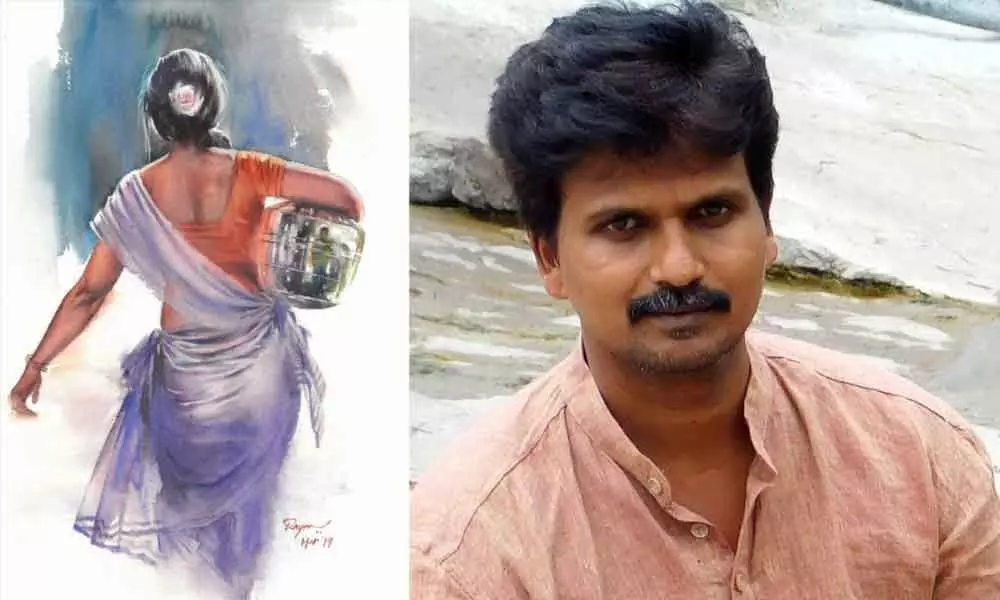 Highlights
Hyderabad-based artist Moshe Dayan Bhupathi depicts little things in everyday life. His paintings remind us that the world around us is filled with...
Moshe Dayan Bhupathi, born in a village Chinnaganjam, near Chirala, is a self-taught artist. His knowledge and skills in art have been cultivated through years of passion and self-education since his childhood. About his influence, he says, "My village is a very beautiful place and its influence on my aesthetic outlook is immense. I started drawing pictures on the walls of houses as a child. After a while, I had to move to a hostel in Jawahar Navodaya Vidyalaya, Ongole, where I studied from 6th standard to 12th standard. Although I was busy with studies during this time, fortunately, my school had ample space for cultural activities, and I was actively participating in art competitions. I graduated from Bapatla College of Arts & Sciences and did my PG in English Literature from Andhra University. After that I tried my faith in Civil services although I could make it to the interview in my last attempt, I could not get the service."

"It was then that I decided to take art as my career despite clear knowledge that this particular path was no way easy. My association with professional art was very short, initially, I began working on book jackets and illustrations for books and this got popular on social network and my work was noticed by many. That's how I got a chance to work for the movie 'Pelli Choopulu'. I did 11 paintings for the title sequence. Since then I worked for some movies and short films, but my idea was always to do some serious fine art. Recently I conducted my first solo exhibition 'And Trance everywhere…' at Kalakriti Art Gallery, Hyderabad."
The 40-year-old artist believes that one is born with the inspiration to become an artist. He says that we all have artistic sparks as children but lose them gradually owing to the painful process of growing up. "I may be somehow made sure to survive. Nature and life are my biggest inspiration for me. I also look up to some masters and geniuses for technique and other aspects of art. Picasso, Monet, Bapu, Cartoonist Mohan, Ilayaraja, Einstein and Chalam (Telugu writer) are some of them."
His soft treatment of watercolor, pen and ink works speak, as if, of a lost world, but which his very much existent. The people and objects, which have no relation to art are alive in his work and becomes immortal, a kind of visual narrative is seen in Moshe painting. "Watercolour is a magical medium. It's visually appealing, challenging to handle and requires a degree of philosophical understanding of life," he shares.
For Moshe, art practice is an expression of his experiences and his intimate surroundings and aims to express the importance of 'Everyday life' in his work. He tries to create a space that amalgamates a new perspective of seeing things and perceiving it. His works display an essence of his surrounding which is very common to the eye but the ways of seeing it differs. "I am always fascinated by the life around, the complexities and shades of it. Although most of this happening life is inexplicable and invisible, what we can actually get to see is enough to inspire awe. I try to capture exactly that. I try to relive the things I have seen, the places I have been. When the seemingly ordinary things around are placed in the right frame and lighting, magic unveils. I try to put some spiritual appeal into my paintings along with the obvious visual beauty," shares Moshe.
Subscribed Failed...
Subscribed Successfully...