An expression of self-love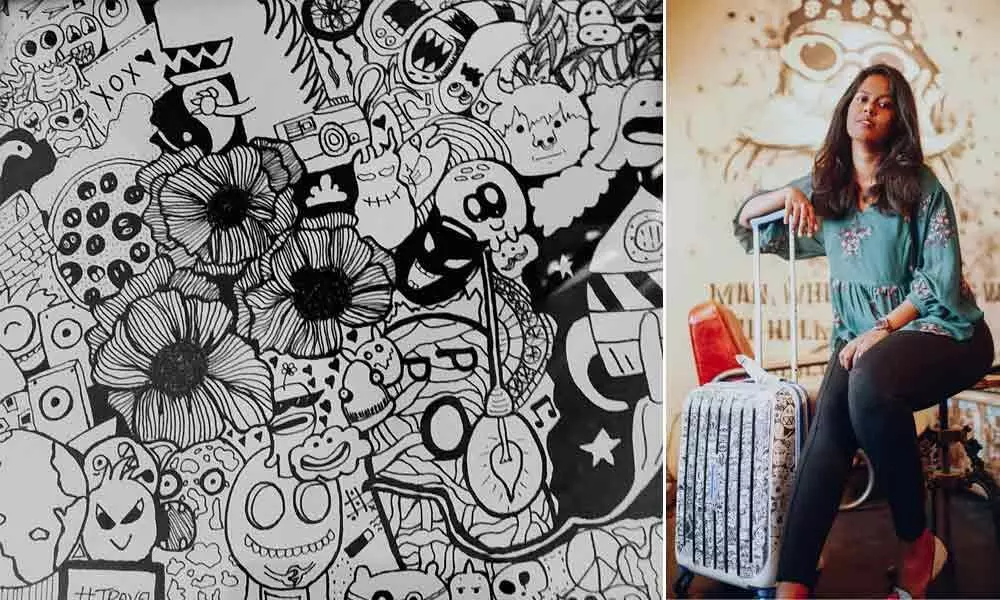 Highlights
Hyderabad based 24-year-old Snigdha, masters the art of doodling and works towards resolving mental health issues
Snigdha Munipally the doodle artist, a poet and a motivational speaker has left no stone unturned to master her craft.
After different incidents in her life that put her into a depression, she started to experiment with the talent that she has had and started doodling and simultaneously wrote poems that were inspired from her life.
She also received an award from Telangana government for her works. She explains her transformation during an interview.
Tell us about yourself
I am a mechanical engineer graduate from CBIT and about three years ago, I started doing poetry, which was the biggest support when I was going through depression back then.
One of the things was that I was working with people who went through the same issue. I started sketching and I am a professional doodler and I have been doing live doodling. I have also customised my art in a lot of cafes.
Since, I was working with a mental health issues, I met people who were sexually assaulted and to be frank there are a lot of people from all age groups confessing about what happens to them that affected them mentally.
Since then I am trying to work towards finding a solution for them. I give talks on self-love. I am also a solo-traveller.
When did you decide to pursue art?
I never really wanted to get into engineering, I always preferred mass communication. I am pretty much happy for what I am right now.
My parents chose engineering for me for which I always had heated conversations with them. It was one of the bold step to take up art and my father apologised to me that he pushed me into engineering.
I loved art. But, I never knew how to draw a straight line. Doodling was something that I chose and doing it in a small space is a challenge and fun to do.
How did your parents react when you got into art?
Initially, it was a big shock to them; any poetry that I would recite would not get into their heads. I think it was a long process of two years to convince them.
And travelling solo also shocked my family as they thought that I was going in the wrong way. I made them trust me by talking to them. Right now they are very happy about me as they are seeing me develop as a person.
When did you start writing?
I started writing and sketching when I was in my eighth standard; it was not a great thing and the only person who would read my stuff was my English teacher.
At one point in time, it was like you did not know what to do and picked a pen to write. Now, every single piece that I write is very close to my heart.
When I made a speech at HLF last year about self- love - that was a turning point in my life. I was awarded as under 25 artist and motivational speaker.
What was the incident that put you into depression?
There were a lot of incidents; I was sick all the time; I also did not want to do engineering and still, I did it. I also faced a lot of discrimination all the time.
When did you get recognised for your work?
When I started speaking at open mics on mental health; that is when I was recognised and then I was awarded for my art and social work as well.
The government of Telanagna picked youngsters under 25 working in different fields and recoginised them with an award.
What is the way forward? Do you have any plans?
What is more important is understanding your audience and so I want to make people comfortable about their stories and talk to them and bring more people out of depression.
Subscribed Failed...
Subscribed Successfully...