Celebrating fashion with handloom textiles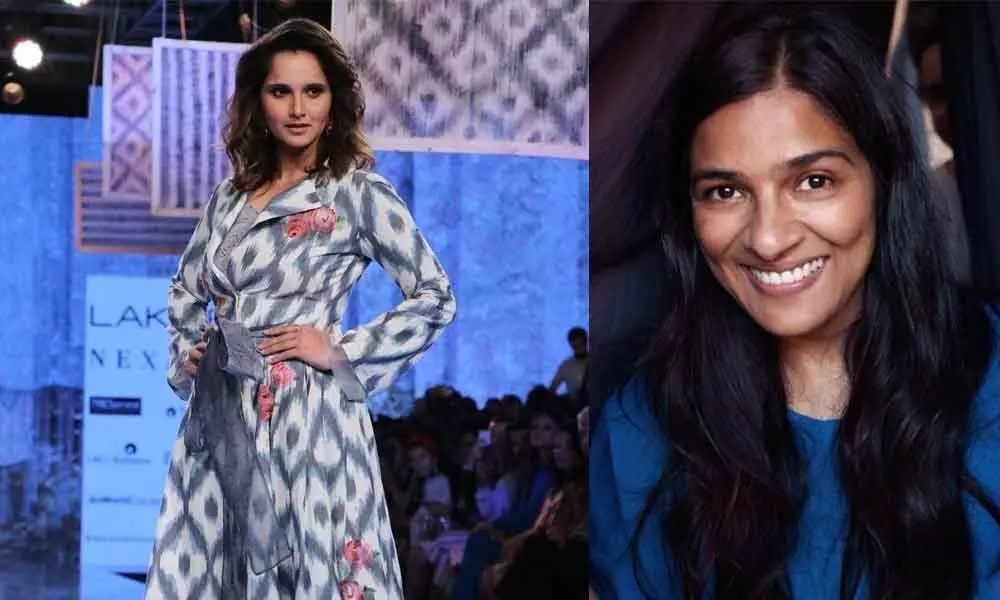 Highlights
The passion to design clothes that Rina Singh would wear herself drove her to establish EKA, (which means singularity in Sanskrit) in 2011.
The passion to design clothes that Rina Singh would wear herself drove her to establish EKA, (which means singularity in Sanskrit) in 2011. Her vision to create 'quiet, feminine clothes rooted in Indian ancient tradition' lies at the heart of her brand which currently enjoys a Rs 10 crore annual turnover – a dramatic increase in two years.
Sharing about her journey, she told The Hans India, "I think I always had a flair for clothing if not fashion. Even without any formal training, I still knew how to cut and sew so I think I had a knack for designing. This was because during summers, weavers would come to stay in our house and weave durries.
I could see all that happening in front of me. As I come from an agricultural family, there's a lot of craft influence in the household. And then I got an opportunity to study at a college, when I was offered a scholarship to study in the UK."
"Availing a lot many opportunities, I came back to India worked with NIFT for good six years where I got an opportunity to travel the west coast of India. In Gujarat, I studied a lot of triads and dance costumes and a variety of traditional attire and stuff.
One thing led to another with my one foot in fashion and other in craft right from the beginning. Then I worked with Wills lifestyle where I was exposed to a lot of international fashion houses because we used to travel a lot to catch trends, study everything.
And then eventually I decide to start my own label. Because after having so much exposure, I used to feel that the kind of clothing that I want to wear as an Indian abroad or anywhere else in the world, for that matter, it was either high street or it was very ethnic, traditional clothing.
I just started my line and showed my work internationally before selling it in India. I got a very good response from the international market from the first year itself and there was no looking back. Eka was launched then."
Describing her inspiration behind her new collection, she says "I was engaged by the handloom department of Telangana to work with the weavers and the craft clusters.
I've worked with Mahadevpur where they use tasser silk to make sarees, and in Narayanpet where they do border woven cottons and I worked with Koyalagudem where they do single and double Ikkat patterns.
So, you know, textiles are largely a lot of inspiration to know that I'm working on these techniques and what can be done. But as I said that the whole idea of my label is to do international lines and not just sell it in a very ethnic way.
I've been very inspired by the little woman series and the character of Joe because she had shades of grey and black and white, and a little bit of romance and she perfectly suited to be my muse for the next season.
I just picked up her character and I thought that let's do a whole wardrobe for Joe from the little woman. And so, you will see a lot of boxes, silhouettes and dainty dresses and hand painted patterns on the skirt and things and a lot of mix and match of color and pattern and embroidery and hand painted details and stuff."
About her upbringing, she shares "It was almost like a very humble, ethical, frugal household despite having all the means. We had a lavish setup.
I come from a rural household; we are largely dependent on agriculture. But at the same time, we had a lot of resources. But yet everybody lives very, very frugally."
Telling Eka's collaboration with TSCO she says "So last year I was engaged by the Telangana state handloom corporation to do a show that coincided with the national handloom day, and Telangana state handloom day as well.
So, I did a small collection that I worked with a few clusters and the TSCO very closely, but at that time also I felt, and the department also felt that there's a lot of work that can still be done."
"I felt very strongly that this craft that I worked on, should be at center-stage and should reach out to a larger audience. I should be showcasing it abroad because this kind of a skill can't be found abroad.
These designs and textile craft are our legacy which has been passed on to us. Jayesh sir, who's Telangana handloom industry's Commissioner and Shailaja, the head of department of TSCO, were of the opinion that we should continue this work and we decided to do a show at Lakme and bring attention to the textile industry in the region, the craft belts, the weavers, the artisans.
This show will be a culmination of all that work that we've done in the last one year." The other thing that I really love is when I get to travel to All these remote places where my work takes me.
I don't think that experience can be replaced by anything else in the world. It's so authentic. Sitting with the weavers. It's so humbling," she adds.