Mastering the art of conceptual rangoli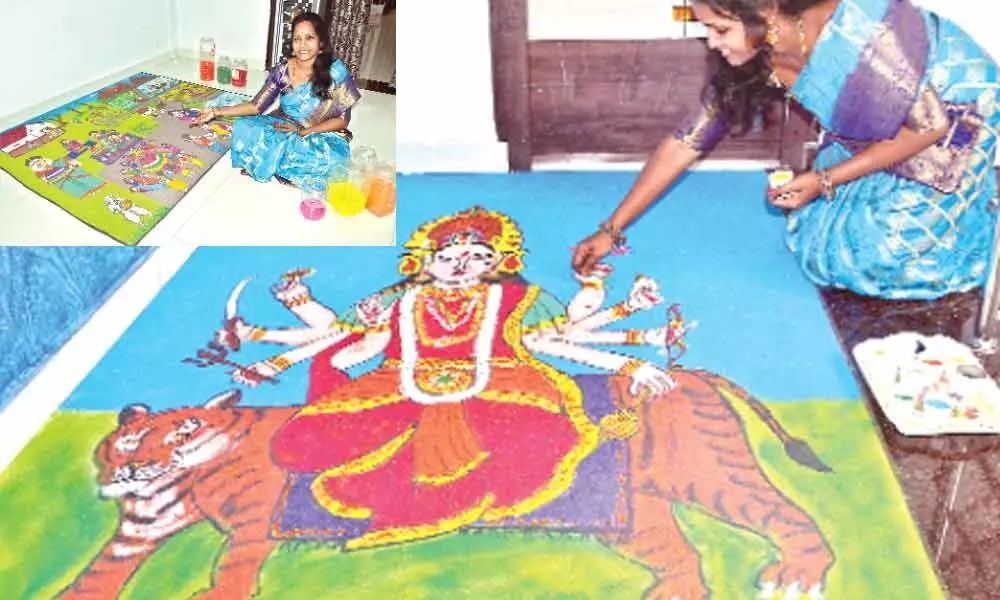 Highlights
A homemaker, Peddi Kusuma from Jangaon, Telangana had love for creating intricate rangoli (muggu) since her childhood.
A homemaker, Peddi Kusuma from Jangaon, Telangana had love for creating intricate rangoli (muggu) since her childhood. She has been making interesting designs at her home during all important festivals and occasions.
And it is only six years since she has been participating in the rangoli competitions, which are held in district and state level, and winning prizes.
"From the past eight months, I have been choosing concepts and then designing rangoli according to them. If there are any special occasions or festivals, I start doing rangoli on that particular theme.
I also keep posting them on Instagram and I have also designed rangolis at the temples of Jangaon, shares Kusuma, who has created Goddess Durga, and the Telangana festival Bathukamma in her muggu on the occasion of Dasara.
Today, even her eight-year-old son helps her in creating these rangoli designs. "Like every girl I also wanted to create the best muggu for Sankranti. I used to experiment on different designs and then when I started going to competitions, I wanted to do concept-oriented rangolis.
This idea looked a little creative and different from the other rangolis. I also liked drawing in my childhood and so it helped me to design portraits in rangoli. Eventually, I realised that I can help the younger generation understand our festivals with the help of my designs.
People also get inspired by my designs," relates this young artist, whose portrait of Goddess Durga using muggu and stone colours is quite an intricate one.
"It took me around three hours to complete the whole design. Durga has eight hands and so detailing took time. I also had to show the expression in the rangoli, which is the reason it took some more time to complete it.
Apart from the Goddess Durga rangoli, I have also designed how Bathukamma is celebrated in the villages by depicting every scene in detail in the design.
"We get 14 colours; they are stone colours and not starch colours. These are used in Sankranti muggu.
For Durga, I have used colours like blue, red, orange and brown for the tiger. I have also mixed colours as we do not get a skin colour. I have made the skin colour by mixing white, yellow and orange colours.
"I have also designed rangolis about women issues, environment day, book day, etc. For the book day, I have shown Ganesha holding a book and reading it, which gives a message that 'when God is reading a book why can't we humans do the same instead of using gadgets'," she shares.
If everything goes well and people show interest in this concept, she also plans to teach this intricate art.