Toda women; the torchbearers of tradition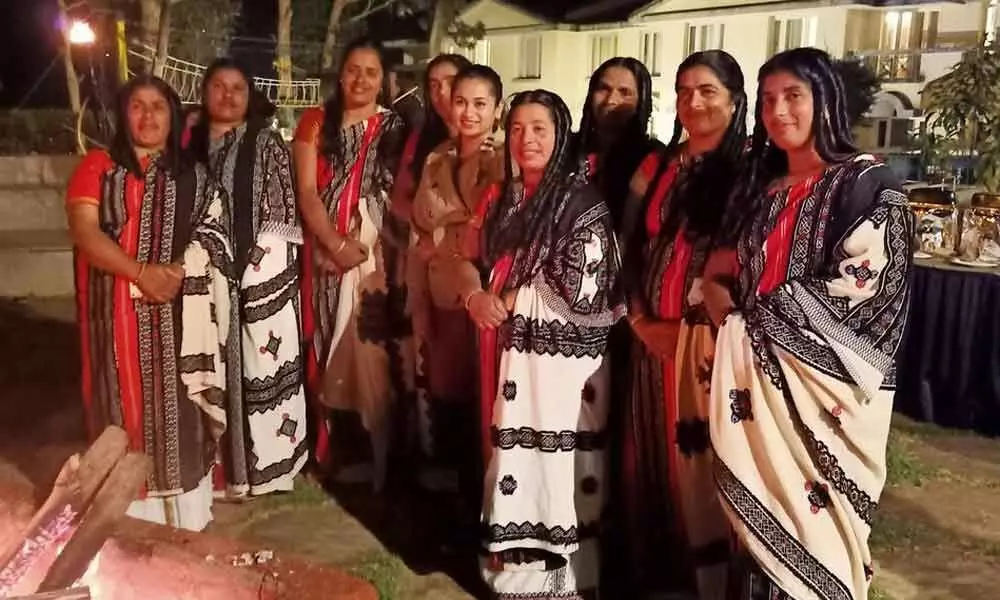 Highlights
Amidst today's changing lifestyle and trends, Toda tribe women, based in Ooty strive to continue their traditional practices with very few people left...
The lifestyle of women has been evolving ever since the ancient times. Change and development are the key words of humanity, and one always advocates progression in the way women live and are treated in every culture.
That said, continuing traditional practices and safeguarding culture keeps alive the identity. Indian tribesmen are known to be protective about their traditions and women play a key role in taking forward their cultural identity.
Women of the Toda tribe living near Ooty have a very interesting lifestyle, and they continue to practice the old way of living and strive to carry forward the legacy by practicing ancient practices that they follow.
However, even they are dealing with onslaught of lifestyle changes, share the women on the sidelines of their dance performance at Sterling Fern Hill,Ooty.
Devi narrates, "Since the time we have been settled in Ooty we are practicing our culture, though we are only 2000 people.
We ensure we carry on our legacy by participating in the rituals and conducting few ceremonies that are coming down from generations."
"The elder women in our community are respected a lot; when we take the blessings of an elderly woman, she puts her feet on our head and blesses us.
Infact, we take her feet and then place it on our head so that she could bless us. This tradition still continues in our community as we do not want to end this practice."
Since the modern trends have been taking their bench in the society people are moving away from their old traditional the same situation is seen with the tribes of Toda.
"Since the lifestyle in the city is fetching money, people in our community began to adapt to city lifestyle. They work in cities in order to make more money, but there are few women who still practice our age-old tradition by weaving warm cloths and following other rich traditions during the festive times."
Regarding the weaving of warm clothes, Devi shares, "The patterns used in a Toda shawl reflect the creativity of Toda women who are inspired by nature and mythological stories.
We women have been practicing this art since ages; the base cotton material, normally bleached and pale white in colour is handwoven in single width and the embroidery is done by counting of threads.
We do not refer to any kind of pattern from a book as we have designed them a hundred times. The shawl that we weave has a visible design on both the sides of the cloth, which gives it a finished look, a little tuft of the thread is left behind while drawing the needle back, which gives a rich look to the cloth. The ladies here work on fabric with simple darning needle and thread without the assistance of modern tools."
The handwoven cloth is pretty famous for its design, "Traditionally, three colours have great significance. The cream/ pale white stands for purity and innocence, red stands for youth and black stands for maturity.
The design is usually red and black stripes,and the shawls are used as cover over the clothes that we wear."
Apart from the shawls that they design they also have a unique hair style which is styled specially for every occasion. "We wash our hair and then we roll the hair strings as ringlets.
This hair style also makes our hair healthy. We spend hours to get the hair style into shape."
Every community has certain kind of rituals to follow when it comes to a wedding ceremony and so does the Toda tribes. There is a little twist on how a Toda man impresses his girl for marriage.
Devi, who has taken the mantle of the spokesperson of her tribe for the day, relates "The woman has the right to choose her husband.
So, the man impresses her by lifting a 120 kg stone, which is known as the marriage stone, to impress her girl. And if incase he is not able to lift the stone; he is not eligible for marriage. Women here still practice this ceremony."
While we go through the tribe's unique traditions and lifestyle, we also notice that many of the rituals and dances are only seen during festivals or marriage occasions.
However, Ooty being a tourist-rich destination, one can get to see the women of this community in vibrant colours and a cheer on their face to represent their culture to the tourists, who visit them.
Subscribed Failed...
Subscribed Successfully...